Must admit I wanted to blame the idiot puppet boy king for this mistake.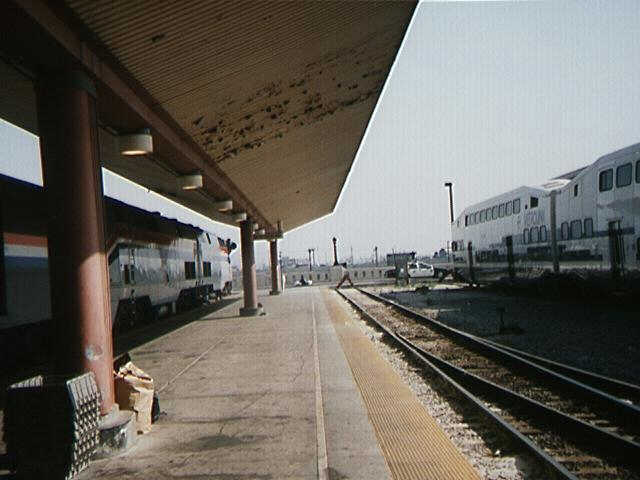 The last train from Las Vegas ...
Desert Wind was a passenger train route operated by Amtrak from 1981 to May 10, 1997. When it first entered service, it ran from Los Angeles, California to Ogden, Utah, though it was later rerouted to Salt Lake City. At Salt Lake City the Desert Wind and The Pioneer (Portland, Oregon to Salt Lake City, Utah via Idaho) cars were added to the eastbound California Zephyr. The California Zephyr then continued eastward to end in Chicago, Illinois.

In the Desert Winds earlier stages, checked baggage service was only available at Los Angeles and Salt Lake City. In Salt Lake city, the California Zephyr usually arrived first. The Desert Wind was scheduled to arrive from fifteen minutes later. The consists were simply combined and departed within 45 minutes. Operations were not as complicated as they were in the 1993/1994 period shuffle at Salt Lake City.
The Desert Wind largely duplicated the route of the former City of Los Angeles operated by Chicago and North Western Railway and Union Pacific Railroad until May 1, 1971 when Amtrak took over passenger rail operations in the United States. There is no rail service to Las Vegas as of 2005 (only a Thruway Motorcoach bus line), but Talgo-made trains may once again connect that city to the coast in the coming years.

External links
References
---
BOHICA! THE GOP FUCKED THE AMERICAN PEOPLE IN THE BUTT ONCE AGAIN - May 10, 1997 - Amtrak ceases operations of the Chicago-Los Angeles Desert Wind passenger train.


<>
Who Else But The Idiotic Republican Congress Would Have Ignored The National Impact? — As they're the ones who confuse blowjobs with going to war as reasons to impeach competent Presidents versus incompetent ones.
Amtrak Train at the
Brattleboro, Vermont
, station,
18 March
2004
.
Amtrak employs over 19,000 people. The nationwide network of 22,000 miles of routes serves 500 communities in 46 of the United States, with some of the routes serving communities in Canadian provinces along the United States border. In fiscal year 2004, Amtrak routes served over 25 million passengers, a company record.
Gaps in service
The only states which are not served by Amtrak trains are Alaska (served by the Alaska Railroad), Hawaii, South Dakota, and Wyoming (lost service in the 1997 cuts; served by Amtrak's Thruway Motorcoaches).
In addition, many large cities are not served by Amtrak such as
Other cities are not served directly due to inconvenient water barriers including Norfolk and Virginia Beach in the Hampton Roads area, and San Francisco, where trains stop across the bay in Oakland and Emeryville. Others have only indirect service for other reasons, such as Phoenix, Arizona, which is served via Thruway coach from the Southwest Chief train at Flagstaff, Arizona or the nearby, yet remote due to a lack of any public transportation connection, Maricopa, Arizona roughly thirty miles from the city.
Guest Rewards
Amtrak Auto Train dining car awaits passengers next to auto carrier which will join it at rear of train (Lorton, VA, 2000). Photo courtesy of www.trainweb.com
Amtrak operates a loyalty program called Guest Rewards, which is similar to the frequent flyer programs offered by many airlines. Guest Rewards members accumulate points by riding Amtrak and through other activities. Members can then redeem these points for free Amtrak tickets and other awards.
Amtrak routes and services
Main article: List of Amtrak routes
A schematic of the Amtrak routes.
Amtrak has a complex albeit decentralized management structure wherein individual train conductors and other staff are assigned to particular routes or stations whereas ticket sales are managed by a nationwide computer system.
As a general rule, even-numbered routes run north and east while odd numbered routes run south and west. However, some routes, such as the Pacific Surfliners, use the exact opposite numbering system, which they inherited from the previous operators of similar routes, such as the Santa Fe Railroad.
Amtrak gives each of its train routes a name. These names often reflect the rich and complex history of the route itself, or of the area traversed by the route.
Commuter services
Through various commuter services, Amtrak serves an additional 61.1 million passengers per year in conjunction with state and regional authorities in California, Washington, Maryland, Connecticut, and Virginia:
In the past, Amtrak has operated Metrolink [3]. and MBTA Commuter Rail.
Freight services
Amtrak Express provides small package and less-than-truckload shipping services between more than 100 cities. Amtrak Express also offers station-to-station shipment of human remains to many express cities. At smaller stations, funeral directors must load and unload the shipment onto and off the train. Amtrak also hauled mail for the United States Postal Service as well as time sensitive freight shipments, but discontinued these services in October of 2004.
On most parts of the few lines that Amtrak owns, it has trackage rights agreements allowing freight railroads to use its trackage.
Intermodal connections
Intermodal connections between Amtrak trains and other transportation are available at many stations. With few exceptions, Amtrak rail stations located in downtown areas have connections to local public transit.
Amtrak also code shares with Continental Airlines providing service between Newark Liberty International Airport (via its Amtrak station) and Philadelphia 30th St, Wilmington, Stamford, and New Haven. In addition, Amtrak serves airport stations at Milwaukee and Baltimore.
Amtrak also coordinates Thruway Motorcoach service to extend many of its routes, particularly in California.
Trains and tracks
Tracks owned by the company
Along the NEC and in several other areas, Amtrak owns 730 route-miles of track (1175 km), including 17 tunnels consisting of 29.7 miles of track (47.8 km), and 1,186 bridges (including the famous Hell Gate Bridge) consisting of 42.5 miles (68.4 km) of track. Amtrak owns and operates the following lines. [4]
Northeast Corridor (electrified railway)
Main article: Northeast Corridor
The Northeast Corridor, or NEC, between Washington, D.C. and Boston via Philadelphia and New York, is largely composed of Amtrak's own tracks. These are combined with those of several state and regional commuter agencies in what amounts to a cooperative arrangement. Amtrak's portion of the NEC was acquired in 1976 as a result of the Railroad Revitalization and Regulatory Reform Act.
Keystone Corridor (electrified railway)
Main article: Keystone Corridor
This line runs from Philadelphia to Harrisburg, Pennsylvania, and is in the midst of a rehabilitation project that will eventually see 110 mph (about 175 km/h) service.
Empire Corridor
Main article: Empire Corridor
Other tracks
Amtrak also owns station and yard tracks in: Chicago, Hialeah (near Miami, Florida) (leased from the State of Florida), Los Angeles, New Orleans, New York City, Oakland (Kirkham Street Yard), Orlando, Portland, Oregon, Saint Paul, Minnesota, Seattle, Washington, DC
Amtrak wholly owns the Chicago Union Station Company (Chicago Union Station) and Penn Station Leasing (New York Penn Station). It has a 99.7% interest in the Washington Terminal Company (Washington Union Station) and 99% of 30th Street Limited (Philadelphia 30th Street Station). Also owned by Amtrak is Passenger Railroad Insurance. [5]
Motive power and rolling stock
Amtrak operates 425 locomotives (351 diesel and 74 electric), 2,141 railroad cars including several types of passenger cars (including 168 sleeper cars, 760 coach cars, 126 first class/business class cars, 66 dormitory/crew cars, 225 lounge/café/dinette cars, and 92 dining cars). Many are Superliner I and II models, Amfleet I and II, Horizon Fleet. The newest sleeping car in service is the Viewliner. Baggage cars, autoracks for Auto Train service, and maintenance of way rolling stock make up the remainder of the fleet. The original cars that Amtrak inherited from the railroads in 1971 are known as the Heritage Fleet and are almost all retired.
Twenty Acela Express trainsets have been used to provide popular high-speed rail service along the Northeast Corridor between South Station in Boston and Union Station in Washington D.C. This service has been so popular, in fact, that the Acela trains even cover their "above the rail" costs (operating expenses, but not capital to maintain infrastructure).
However, the innovative service has not been without problems. In April 2005, all 20 trainsets were removed from service to repair cracked brake rotors. As of September, 2005, most had been returned to service.
References
Amtrak System Timetable, Fall 2004/Winter 2005
See also
---
Somehow I missed this one. The GOP clearly hates Vegas and the West. And I'm betting they hate trains too. - Sparks