Sparky: I kept expecting McCain's head to spin off to reveal Reagan's evil zombie brain. And as you guess maybe more tits and monsters ...
Okay!? Let's move on: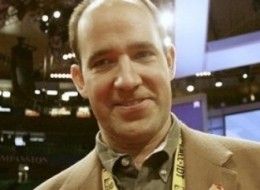 Matthew Dowd, a prominent political consultant and chief strategist for George W. Bush's reelection campaign eviscerated John McCain on Tuesday for his choice of Sarah Palin as vice president.
Dowd proclaimed that, in his heart of hearts, McCain knew he put the country at risk with his VP choice and that he would "have to live" with that fact for the rest of his career.
"They didn't let John McCain pick the person he wanted to pick as VP," Dowd declared during the Time Warner Summit panel. "When Sarah Palin got picked instead of Joe Lieberman, which I fundamentally believed would have given John McCain the best opportunity in this race... as soon as he picked Palin, that whole ready versus not ready argument was not credible."
Saying that Palin was a "net negative" on the ticket, he went on: "[McCain] knows, in his gut, that he put somebody unqualified on the ballot. He knows that in his gut, and when this race is over that is something he will have to live with... He put somebody unqualified on that ballot and he put the country at risk, he knows that."
The other panelists were surprised, a bit, by Dowd's bluntness. Not least because McCain's well-known campaign motto is "country first."
"No, I don't agree," said Mark McKinnon, a former McCain aide, after chiding Dowd for claiming particular insight into McCain's soul.
"Well," responded Dowd, "that's even more disturbing than my thought" -- the implication being that it would be truly frightening if McCain didn't know how bad Palin truly was.
Time columnist Joe Klein summed up what seemed to be the panel's Palin consensus.
"It was a gimmick," he said of the pick. "It was one of the most disastrous decisions I have seen in a presidential campaign since I've begun covering them."
Later in the session, Hilary Rosen, the Huffington Post's Washington editor at large, noted that the Palin pick had been successful in energizing the Republican base -- and McCain himself. But Dowd wasn't biting.
"To me it is like Halloween," he said. "You get energized by eating all that candy at night but then you feel sick the next day."
---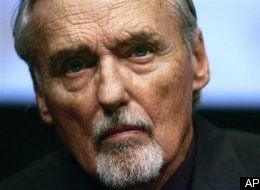 One of Hollywood's few Republicans has switched his vote. Dennis Hopper, 72, told reporters in France that he's praying for an Obama victory, despite decades as a Bush supporter.
"I voted for Bush, father and son, but this time I'll vote for Obama," he told journalists at the opening of a show on his life and work.
"I was the first person in my family to have been Republican," he added. "For most of my life I wasn't on the left."
"I pray God, Barack Obama is elected," he said, calling the current administration's many "lies."
Hopper stars in "An American Carol," a conservative comedy that spoofed Michael Moore and last donated money, in 2004, the RNC.
French Culture minister Christine Albanel also named Dennis Hopper as Commander of the 'Ordre des Arts et des Lettres' medal on Monday night.
---
McCain Mockingly Suggests That Concerns For A Mother's Health Are Extreme
The differences of opinion surrounding the issue of access to safe and legal abortion, and a woman's right to choose to have one, have long been a mainstay of political debate. But tonight, I believe, featured a historical moment in that debate, because until tonight, I had never seen the matter of a woman's health given AIR SCARE QUOTES. But that's precisely what John McCain did, sneeringly, as he attempted to portray support for a mother's health as an extreme position, when in fact, it is a mainstream position -- ground that even fervent pro-life individuals often concede.
Reached for comment, Megan Carpentier of womens' issues blog Jezebel had this to say:
It used to be that McCain was leading the charge to reform the Republican platform to include exceptions for the life and health of the mother to their anti-abortion plank. That tonight he declared his own position extreme -- let alone called a woman that chooses her own continued existence over the potential future life of a fetus "extreme" -- is a pretty significant and rather disgusting charge.
I concur, absolutely and without reservation.
[WATCH.]
UPDATE:
Cecile Richards, the president of the Planned Parenthood Action Fund, weighs in:
"Tonight, John McCain showed he doesn't care about women's health when he described protecting "the health of the woman" as "extreme." John McCain doesn't seem to understand that women's health matters. He blatantly showed that he doesn't trust women to decide what is in the best interest of their own health. Barack Obama, on the other hand, stood up for women's health."
---
CNN's Kyra Phillips 'Cunt' Slip Up (VIDEO)
CNN's Kyra Phillips was introducing a guest Roland Martin Wednesday afternoon when she could get the word "contributor" out, saying instead "cunt, cunt, contributor." But she was able to laugh after making the awkward mistake.
---
McCain Transition Chief Aided Saddam In Lobbying Effort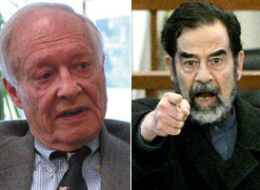 William Timmons, the Washington lobbyist who John McCain has named to head his presidential transition team, aided an influence effort on behalf of Iraqi dictator Saddam Hussein to ease international sanctions against his regime.
The two lobbyists who Timmons worked closely with over a five year period on the lobbying campaign later either pleaded guilty to or were convicted of federal criminal charges that they had acted as unregistered agents of Saddam Hussein's government.
During the same period beginning in 1992, Timmons worked closely with the two lobbyists, Samir Vincent and Tongsun Park, on a previously unreported prospective deal with the Iraqis in which they hoped to be awarded a contract to purchase and resell Iraqi oil. Timmons, Vincent, and Park stood to share at least $45 million if the business deal went through.
Timmons' activities occurred in the years following the first Gulf War, when Washington considered Iraq to be a rogue enemy state and a sponsor of terrorism. His dealings on behalf of the deceased Iraqi leader stand in stark contrast to the views his current employer held at the time.
John McCain strongly supported the 1991 military action against Iraq, and as recently as Sunday described Saddam Hussein as a one-time menace to the region who had "stated categorically that he would acquire weapons of mass destruction, and he would use them wherever he could."
Timmons declined to comment for this story. An office manager who works for him said that he has made it his practice during his public career to never speak to the press. Timmons previously told investigators that he did not know that either Vincent or Park were acting as unregistered agents of Iraq. He also insisted that he did not fully understand just how closely the two men were tied to Saddam's regime while they collaborated.
But testimony and records made public during Park's criminal trial, as well as other information uncovered during a United Nations investigation, suggest just the opposite. Virtually everything Timmons did while working on the lobbying campaign was within days conveyed by Vincent to either one or both of Saddam Hussein's top aides, Tariq Aziz and Nizar Hamdoon. Vincent also testified that he almost always relayed input from the Iraqi aides back to Timmons.
Talking points that Timmons produced for the lobbyists to help ease the sanctions, for example, were reviewed ahead of time by Aziz, Vincent testified in court. Proposals that Timmons himself circulated to U.S. officials as part of the effort were written with the assistance of the Iraqi officials, and were also sent ahead of time with Timmons' approval to Aziz, other records show.

Moreover, there was a major financial incentive at play for Timmons. The multi-million dollar oil deal that he was pursuing with the two other lobbyists would only be possible if their efforts to ease sanctions against Iraq were successful.
---
Night - Obama won after the first 20 minutes ...