POSSIBLE ACCIDENTAL DOUBLE POSTING
=============================
SPARKY SAYS: IF YOU DON'T WANT TO SEE SPARKY WEEP THE TEARS OF A SEA COW — FOR GOD'S SAKE HELP!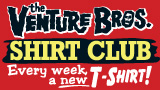 Sparky asks you to beg the geniuses behind Venture Bros to allow him to do a special sized "Blood Judo" shirt for us Brock-sized folks. Small one on front - big image on back ...
What Sparky needs is a clean copy of the art. Please for the love of God ask!