Sparky: Breaking Radio Silence with ammo from the Huffington Post. Palin remains a tool. She's ugly and shrill. She reminds me of a bad girlfriend — the clingy type who thought you were a couple because she'd swallow. And an aside — I think Trig is her daughter's baby because we know how "good" Abstinence Education is ... and the bet is she's such a 'sucky' mom both of her teenagers would try to escape the family's clutches by getting themselves knocked up ...
Maybe he should kiss this traitor like he gobsmacked Lieberman?
AP
| CHARLES BABINGTON | September 6, 2008 at 03:41 PM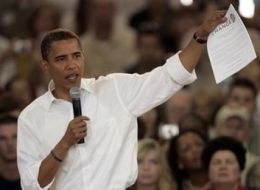 TERRE HAUTE, Ind. — Barack Obama made his first direct criticism of Republican vice presidential nominee Sarah Palin on Saturday, saying she pretends to oppose spending earmarks when she actually has embraced them.
Speaking to 800 people at the Wabash Valley Fairgrounds in Terre Haute, Ind., the Democratic presidential nominee ridiculed John McCain and his running mate, the Alaska governor, for describing themselves as agents of change at this week's GOP convention.
"Don't be fooled," Obama told the crowd surrounding him in a large barn. "John McCain's party, with the help of John McCain, has been in charge" for nearly eight years.
"I know the governor of Alaska has been saying she's change, and that's great," Obama said. "She's a skillful politician. But, you know, when you've been taking all these earmarks when it's convenient, and then suddenly you're the champion anti-earmark person, that's not change. Come on! I mean, words mean something, you can't just make stuff up."
McCain has vowed to wipe out earmarks, which are targeted funding for specific projects that lawmakers put into spending bills. As governor, Palin originally supported earmarks for a controversial Alaska project dubbed the "bridge to nowhere." But she dropped her support after the state's likely share of the cost rose. She hung onto $27 million to build the approach road to the bridge.
Until Saturday, Obama had refrained from criticizing Palin directly, saying only that she, like McCain, would continue the Bush administration's policies.
Democrats have debated how to deal with Palin. They want to avoid charges of sexism but find ways to highlight what they see as her political weaknesses.
Obama delivered some of his most withering criticisms yet of McCain, although he did so with chuckles and an air of mock disbelief. McCain has acknowledged voting with President Bush 90 percent of the time in Congress, Obama said.
"And suddenly he's the change agent? Ha. He says, 'I'm going to tell those lobbyists that their days of running Washington are over.' Who is he going to tell? Is he going to tell his campaign chairman, who's one of the biggest corporate lobbyists in Washington? Is he going to tell his campaign manager, who was one of the biggest corporate lobbyists in Washington?"
"I mean, come on, they must think you're stupid," Obama said as the crowd laughed and cheered.
The McCain campaign noted that Obama has steered numerous earmarks to his state of Illinois. However, Obama has not been the critic of earmarks that McCain and, more recently Palin, have been.
Obama said Republicans are targeting his character, and he criticized McCain for saying he would reduce the partisan rancor in Washington. Pretending to address McCain, he said, "Did you pay attention to the last two days of your convention? Were you not watching?"
"When you start just focusing exclusively on trying to tear the other person down instead of what you are going to do on behalf of the American people to deal with this economy," Obama said, "then that's not serving Democrats, that's not serving Republicans, that's not serving anybody."
---
HUFFPOCO:
Lloyd Alter
:
It Has Come To This: Why Working Americans Love Sarah Palin
A HP reader says:


"

... AK now offers bounty hunters $150 for the paw of each wolf killed as another incentive to aerial hunters dealing with the high cost of fuel. Per AK State Fish and Game website, the wolves compete with people (aka hunters) for the moose and caribou, so they want the wolves destroyed ... the moose and caribou aren't livestock, they are wild animals which are part of that region's ecosystem ... this is not wildlife management. The Humane Society of the United States is completely opposed. Per the HSUS the vast majority of Americans do not hunt, and I think the American people would be appalled at these images ... please circulate these images whenever possible. ... "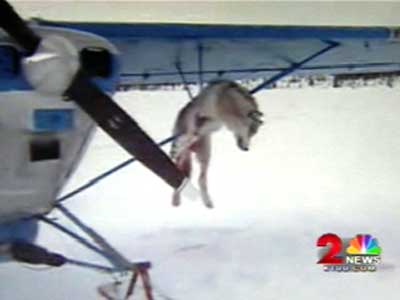 A scrivener at the National Review on why they like Sarah Palin instead of smug elites:

"So along comes someone who really is from the working class. She likes it--and finds snowmobiling, hunting, fishing and living in small-town America not as a wasteful use of carbon-emitting fuels, cruelty to animals, gratuitous depletion of our resources, or proof of parochial yokelism. Instead it is a life of action in an often harsh natural landscape, where physical strength is married to intelligence to bring us food, fuel, and progress."
Well call me a smug elitist, but snowmobiling and ATVing are wasteful uses of carbon-emitting fuels, (you wouldn't know it from this election but there is a CO2 problem in the world) that tear up the landscape and disrupt wildlife. As they write in Thrillcraft, "there is no nice way to describe the true dangers thrillcraft pose to the integrity of our public lands: they terrorize wildlife and other people;destroy the quiet and peace of the woods; and pollute, degrade, and vandalize much of our natural legacy." The National Park Service tried to ban snowmobiles from Yellowstone National Park, (George Bush overturned it) noting issues of
"air quality, visibility, soundscapes, health and safety, impacts on wildlife and visitor experience. Their study found that in virtually all areas, snowmobile use damages the park. The agency says that visibility will be impaired around Old Faithful, visitors will hear more noise, and "employees and visitors who are susceptible to respiratory problems would likely be affected." Science implicates human health, of both visitors and park employees, in another way: snowmobile use spreads poisons, benzene and carbon monoxide among them, through both Yellowstone and Grand Teton National Parks."
-But hey, it's a life of action, right?
video on the evils of aerial wolf hunting
While I have personally never hunted I know many people who do, and they are appalled by the idea of hunting wolves from aircraft. It is of questionable legality; in 1972 it was made illegal by the Airborne Hunting Act, passed after a nationwide outcry against aerial hunting of wolves in Alaska. However a loophole in the act allows it for the purposes of "control." According to Defenders of Wildlife, it is promoted by
"the state's small but politically influential commercial hunting interests. Their clear intention is to eliminate as many of nature's major predators as possible to artificially increase moose and caribou numbers where it'll then be easier for urban and wealthy out-of-state hunters to shoot their trophy animals."
-ah, life in a harsh natural landscape.
There are lots of people living in small towns who manage to enjoy themselves without "gratuitous depletion of our resources" and who bring us food, fuel and progress without spending their spare time shooting from airplanes and bombing around on snowmobiles. They do it without running their toys on gasoline that could have been used to reduce our reliance on imported oil. They might even question why we "drill, baby drill" just to "live a life of action." They don't look like smug elitists to me.

---
Maybe John is being more than dishonest about his POW tall tales? We know he lied about the cross in the sand that Christmas (as it was lifted from a better writer about his time in a Siberian Gulag) — Maybe he isn't any sort of hero? Is he trying to hide that he is a traitor?
OROVILLE, Calif./EWORLDWIRE/Jan. 18, 2008 --- The award-winning documentary film, "Missing, Presumed Dead: The Search For America's POWs" narrated by Ed Asner backs up allegations that John McCain repeatedly thwarted attempts by U.S. Senate investigators to examine the abandonment of American POWs in Southeast Asia and North Korea.
"Missing Presumed Dead," which won two film festival "Best Documentary" awards, explores McCain's successful attempt to pass a stealth bill in the Senate which effectively keeps his POW records sealed in perpituity and provides insight into why he does not want these records ever to be made public - including the revelation of the many propaganda radio broadcasts he delivered for the North Vietnamese.
The group Vietnam Veterans Against McCain attacks Senator John McCain's heroism as a POW in the Vietnam conflict; this is making some waves in the news due to McCain's presidential candidacy. The documentary "Missing, Presumed Dead the Search for America's POWs" however focuses more on Senator John McCain successfully blocking the release of classified POW/MIA documents. Here is an excerpt from that documentary. DVD of documentary may be purchased at www.MissingPresumedDead.com
The film also explains why McCain's refusal of early release from a North Vietnamese POW camp had a less than honorable motive. The charges against McCain are revealed in the documentary by such political luminaries as former New Hampshire Senator Bob Smith; Jesse Helms' chief of staff, Dr. James Lusier; former Congressman Bob Dornan; U.S. Senate lead investigator, Tracy Usery; and author, Dr. Joseph Douglass, Jr. ("Betrayed").
This documentary goes in depth to answer some of these persistant questions:
1. Why were these POWs abandoned?
2. Are some of these POWs still alive in North Korea and Vietnam?
3. Is John McCain really the president we want guiding our future generations?
According to Jerry Kiley, a group leader of Vietnam Vets against McCain, Kiley says, "John McCain has created this myth that he is a hero, and he is not."
Kiley's group cites as evidence a May, 1973, U.S. News & World Report article by McCain in which McCain said he realized, on his third or fourth day of captivity after his plane was shot down in 1967, that his knee was so swollen the blood might pool in it and kill him, so he offered to give military information to his captors in exchange for medical treatment. Consequently several military missions were compromised. "Missing, Presumed Dead" was supported by several POW/MIA organizations who cite John McCain as one of the biggest obstacles in resolving the abandonment of America's POW/MIAs. Go to '
www.missingpresumeddead.com
' to learn more.
'http://www.youtube.com/veteransagainstmccain' clip coming soon.
HTML:
http://www.eworldwire.com/pressreleases/18074
MOBILE:
http://e4mobile.com/pressreleases/18074
PDF:
http://www.eworldwire.com/pdf/18074.pdf
Copyright 1996-2007 Eworldwire, All rights reserved.
Press Relase Distribution By EWORLDWIRE
http://www.eworldwire.com
(973)252-6800.
For Media Questions:
http://www.eworldwire.com/forthemedia.htm
ONLINE NEWSROOM: http://www.eworldwire.com/newsroom/311969.htm
LOGO: http://www.eworldwire.com/newsroom/311969.htm
CONTACT:
Kara Topolsky
KST Communications
P.O. Box 1556
Oroville, CA 95965
PHONE. (530) 315-9078
KEYWORDS: Entertainment news, Celebrity, gossip, breaking news, McCains latest news, Presidential
candidates, Primary
SOURCE: KST Communications Public Relations
Copyright 1996-2007 Eworldwire, All rights reserved.
Press Relase Distribution By EWORLDWIRE
http://www.eworldwire.com
(973)252-6800.
For Media Questions:
http://www.eworldwire.com/forthemedia.htm