Sparky: Life is full of shockers - isn't it? As far as I'm concerned Reagan was more evil than Nixon in terms of attacking personal liberties. Let's remind folks what's what.
---
---
HuffPoCo
:
Jacob Alperin-Sheriff
:
McCain Urged Reagan Admin To Meet Terror Groups Without Pre-Conditions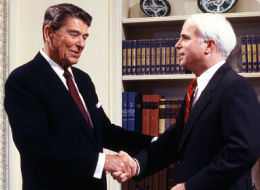 In 1987, John McCain cast several votes in an attempt to force the Reagan administration to meet with RENAMO
1
, a guerrilla organization in Mozambique that State Department officials at the time described as a "terrorist group,"
2
without requiring that the group meet any preconditions.
McCain's support for RENAMO directly contradicts his attacks on opponent Barack Obama for having "worked closely with domestic terrorist Bill Ayers" and having "pledged to meet, without preconditions, with the leaders of Iran, Syria, Venezuela, Cuba and North Korea." Senator Obama has made it clear that this policy does not extend to non-governmental organizations. In response to questions about the Palestinian militant group Hamas, Obama specified that "we should not be dealing with them until they ... renounce terrorism."
According to a Congressional Research Service report in 1988, the initially doctrinaire Marxist FRELIMO government of Mozambique began moving towards privatization and progress on human rights in the early 1980s, signing a non-aggression treaty with neighboring South Africa in 1984. Due to this progress, the Reagan administration provided the FRELIMO government with non-lethal military aid in their fight against RENAMO -- until Reagan was stymied by a 1985 Congressional prohibition . Reagan himself hosted FRELIMO leader and Mozambican President Samora Machel at the White House in September of 1985.
The Reagan administration's embrace of the nominally Marxist Mozambican government, even as it funded anti-communist resistance in Angola(UNITA), Afghanistan(the mujahideen) and most famously Nicaragua (the Contras), had a lot to do with the nature of the anti-communist resistance forces in Mozambique. At a June 1987 Senate Foreign Relations Committee hearing, Chester Crocker, Assistant Secretary of State for African Affairs, testified that RENAMO was "created by the Rhodesian secret services in 1977" as a fake anti-communist black liberation movement, designed to "punish Mozambique for that country's assistance to the Zimbabwean liberation movements." After the independence of Zimbabwe in 1980, apartheid South Africa began sponsoring RENAMO, with their support becoming clandestine after the signing of the 1984 non-aggression treaty.
RENAMO's tactics combined those of the most brutal terrorist groups and regimes in recent history. While ostensibly opposing the FRELIMO government, their attacks focused mostly on civilians. During the 1980s, their actions ranged from attacks on buses3, trains4 and cars5 to kidnapping American and other foreign missionaries6. They "killed bedridden hospital patients and chanted political slogans while killing children" in July of 1987 in what was later found to be a typical attack on a village; an American aid worker witnessed these attacks and they were thus widely reported.7 RENAMO even accepted "compensations" from Moscow.8
However, since the group claimed to be "anti-communist," they had support from the far-right in the United States. The Heritage Foundation supplied office space to a RENAMO representative in Washington, and Grover Norquist of K Street Project fame lobbied for them and for the UNITA resistance group in Angola. The U.S. Council for World Freedom funded RENAMO (and other anti-communist organizations) directly between 1984 and 1986 while John McCain was on their advisory board. Though he claims to have left the organization in 1984, news articles from October of 1985 show that he attended a U.S. Council on World Freedom event honoring Wali Khan, an Islamic militant from Afghanistan, for his efforts in opposing the Soviet occupation.9 Moreover, two former council members do not recall him having ever resigned from the group. It is unclear whether or not McCain ever donated money to RENAMO via the U.S. Council for World Freedom, though he is on record as having donated to the Contras. The McCain campaign did not respond to a request for a list of anti-communist organizations to which he has donated.
These RENAMO-backing organizations had friends in high places. Senator Jesse Helms and a faction of conservative Senators (a similar faction existed in the House, led by Representative Dan Burton) also wanted to shift U.S. policy from the Reagan administration's position to the support of RENAMO. Helms and the conservatives decided to make their stand on the nomination of Melissa Wells to be ambassador to Mozambique. Their only problem with Melissa Wells was that she supported the Reagan administration policy of supporting the FRELIMO government and not recognizing the RENAMO terrorists. From a July 20, 1986, United Press International article by Jim Anderson:
After eight months of silence, the State Department came to the public defense Wednesday of Melissa Wells, a career foreign service officer whose confirmation as ambassador to Mozambique has been held up by Senate conservatives.


The conservatives, led by Sen. Jesse Helms, R-N.C., made it clear in statements last week in the Senate that the nomination of Wells, who has been approved by the Foreign Relations Committee, is meant as an attack against the State Department and its policies in Africa.

[...]

Helms and the other conservatives attacked Wells because of her lack of support for Renamo, an insurgent group seeking to overthrow the central one-party government of Mozambique. Sen. Gordon Humphrey, R-N.C., described Renamo as ''freedom fighters trying to topple a communist regime.''
They initially failed to block Majority Leader Byrd's motion in May to proceed to the consideration of her nomination10 (McCain was absent for this vote). However, the threats of a filibuster allowed them to hold up further consideration of the nomination until September. During this time, the Reagan administration did not budge on its support for FRELIMO and opposition to recognizing and meeting with RENAMO. In fact, the administration's position was strengthened after the revelation of a RENAMO massacre of 408 people in the village of Homoine in July of 1987, witnessed by American citizen Mark van Koevering.
Despite this revelation, RENAMO retained support in the Senate when that body began consideration of the Wells nomination in September. In what Senator Alan Cranston referred to during debate on the nomination as "truly Orwellian fashion," conservative Senators claimed that the massacre was a set-up by the governing FRELIMO. Most Senators voted to confirm her, but John McCain was one of the 24 Senators who voted against cloture on her nomination and against confirming her as ambassador to Mozambique.11. Of the Republicans still in the Senate today, Richard Lugar, Pete Domenici and Arlen Specter voted for her nomination; Grassley, Bond, McCain, Hatch and McConnell voted against it; and Ted Stevens and John Warner missed the vote. A month after Wells was confirmed, Jesse Helms introduced an amendment to the State Department authorization bill that would have forced the Secretary of State to meet with RENAMO without requiring any pre-conditions12. Senator McCain opposed the motion by fellow Republican Senator John Danforth to kill the Helms amendment.
In April of 1988, the State Department released a report which "conservatively estimated that 100,000 civilians may have been murdered by RENAMO." At a United Nations event later that month, Roy A. Stacy, deputy assistant secretary of state for African affairs, described RENAMO as guilty of "one of the most brutal holocausts against ordinary human beings since World War II." The report's release silenced Congressional RENAMO supporters.13
---
Notes and Sources:
1 RENAMO is the acronym in Portugese for the group's full name, the Mozambican National Resistance.
2 Friedland, Jonathan. "MOZAMBIQUE: THE MNR CONFUSES WASHINGTON." IPS-Inter Press Service. 30 October, 1986.
3 "Report: Rebels Kill 60 Bus Passengers." The Associated Press, 3 January, 1984 (the attack itself was on Christmas Day)
4 "Anti-Marxist Rebels Blow Up Passenger Train." The Associated Press. 9 February, 1984
5 "Rebels Claim Maputo Car Bomb, Battlefield Success." The Associated Press 22 April, 1986.
6 "Rebels kidnap seven whites from farm mission" United Press International 15 May, 1987.
7 Keys, Laurinda. "Survivors Say Attackers Killed Bedridden Hospital Patients, Children." The Associated Press 24 July, 1987.
8 "Rebels in Mozambique Free 12 Soviet Captives." The New York Times. 26 January, 1984: A10.
9 "Congressmen and Doctor Call for Increased Aid to Afghan Resistance" States News Service. October 15, 1985. Wali Khan was later killed by the pro-Soviet forces. He has no relation to the similarly-named Wali Khan Amin Shah, another Afghan guerrilla who later worked with WTC I mastermind Ramzi Yousef in a plot to bomb airplanes.
10 Byrd, D-W. Va., motion to proceed to the consideration of President Reagan's nomination of Melissa Wells of New York to be ambassador to the People's Republic of Mozambique. Motion agreed to 56-28: R 13-25; D43-3 (ND 31-0, SD 12-3), May 1, 1987
11Senate Roll Call votes 234 and 237, September 9, 1987.
12 S 1934. State Department Authorization, Fiscal 1988/Official Residence; Mozambique Policy. Danforth, R-Mo., motion to table (kill) the Helms, R-N.C., amendment to prohibit any expenditures related to the acquisition of a permanent residence for the secretary of state or any other Cabinet member. The tabling vote also had the effect of killing a Helms second-degree amendment aimed at forcing the secretary of state to consult with both sides in the civil war in Mozambique. Motion agreed to 61-34: R 21-24; D 40-10 (ND 27-5, SD 13-5), Oct. 6, 1987
13 Wayne, E.A. "Washington woos Marxist government of Mozambique." Christian Science Monitor. 16 August, 1988.
---
MCCAIN: "SHE NEEDED CLOTHES"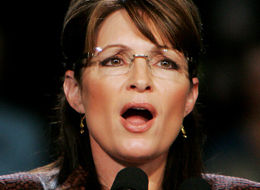 The McCain campaign and RNC's pushback to revelations that they purchased $150,000 worth of clothing and accessories for Sarah Palin has been, primarily, that it was money well spent.
After all, the Alaska Governor's image has graced countless newspaper covers and been featured prominently on television newscasts. Politics, the argument goes, is a superficial business. "She needed clothes," said McCain.
But what has some GOP operatives shaking their heads is the missed opportunities that that $150K represents. Had the RNC forgone the clothing purchases, they could have put more mail in mailboxes, more boots on the ground, and more advertisements on air.
Indeed, a look at some ad buy statistics provided by a Democratic source shows that the RNC put more money down on Palin's attire than they and the McCain campaign have spent on a weeks-worth of advertising in half a dozen, potentially, swing states.
From October 13th through October 19th, the McCain campaign and the RNC spent a combined $125,000 on advertisements in New Hampshire, roughly $90,000 in West Virginia, and $86,000 in Maine. In each of those states, the Republican ticket is fighting Obama for a small but potentially significant number of electoral votes.
In North Dakota and Georgia, the RNC and the McCain campaign did not spend a penny on advertising during that same week. These two states seem likely to break for McCain, but it is not inevitable: Obama could potentially pick off their votes.
In Indiana, the RNC spent $450,000 last week on ads while the McCain campaign did not spend anything. An additional $150,000 could have meant 33% more airtime over the course of a week.
Then there is Michigan. The GOP pulled out of the state a few weeks ago and so hasn't spent any cash on advertisements there. The $150,000 they put down on Palin's clothes would not have purchased much airtime in that large market, but it may have saved McCain from the public criticism that he was subjected to for abandoning the state.
In the end, Palin's sharp looks could draw more voters to the Republican ticket than any particular ad. But the budget choices of the RNC have some observers baffled, and they will likely be a sharp point of critique for campaign post mortems.

---
The Remaking of a Candidate
Alaskans Don't Recognize Their Governor
By
Laura McGann
10/23/08 12:38 PM
ANCHORAGE, Alaska — Since Gov. Sarah Palin became the Republican vice presidential candidate, she's been shaped to fit a new image.
From debate boot camp at Sen. John McCain's Arizona ranch to a high-end makeover costing $150,000, the Palin on the national campaign trail is not the woman politician that voters here remember. The governor of Alaska seems transformed after a team of seasoned advisers helped craft a new political persona for her.
Standing on stage in red designer heels, her tone has sharpened and her partisan rhetoric has heightened.
In Alaska, Palin supporters and critics alike have said the woman they see stumping in swing states and being interviewed on national TV is not the hockey mom-turned politician they once knew.
In talking with voters around Alaska, from Anchorage shopkeepers to government employees, as well as lawmakers and political insiders over the last three weeks, it's clear that Palin has been re-branded, both in message and style, for the national arena. Critics and supporters agree that they see a change.
Recent news coverage of Palin demonstrates that she didn't reinvent herself, but that members of the McCain campaign shaped her. Palin was heavily coached in preparation for the vice presidential debate with Sen. Joe Biden. She was kept from the press for weeks before granting any interviews. Her first appearance with Katie Couric was marked by a series of canned, though often jumbled, talking points. Even her new sleek, pulled-together look was taken care of by McCain adviser Jeff Larson. Larson is also in charge of the campaign's robocalls.
Over the next two weeks, it appears that Palin will be surrounded by more, not fewer, McCain staffers, according to an email from a campaign spokeswoman Caroline Gransee. Gransee noted that the Alaska governor's campaign plane may start accommodating fewer members of the press to make room for more staff.
This thick insulation of strategists around Palin is something new for her.
Palin rose to power in Alaska with support from a small paid staff and an army of volunteers, but without the help of a robust strategy team. She relied on her own judgment and that of her closest adviser: Todd Palin.
Interviews with people close to the governor, political observers and long-time Alaska politicos found that Palin was never surrounded by an entourage of advisers and strategists. Instead, Palin relied on her own instincts and leaned on her husband for an outside perspective.
A former top political aide to Palin, who requested anonymity, said in an interview that the governor has an innate political sense and turns to her husband for advice. The adviser now works in the private sector, but says he is still a friend of the Palins.
"The two Alaskans that advise Sarah Palin are Sarah and Todd Palin," the aide said in an conversation. "Her husband is her No. 1 adviser."
The former aide also said that this is not so uncommon for politicians new to the political arena in Alaska, noting the absence of long-time political families or major think tanks.
Others involved in Alaska politics disagree.
Longtime GOP strategist Art Hackney has served as an adviser to both Sen. Ted Stevens and Rep. Don Young, the state's lone House member. Stevens is on trial on charges of failing to disclose gifts worth $250,000 from the oil services firm, Veco Corp. The jury is currently deliberating. Young is under federal investigation for his ties to the same company, though he has not been charged with a crime.
Hackney, a Republican, is not a Palin supporter as either a state or national candidate. "Most of us [in Alaska politics] just scratch our heads as to who she gets her advice from," Hackney said. "With Palin, it's Todd Palin and some of her friends … that none of the rest of us would know."
Palin hired several of her old friends from Wasilla to join her administration. She put one family friend, Debbie Richter, who attended college for one year, in charge of the state's $40-billion oil and gas dividend fund program. A lawyer from the Wasilla area, Talis J. Colberg, serves as her attorney general.
One former aide, John Bitney, went to high school with Palin. He was fired abruptly after he began dating Richter, who had recently divorced her husband, a longtime friend of Todd Palin's.
Bitney now serves as chief of staff to the state Senate president. In an email message, Bitney said he is not familiar with who Palin keeps in contact with from the campaign trail.
Palin ran as an insurgent candidate in 2006, just as the state was enveloped by a wide-ranging political scandal involving a federal probe into the dealings between lawmakers and the oil services firm, Veco Corp. A few weeks before the election, the FBI raided 12 legislative offices, including that of Stevens' son, Ben Stevens, the president of the Alaska Senate at the time.
It's not surprising that Palin would decide not to align herself with old-guard political advisers, though Hackney said she did approach him once about the possibility of working together. He said he turned her down because he did not believe she had enough experience to serve as governor of Alaska.
"Normally someone who rises to this kind of political career would have people around them with expertise who can advise them," he said. "There isn't such a defined group around her. Basically, the Palins shoot from the hip."
Todd Palin's roll in the governor's administration has become increasingly apparent.
According to a report released after an investigation into whether Sarah Palin abused her power in pressuring her commissioner of public safety to fire her former brother-in-law, Todd was present during official meetings, made requests of members of Palin's administration and was copied on emails about state business.
"I have heard criticism that I am too involved with my wife's administration," Palin wrote in a statement he submitted as part of the investigation. "My wife and I are very close. We are each other's best friend. I have helped her at every stage in her career the best I can, and she has helped me."
Todd Palin is the only Alaskan traveling with Palin as part of her national campaign.
So in this stage of her career, it looks like he is still in his role as chief adviser.

---
Palin Stumped When Asked To Name Manmade Cause Of Global Warming
Sarah Palin's position about the causes of global warming continues to evolve.
Last September, she told Newsmax magazine that she doesn't think human behavior is one of the causes of climate change:
A changing environment will affect Alaska more than any other state, because of our location. I'm not one though who would attribute it to being man-made.
More recently, she hinted that manmade activities may play a role in global warming, telling CBS News' Katie Couric:
You know, there are man's activities that can be contributed to the issues that we're dealing with now, with these impacts. I'm not going to solely blame all of man's activities on changes in climate because the world's weather patterns are cyclical and over our history we have seen changes there.
But yesterday, Palin was stumped when asked to name a single manmade cause of climate change by reporter Steve Crupi of NBC affiliate News 3 in Las Vegas.
Q: I've also heard you hint that you do think there might be some man-made causes that are contributing to this. Can you describe what those are?



PALIN: Right, well what I have said about this is really the debate at some point, had better shift to, no matter the cause, whether it all be attributed to man's activities or just the natural cycle of climate changes in our earth's history. We have seen this before.
---
GOP Group Head Calls Obama A "Muslim Socialist"
ALAMOGORDO, N.M. — County and state GOP officials criticized the head of a New Mexico Republican women's group for calling Democratic presidential candidate Barack Obama a "Muslim socialist" and stating that "Muslims are our enemies."
Marcia Stirman, the head of the Republican Women of Otero County, will be asked to step down, Sassy Tinling, the chairwoman of the Otero County Republican Party, said Wednesday.
In a letter published Tuesday in the Alamogordo Daily News, Stirman wrote that she believes "Muslims are our enemies." Stirman told The Associated Press in an interview: "I don't trust them at all. They've sworn across the world that they are our enemies. Why we're trying to elect one is beside me."
Obama, an American-born Christian, has fought false rumors that he is a Muslim throughout the presidential campaign.
Tinling told KOAT-TV that Stirman's opinions do not reflect those of the county GOP or the Republican Women of Otero County. The executive director of the Republican Party of New Mexico, Matthew Kennicott, has said Stirman does not speak for the GOP and that her comments do not reflect its values and beliefs.
Stirman, 56, an interior decorator, wrote in the letter titled "Why I'm a Republican" the 16 reasons for her party affiliation.

---
McCain and Palin Inciting Violence in North Carolina
Forced to defend what should be
reliable
red state
turf
, John McCain and Sarah Palin finally showed up in North Carolina over the past few weeks. So far in October, the GOP running mates have appeared at four campaign rallies here. And in the wake of their visits, a string of election season crimes have occurred around the state involving violence, vandalism, and harassment.
First, a reporter was assaulted at a Palin rally held last Thursday at Elon College. Greenboro News & Record reporter Joe Killian was kicked to the ground by a Palin supporter as he was trying to interview protestors at the event who backed Barack Obama. From Joe's blog:
"Oh, you think that's funny?!" the large bearded man said. His face was turning red. "Yeah, that's real funny..." he said. And then he kicked the back of my leg, buckling my right knee and sending me sprawling onto the ground.
An MSNBC sound technician was hit in the head by a rock thrown by another Palin supporter at this same rally.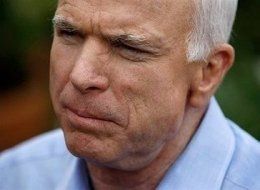 Next, over the weekend, about 30 Obama supporters had their tires slashed while attending an Obama rally that attracted an overflow crowd of more than 10,000 at the Fayetteville Crown Coliseum. Among the citizens left stranded were a single mother and toddler. "This is an embarrassment to this city and to me as a citizen," said a nearby resident. "This is a crying shame."
After the rally finished, a mob of white McCain-Palin supporters jeered and harassed a steady stream of mostly black Fayetteville residents standing in line to vote early at the downtown Board of Elections office. According to the Washington Times correspondent who reported the story, "people were shouting about Obama's acknowledged cocaine use as a young man, abortion and one man used the word 'terrorist.' " In doing so, they almost certainly violated the Voting Rights Act of 1964, which states:
"No person, whether acting under color of law or otherwise, shall intimidate, threaten, or coerce, or attempt to intimidate, threaten, or coerce any person for voting or attempting to vote"
McCain supporters heckle early voters in Fayetteville, N.C., Oct. 19
And this Monday, a black bear cub was killed and left at the entrance to Western Carolina University in Cullowhee, with Obama campaign signs wrapped around its body, including two taped together over its head. Police reports are calling the incident a "prank," and claim seven students are being questioned. Whatever the motive, this latest development was met with immediate public revulsion and condemnation. As the Asheville Citizen-Times editorialized today, "It was an innocent bear cub that lost its life this time as some deranged person or persons expressed their political rage. Next time, it could be an innocent person."
These incidents have all been perpetrated by or linked to McCain supporters, and stirred up by McCain and Palin's angry, hateful campaign rhetoric. Like during Palin's first stop in the state at a Greenville rally on Oct. 7, when she continued trying to smear Obama over his tenuous connection to Bill Ayers. With uniformed service members standing in the crowd behind her, she again peddled her discredited attack line that Obama was "palling around with terrorists" by asking, "He didn't know that he had launched his political career in the living room of a domestic terrorist?"
The McCain campaign is currently flooding the state with robocalls making identical false charges. The N.C. Republican Party is aiding the attack with a scurrilous mailer sent to N.C. voters headlined, "Obama has close ties to domestic terrorist," with mug shots of Ayers from 1968 and a recent photo of him wearing a Cuban national baseball team jersey. This is the same ridiculously far right state GOP party that ran an attack ad during the primaries tying Obama to Rev. Jeremiah Wright, which McCain repudiated at the time.
Only days after McCain suddenly realized the angry tone of his rallies was turning off voters, and rebuked an elderly supporter who called Obama "an Arab," he was back in the gutter at their final debate. Before 56.5 million people, he linked Obama to the community organizing group ACORN's voter registration efforts, and hysterically insisted ACORN was "on the verge of maybe perpetrating one of the greatest frauds in voter history in this country, maybe destroying the fabric of democracy."
On Saturday, McCain recorded a radio address in Concord, N.C. in which he made the racially loaded claim that "Barack Obama's tax plan would convert the IRS into a giant welfare agency," then appeared at a rally attended by several thousand supporters. There McCain was introduced by loony Republican Congressman Robin Hayes, who informed the crowd, "Liberals hate real Americans that work and accomplish and achieve and believe in God." Hayes is locked in a tight rematch against challenger Larry Kissell, a progressive former textile worker who lost to Hayes in 2006 by only 329 votes.
Last week, Palin told big donors at a fundraiser in Greensboro that she was thrilled to be visiting the "pro-America areas of this great nation," a gaffe so ill-advised and guaranteed to offend that she actually apologized for it, a first for Palin. But it was entirely consistent with her worldview, which is warped and narrow minded, categorizing anyone who doesn't share her extreme beliefs as "haters" and enemies.
On the same day, she was asked by a local reporter what she thought of the late Sen. Jesse Helms, who was the last unapologeticly racist U.S. politician of the segregation era, held legendary, disgraceful campaign rallies of his own, and whose ultra right wing views were cut from the same cloth as Palin's. No wonder she expressed admiration for the man, admitting that "I do respect those years of service that he had provided." She also did her best to whitewash Helms' shameful legacy by falsely claiming he had apologized for his past misdeeds.
Interviewed by the Washington Post for a recent story on McCain's early political career, former executive director of the Arizona Republican Party Jon Hinz gave some insight into why McCain shows little concern over his campaign stooping to such lengths to trash Obama. "He needs to make enemies of the people he's going against in order to get fired up," said Hinz.
The violent incidents we've witnessed in North Carolina are all lower than low, in fact, they're despicable. But McCain and Palin are to blame for creating an environment where their more unbalanced supporters feel these kinds of actions are legitimate.
Supporters line up for a McCain rally in Wilmington, N.C., Oct. 13
It shows what dangerous ground McCain-Palin are traveling by relying on increasingly desperate, unfounded character attacks on Obama in their attempts to distract our country from the ongoing economic crisis. Yet as polls continue to indicate, these attacks have backfired. They are contributing to voters' distaste for the Republican ticket.
And they're leaving behind a hollowed out party destined for minority status. As independents and moderate Republicans like Colin Powell abandon the McCain-Palin GOP in droves, all that remains are increasingly bitter, frustrated, far-right voters. This election's coming Democratic tsunami will exile Republicans to the political wilderness, where they will have to decide whether to keep clinging to yesterday's politics of fear.
As for John McCain and Sarah Palin, shame on both of them. After resorting to careless demagoguery and stirring up hatred and division so recklessly, neither deserves to hold public office.
Erik Ose is a veteran of Democratic campaigns in North Carolina and blogs at The Latest Outrage.

---
New York Times Endorses Obama: "The Nation's Future Truly Hangs In The Balance"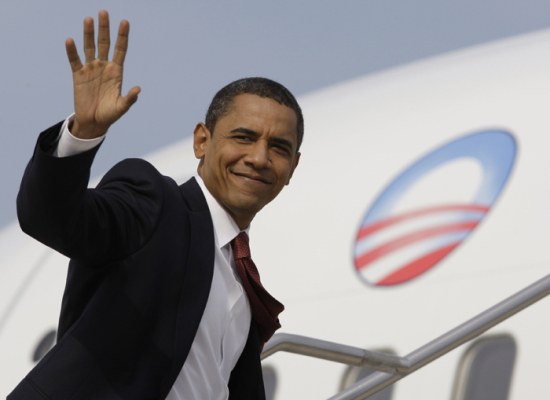 Barack Obama for President
Hyperbole is the currency of presidential campaigns, but this year the nation's future truly hangs in the balance.
The United States is battered and drifting after eight years of President Bush's failed leadership. He is saddling his successor with two wars, a scarred global image and a government systematically stripped of its ability to protect and help its citizens — whether they are fleeing a hurricane's floodwaters, searching for affordable health care or struggling to hold on to their homes, jobs, savings and pensions in the midst of a financial crisis that was foretold and preventable.
As tough as the times are, the selection of a new president is easy. After nearly two years of a grueling and ugly campaign, Senator Barack Obama of Illinois has proved that he is the right choice to be the 44th president of the United States.
•
Mr. Obama has met challenge after challenge, growing as a leader and putting real flesh on his early promises of hope and change. He has shown a cool head and sound judgment. We believe he has the will and the ability to forge the broad political consensus that is essential to finding solutions to this nation's problems.
In the same time, Senator John McCain of Arizona has retreated farther and farther to the fringe of American politics, running a campaign on partisan division, class warfare and even hints of racism. His policies and worldview are mired in the past. His choice of a running mate so evidently unfit for the office was a final act of opportunism and bad judgment that eclipsed the accomplishments of 26 years in Congress.
Given the particularly ugly nature of Mr. McCain's campaign, the urge to choose on the basis of raw emotion is strong. But there is a greater value in looking closely at the facts of life in America today and at the prescriptions the candidates offer. The differences are profound.
Mr. McCain offers more of the Republican every-man-for-himself ideology, now lying in shards on Wall Street and in Americans' bank accounts. Mr. Obama has another vision of government's role and responsibilities.
In his convention speech in Denver, Mr. Obama said, "Government cannot solve all our problems, but what it should do is that which we cannot do for ourselves: protect us from harm and provide every child a decent education; keep our water clean and our toys safe; invest in new schools and new roads and new science and technology."
Since the financial crisis, he has correctly identified the abject failure of government regulation that has brought the markets to the brink of collapse.
The Economy
The American financial system is the victim of decades of Republican deregulatory and anti-tax policies. Those ideas have been proved wrong at an unfathomable price, but Mr. McCain — a self-proclaimed "foot soldier in the Reagan revolution" — is still a believer.
Mr. Obama sees that far-reaching reforms will be needed to protect Americans and American business.
Mr. McCain talks about reform a lot, but his vision is pinched. His answer to any economic question is to eliminate pork-barrel spending — about $18 billion in a $3 trillion budget — cut taxes and wait for unfettered markets to solve the problem.
Mr. Obama is clear that the nation's tax structure must be changed to make it fairer. That means the well-off Americans who have benefited disproportionately from Mr. Bush's tax cuts will have to pay some more. Working Americans, who have seen their standard of living fall and their children's options narrow, will benefit. Mr. Obama wants to raise the minimum wage and tie it to inflation, restore a climate in which workers are able to organize unions if they wish and expand educational opportunities.
Mr. McCain, who once opposed President Bush's tax cuts for the wealthy as fiscally irresponsible, now wants to make them permanent. And while he talks about keeping taxes low for everyone, his proposed cuts would overwhelmingly benefit the top 1 percent of Americans while digging the country into a deeper fiscal hole.
National Security
The American military — its people and equipment — is dangerously overstretched. Mr. Bush has neglected the necessary war in Afghanistan, which now threatens to spiral into defeat. The unnecessary and staggeringly costly war in Iraq must be ended as quickly and responsibly as possible.
While Iraq's leaders insist on a swift drawdown of American troops and a deadline for the end of the occupation, Mr. McCain is still taking about some ill-defined "victory." As a result, he has offered no real plan for extracting American troops and limiting any further damage to Iraq and its neighbors.
Mr. Obama was an early and thoughtful opponent of the war in Iraq, and he has presented a military and diplomatic plan for withdrawing American forces. Mr. Obama also has correctly warned that until the Pentagon starts pulling troops out of Iraq, there will not be enough troops to defeat the Taliban and Al Qaeda in Afghanistan.
Mr. McCain, like Mr. Bush, has only belatedly focused on Afghanistan's dangerous unraveling and the threat that neighboring Pakistan may quickly follow.
Mr. Obama would have a learning curve on foreign affairs, but he has already showed sounder judgment than his opponent on these critical issues. His choice of Senator Joseph Biden — who has deep foreign-policy expertise — as his running mate is another sign of that sound judgment. Mr. McCain's long interest in foreign policy and the many dangers this country now faces make his choice of Gov. Sarah Palin of Alaska more irresponsible.
Both presidential candidates talk about strengthening alliances in Europe and Asia, including NATO, and strongly support Israel. Both candidates talk about repairing America's image in the world. But it seems clear to us that Mr. Obama is far more likely to do that — and not just because the first black president would present a new American face to the world.
Mr. Obama wants to reform the United Nations, while Mr. McCain wants to create a new entity, the League of Democracies — a move that would incite even fiercer anti-American furies around the world.
Unfortunately, Mr. McCain, like Mr. Bush, sees the world as divided into friends (like Georgia) and adversaries (like Russia). He proposed kicking Russia out of the Group of 8 industrialized nations even before the invasion of Georgia. We have no sympathy for Moscow's bullying, but we also have no desire to replay the cold war. The United States must find a way to constrain the Russians' worst impulses, while preserving the ability to work with them on arms control and other vital initiatives.
Both candidates talk tough on terrorism, and neither has ruled out military action to end Iran's nuclear weapons program. But Mr. Obama has called for a serious effort to try to wean Tehran from its nuclear ambitions with more credible diplomatic overtures and tougher sanctions. Mr. McCain's willingness to joke about bombing Iran was frightening.
The Constitution and the Rule of Law
Under Mr. Bush and Vice President Dick Cheney, the Constitution, the Bill of Rights, the justice system and the separation of powers have come under relentless attack. Mr. Bush chose to exploit the tragedy of Sept. 11, 2001, the moment in which he looked like the president of a unified nation, to try to place himself above the law.
Mr. Bush has arrogated the power to imprison men without charges and browbeat Congress into granting an unfettered authority to spy on Americans. He has created untold numbers of "black" programs, including secret prisons and outsourced torture. The president has issued hundreds, if not thousands, of secret orders. We fear it will take years of forensic research to discover how many basic rights have been violated.
Both candidates have renounced torture and are committed to closing the prison camp in Guantánamo Bay, Cuba.
But Mr. Obama has gone beyond that, promising to identify and correct Mr. Bush's attacks on the democratic system. Mr. McCain has been silent on the subject.
Mr. McCain improved protections for detainees. But then he helped the White House push through the appalling Military Commissions Act of 2006, which denied detainees the right to a hearing in a real court and put Washington in conflict with the Geneva Conventions, greatly increasing the risk to American troops.
The next president will have the chance to appoint one or more justices to a Supreme Court that is on the brink of being dominated by a radical right wing. Mr. Obama may appoint less liberal judges than some of his followers might like, but Mr. McCain is certain to pick rigid ideologues. He has said he would never appoint a judge who believes in women's reproductive rights.
The Candidates
It will be an enormous challenge just to get the nation back to where it was before Mr. Bush, to begin to mend its image in the world and to restore its self-confidence and its self-respect. Doing all of that, and leading America forward, will require strength of will, character and intellect, sober judgment and a cool, steady hand.
Mr. Obama has those qualities in abundance. Watching him being tested in the campaign has long since erased the reservations that led us to endorse Senator Hillary Rodham Clinton in the Democratic primaries. He has drawn in legions of new voters with powerful messages of hope and possibility and calls for shared sacrifice and social responsibility.
Mr. McCain, whom we chose as the best Republican nominee in the primaries, has spent the last coins of his reputation for principle and sound judgment to placate the limitless demands and narrow vision of the far-right wing. His righteous fury at being driven out of the 2000 primaries on a racist tide aimed at his adopted daughter has been replaced by a zealous embrace of those same win-at-all-costs tactics and tacticians.
He surrendered his standing as an independent thinker in his rush to embrace Mr. Bush's misbegotten tax policies and to abandon his leadership position on climate change and immigration reform.
Mr. McCain could have seized the high ground on energy and the environment. Earlier in his career, he offered the first plausible bill to control America's emissions of greenhouse gases. Now his positions are a caricature of that record: think Ms. Palin leading chants of "drill, baby, drill."
Mr. Obama has endorsed some offshore drilling, but as part of a comprehensive strategy including big investments in new, clean technologies.
•
Mr. Obama has withstood some of the toughest campaign attacks ever mounted against a candidate. He's been called un-American and accused of hiding a secret Islamic faith. The Republicans have linked him to domestic terrorists and questioned his wife's love of her country. Ms. Palin has also questioned millions of Americans' patriotism, calling Republican-leaning states "pro-America."
This politics of fear, division and character assassination helped Mr. Bush drive Mr. McCain from the 2000 Republican primaries and defeat Senator John Kerry in 2004. It has been the dominant theme of his failed presidency.
The nation's problems are simply too grave to be reduced to slashing "robo-calls" and negative ads. This country needs sensible leadership, compassionate leadership, honest leadership and strong leadership. Barack Obama has shown that he has all of those qualities.
---
HuffPoCo
:
CC Goldwater
:
Why McCain Has Lost Our Vote
Being Barry Goldwater's granddaughter and living in Arizona, one would assume that I would be voting for our state's senator, John McCain. I am still struck by certain 'dyed in the wool' Republicans who are on the fence this election, as it seems like a no-brainer to me.
Myself, along with my siblings and a few cousins, will not be supporting the Republican presidential candidates this year. We believe strongly in what our grandfather stood for: honesty, integrity, and personal freedom, free from political maneuvering and fear tactics. I learned a lot about my grandfather while producing the documentary, Mr. Conservative Goldwater on Goldwater. Our generation of Goldwaters expects government to provide for constitutional protections. We reject the constant intrusion into our personal lives, along with other crucial policy issues of the McCain/Palin ticket.
My grandfather (Paka) would never suggest denying a woman's right to choose. My grandmother co-founded Planned Parenthood in Arizona in the 1930's, a cause my grandfather supported. I'm not sure about how he would feel about marriage rights based on same-sex orientation. I think he would feel that love and respect for ones privacy is what matters most and not the intolerance and poor judgment displayed by McCain over the years. Paka respected our civil liberties and passed on the message that that we should conduct our lives standing up for the basic freedoms we hold so dear.
For a while, there were several candidates who aligned themselves with the Goldwater version of Conservative thought. My grandfather had undying respect for the U.S. Constitution, and an understanding of its true meanings.
There always have been a glimmer of hope that someday, someone would "race through the gate" full steam in Goldwater style. Unfortunately, this hasn't happened, and the Republican brand has been tarnished in a shameless effort to gain votes and appeal to the lowest emotion, fear. Nothing about McCain, except for maybe a uniform, compares to the same ideology of what Goldwater stood for as a politician. The McCain/Palin plan is to appear diverse and inclusive, using women and minorities to push an agenda that makes us all financially vulnerable, fearful, and less safe.
When you see the candidate's in political ads, you can't help but be reminded of the 1964 presidential campaign of Johnson/Goldwater, the 'origin of spin', that twists the truth and obscures what really matters. Nothing about the Republican ticket offers the hope America needs to regain it's standing in the world, that's why we're going to support Barack Obama. I think that Obama has shown his ability and integrity.
After the last eight years, there's a lot of clean up do. Roll up your sleeves, Senators Obama and Biden, and we Goldwaters will roll ours up with you.

---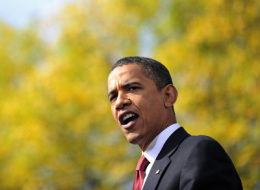 (CBS)
With just twelve days left until Election Day, Democratic presidential nominee
Barack Obama
holds a 13-point lead over Republican rival
John McCain
, a new CBS News/New York Times poll shows.
Obama now leads McCain 52 percent to 39 percent among likely voters nationwide, roughly the same lead he held
last week
. Just five percent are undecided, and more than 9 in 10 of each candidate's supporters say their mind is made up.
Obama's lead among independent voters, who have swung back and forth between the candidates, has fallen 12 points since last week - though the Democratic nominee still holds a 45 percent to 39 percent edge among the group.
Obama has been more successful in evoking a positive response from voters: Sixty-two percent say they feel personally comfortable with the Illinois senator. Far fewer - 47 percent - feel comfortable with McCain. In fact, a slightly higher percentage - 49 percent - report feeling "uneasy" about the Republican nominee. Thirty-four percent feel uneasy about Obama.
---

Read The Complete Poll

---
An increasing number of voters see McCain as running a negative campaign. Sixty-four percent say the Republican is spending more time attacking the other candidate than explaining what he would do as president, up 11 points from last month. Just 22 percent say the same of Obama.
The Democratic nominee is much more likely to be seen as having the temperament and personality to be president, and he holds a big advantage on handling the economy.
He is widely expected to win the presidency, with likely voters predicting an Obama victory by more than three to one.
Views Of The Candidates
Seventy-five percent of registered voters say Obama has the temperament and personality to be president, up 6 points from last week. Nineteen percent say he does not. Only 50 percent say McCain has the proper temperament and personality, while nearly as many - 45 percent - say that he does not.
When it comes to confidence in handling a crisis, Obama has a slight edge. Forty-nine percent say they are confident that Obama can deal with a crisis, while 47 percent are uneasy about the prospect. Forty-six percent are confident in McCain to handle a crisis, while 51 percent are uneasy.
In early September, McCain held a large lead on preparedness to be president, with 71 percent saying he is prepared versus 48 percent for Obama. While McCain still holds an advantage on this question, his lead has shrunk. Now 64 percent say McCain is prepared for the job, while 56 percent say the same of Obama.
---

"Only On The Web:" A look at the way CBS polls are conducted.


---
Sixty-five percent of voters are either very or somewhat confident in Obama to make the right decisions on the economy. A majority - 52 percent - are not confident in McCain on the economy. While 60 percent say Obama's policies will favor the middle class or poor, nearly the same percentage say McCain's policies would favor the rich.
When it comes to handling the war in Iraq, the candidates are now about even. Though voters are more likely to be "very confident" in McCain (32 percent) than Obama (28 percent) to make the right decisions on Iraq, they are also more likely to be at least somewhat confident in Obama (56 percent) than McCain (53 percent).
Obama holds a dramatic lead on confidence in handling health care, with 69 percent expressing confidence in him and 41 percent expressing confidence in McCain.
Obama continues to hold the lead on understanding the needs and problems of Americans, with 68 percent saying he understands their needs and 42 percent saying McCain understands. The Democratic nominee holds a wide edge on inspiring voters, with 53 percent saying Obama inspires them about their future and 27 percent saying the same of McCain.
Both candidates are seen as relatively honest, though Obama holds a slight edge. Fifty-three percent say Obama is more honest than most public officials, while 46 percent say McCain is more honest. Twelve percent say Obama is less honest, and 13 percent say McCain is less honest.
Obama is also seen as more clear about what he would do: 81 percent say he is clear about his plans. Sixty-five percent say McCain is clear about what he would do as president.
Obama holds a wide edge on favorability. More than half of registered voters - 52 percent - have a favorable opinion of Obama, while 31 percent have an unfavorable opinion of him. For McCain, the percentage that views him unfavorably - 46 percent - exceeds the percentage that views him favorably - 39 percent.
The Vice Presidential Candidates, The Candidates' Spouses And The Powell Endorsement
Voters continue to hold a net negative view of Republican vice presidential nominee
Sarah Palin
, with 31 percent viewing her favorably and 40 percent viewing her unfavorably. They hold a far more positive view of Democratic counterpart
Joe Biden
, with 43 percent viewing him favorably and 20 percent unfavorably.
Just 33 percent of Independents view Palin favorably. Thirty-nine percent view her unfavorably. Shortly after the Republican convention, 46 percent of Independents held a favorable view of the Alaska governor. Biden is viewed more favorably (37 percent) than unfavorably (25 percent) among the group.
Views of both Michelle Obama and Cindy McCain are more positive than negative, though many voters do not hold an opinion. Michelle Obama's favorable rating is 36 percent, her unfavorable rating is 16 percent, and the percentage who are undecided or don't know is 46 percent. For Cindy McCain, the majority are undecided or don't know, while 26 percent view her favorably and 15 percent unfavorably.
Ret. General Colin Powell, who recently endorsed Obama for president, is viewed favorably by 54 percent of voters. That's higher than either presidential candidate, but lower than the 67 percent who held a favorable opinion of him in 2004. Just 11 percent hold an unfavorable view of Powell.
The former Secretary of State is viewed more positively by Obama supporters than McCain backers, and while 51 percent of Republicans hold a favorable view of Powell, that number is down from 85 percent four years ago.
Demographic Groups And Uncommitted Voters
Obama leads among men (50 percent to 41 percent), women (55 percent to 37 percent), moderates (56 percent to 34 percent) and voters who supported Hillary Clinton in the Democratic primaries (78 percent to 16 percent). He also leads 52 percent to 42 percent among a group he had difficulty with during the primaries -- white working class voters.
McCain leads among Republicans (83 percent to 11 percent), conservatives (68 percent to 26 percent), white evangelical voters (69 percent to 21 percent) and whites making more than $50,000 per year (48 percent to 43 percent).
The race is essentially even among whites overall (including both white men and white women) and whites with no college degree.
The number of voters who can be considered uncommitted - they are either completely undecided or have not completely committed to their candidate - is dwindling. Just 13 percent of likely voters in this poll are uncommitted.
Uncommitted voters are generally not highly educated and are more likely to be 45 or older, and a majority live in rural areas. Though they are not highly partisan - more than one in three describe themselves as independent - they voted for George W. Bush over John Kerry by nearly two to one four years ago.
Race In The Campaign
Most registered voters do not believe the policies of either Obama or McCain would favor blacks over whites, or vice versa. But one in ten say Obama would favor blacks over whites, and one in five say McCain would favor whites over blacks.
McCain supporters are more likely to expect Obama to favor blacks over whites (24 percent say he will), while Obama supporters are more likely to expect McCain to favor whites (33 percent say so).
---

"Only On The Web:" Analyzing the Bradley Effect in this year's election.


---
One in three registered voters claims to know someone who is not supporting Obama because he is black. A smaller but still substantial percentage, about one in five, claims to know someone who is backing Obama because of his race.
The 2008 Congressional Elections
The Democratic Party continues to hold a substantial lead overall in the 2008 elections for the House of Representatives. Forty-eight percent of likely voters say they plan on voting for the Democratic candidate in their district's House race, while 36 percent plan to vote for the Republican candidate.
Fifty-six percent of Americans view the Democratic Party favorably, while only 36 percent have a favorable opinion of the Republican Party. At 60 percent, the Republican Party's unfavorable rating is the highest percentage ever recorded for either party.
McCain has recently been campaigning on the idea that a Republican administration will be a necessary check on a Congress that will likely be Democratic. Americans are divided on the question. While 41 percent think it is better to have the executive and legislative branches controlled by different parties, nearly as many - 36 percent - would rather have them be controlled by the same party.
---
night