Sparky: Yeah for the Prince! Politics to follow — I think I do see why the idiot Porn Star thing happened Guru. Palin is a mean bitch -- She isn't hot. She is the girl guys ditched after she swallowed twice. You know the wannabe cheerleader.

No one sees her as anything but Qualye in a dress.

Prince of Wales to be patron of the Jewish Museum
It will be the first time the Prince has become a member of a Jewish community organisation in Britain.

The Camden-based museum is currently being enlarged with the help of a £4.2 million grant from the Heritage Lottery Fund. It is scheduled to reopen in autumn 2009.

Accepting the position as patron, the Prince said: "Aside from housing its unique and beautiful collection of Judaica from this country and around the world, the museum serves as a centre of explanation of the Jewish religion, especially for children.

"One of the most urgent issues that needs to be addressed today, in the United Kingdom and elsewhere in the world, is the fostering of understanding between people of different faiths.

"Those who can develop such understanding, I believe, will contribute so much more towards the harmonious progress of our world. The development of the extended museum is a project that I wholeheartedly support."

The Prince has never been afraid of showing his support for other faiths, telling a television interviewer in 1994 that he would like to be known as Defender of Faith when he becomes king, rather than Defender of the Faith.

Rickie Burman, director of the Jewish Museum said she and her colleagues were "privileged" to welcome the Prince as their patron. She added: "We look forward to welcoming His Royal Highness to the new Jewish Museum when it reopens in 2009".


---
Obama Opens Lead Over McCain as Voters Sharpen Focus on Economy
By Heidi Przybyla

Sept. 25 (Bloomberg) -- Democrat Barack Obama has opened a small lead in the presidential race as his strength on the economy, the top concern of voters, outweighs Republican John McCain's advantages on Iraq and national security.

Obama leads McCain 49 percent to 45 percent among likely voters, according to a Bloomberg/Los Angeles Times national poll. The Illinois senator's edge is a little larger when minor-party candidates are thrown in, and slightly smaller among all registered voters.

The financial crisis has focused voters on economic issues, where Obama has the advantage. In addition, as has been the case all year, Obama, 47, wins higher marks on the question of which candidate would most change Washington, though Arizona Senator McCain, 72, is viewed as the most experienced.

"Obama seems to be carrying the day on the things that are important to voters,'' says Susan Pinkus, the Los Angeles Times polling director. "It's just a matter of why isn't he further ahead.''

Democrats also retain a distinct advantage in the congressional elections. A little more than half of all likely voters say they would like to see Democrats win their congressional district, compared with 41 percent who say they plan to vote Republican.


Running Mates


The poll is the first Bloomberg/Times survey since the Democratic and Republican National Conventions in late August and early September, when both parties approved their tickets. Far more voters, 68 percent, view Obama's vice-presidential pick, Delaware Senator Joe Biden, as qualified, compared with 41 percent who say the same about McCain's running mate, Governor Sarah Palin of Alaska.

Still, slightly more voters have a positive feeling about Palin than about Biden, by a margin of 48 percent to 42 percent. This is particularly true among independents, 54 percent of whom say they have a positive view of her, compared with 30 percent who say the same about Biden.

One piece of encouraging news for the Republicans is that a bare majority of voters, 51 percent, says a McCain presidency would continue President George W. Bush's policies, a staple of Obama's campaign pitch. That is a drop from a survey in June, when 56 percent said they viewed McCain as too similar to Bush, whose approval ratings remain at historic lows.


Tax Attack


On the flip side, Republican attempts to paint Obama as a big taxer aren't resonating, either. Asked which would be more likely to lower taxes, a plurality of voters says neither; a quarter choose Obama and 19 percent pick McCain.

Obama continues to lead McCain across the board on domestic issues, which a majority of voters consider the most important factor in their choice of candidate. The Illinois senator beats McCain by 14 points on who has better ideas for strengthening the nation's economy.

In interviews, some voters say the financial system's meltdown of the past week has cemented their preferences.

"It's such a large and immediate chaos all of a sudden,'' says respondent Mike Manning, a 61-year-old federal worker from Fremont, California, who plans to vote for Obama. "McCain has been saying that this is a hiccup and everything's going to be OK. I don't think that's going to work anymore.''


Energy, Health Care


More than half of all voters in the new poll also say they prefer Obama's plans to provide affordable health care and address the energy crisis.

On health care, Obama's proposal would offer coverage regardless of pre-existing conditions, with government subsidies for those who can't afford premiums. Just 34 percent prefer McCain's plan to give tax credits to help those who don't have employer-based health insurance to buy coverage.

When it comes to addressing soaring energy costs, 51 percent of voters say they prefer Obama's plan, which includes spending on alternative energy sources and ``green'' jobs and a proposal to give $1,000 energy rebates to working families that would be financed by higher taxes on oil company profits. McCain's plan for offshore drilling, building more nuclear power plants and a $5,000 tax credit for buying energy-efficient cars draws 38 percent support.

The poll of 1,287 registered voters, including 838 likely voters, was conducted Sept. 19-22 and has a margin of sampling error of plus or minus 3 percentage points for both groups.


Uniting the Base


Overall, it shows that both candidates have largely succeeded in unifying their party base, with 87 percent of Democrats backing Obama and 91 percent of Republicans lining up behind McCain. As in previous polls, voters show more excitement about Obama, with 84 percent of his voters describing themselves as enthusiastic, compared with 70 percent of McCain backers who say the same.

In addition, the poll shows the change message still belongs to Obama, with slightly more than half of all registered voters saying he would substantially change the way things are done, compared with 27 percent who say the same for McCain.

Yet the survey also shows Obama is still struggling to consolidate support from voters who backed New York Senator Hillary Clinton in the primary elections, about a quarter of whom say they plan to vote for McCain and Palin, 44.

One such voter is Rose Jarvis, a 46-year-old poll respondent from Ripley, West Virginia, who voted for Clinton and now backs McCain.


Jeremiah Wright


She says she has been influenced by the controversial comments of Obama's former pastor, Reverend Jeremiah Wright, and cites crime in Chicago and sex education for children, issues that have been the subject of attack ads against Obama.

"I feel I've had to give up being a Democrat,'' says Jarvis, a homemaker.

McCain's greatest area of strength in poll is the growing perception of voters that he is the best leader on national security and the war in Iraq. He leads Obama 54 percent to 29 percent when it comes to who would best protect the country from terrorism, and by 16 points on who would best achieve success in Iraq. On both questions, the Republican has wider margins of support than in the June poll.

McCain receives slightly higher ratings when it comes to the question of who Americans trust to deal wisely with an international crisis; 67 percent say they have confidence in Obama, compared with 77 percent who say they trust McCain.

Also encouraging for McCain: He may be showing some success in expanding his Republican base. Independents are supporting the Republican presidential ticket by a margin of 49 percent to 34 percent. Whites back McCain by a margin of 49 percent to 39 percent, while black voters give Obama 96 percent of their support, compared with 3 percent for McCain.

Males are slightly more likely to favor McCain; women prefer Obama. Geographically, Obama has a distinct lead in the East and West, and McCain leads in the South.
To contact the reporter on this story: Heidi Przybyla in Las Vegas at hprzybyla@bloomberg.net
---
Freddie Mac paid McCain aide's firm
"A mortgage giant in center of the financial crisis paid $15,000 a month to a firm owned by McCain's campaign manager as recently as last month, sources say. ..."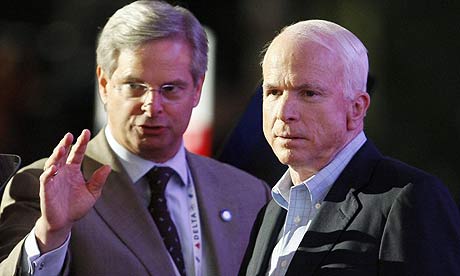 Rick Davis with John McCain before McCain's speech at the Republican National Convention. Photograph: Charles Dharapak/AP
A consulting firm owned by John McCain's campaign manager accepted large fees from a mortgage company at the centre of the financial crisis ripping through Wall Street, according to reports today.

A firm led by Rick Davis, a long-time McCain aide and chief of the Republican candidate's day-to-day campaign, received payments totalling $500,000 between the end of 2005 and last month from Freddie Mac, according to the New York Times and others this morning.

The reports appear to directly contradict comments by McCain at the weekend. Asked in an interview about ties between Davis and the mortgage giants, McCain responded that Davis, "has had nothing to do with it since, and I'll be glad to have his record examined by anybody who wants to look at it".

Freddie Mac was taken over by the federal government this month, along with fellow mortgage giant Fannie Mae, as credit markets froze and threatened the health of the US economy.

McCain and Barack Obama have sparred over ties to lobbying firms and financial institutions caught up in the Wall Street turmoil. Freddie Mac and Fannie Mae both had long histories of aggressive lobbying to fend off government restrictions on their business.

The McCain campaign has run advertisements saying Obama takes housing advice from Frank Raines, a former Fannie Mae chief executive, a link the Obama campaign denies.

Citing two anonymous sources, the New York Times said Davis did not do much work for Freddie Mac, other than to address a meeting of high-level employees in October 2006, and was paid $15,000 per month. Davis took a leave from his company, Davis Manafort, to work for McCain's presidential campaign, but as an owner still holds an equity stake in the firm.

Today, Davis skipped a regular luncheon with reporters sponsored by the Christian Science Monitor newspaper, the Chicago Sun-Times reported.

A top aide to the Obama campaign this morning suggested that Freddie Mac had paid Davis merely to gain access to McCain. "It is now clear that both John McCain and Rick Davis did not tell the truth about Davis's continuing financial relationship with Freddie Mac, one of the actors at the centre of this financial crisis," said Dan Pfeiffer, communications director to the campaign. "It's troubling not only that Davis's firm—with which he is still associated and which the McCain campaign paid directly last year—continued to be compensated by Freddie Mac until as recently as last month, but that the firm did little work and apparently was being paid simply to provide access to the McCain campaign."

On Monday, the New York Times reported that Davis received an additional $30,000 to $35,000 per month as president of the Homeownership Alliance, an organisation controlled by Fannie Mae and Freddie Mac aimed at combating government efforts to restrict their business. When that organisation dissolved, Freddie Mac began paying Davis Manafort.

The McCain campaign did not dispute the payments to Davis Manafort, but this morning released a long attack on the legitimacy of the New York Times article.

"Today the New York Times launched its latest attack on this campaign in its capacity as an Obama advocacy organization," the statement began.

It continued: "Therefore this 'report' from the New York Times must be evaluated in the context of its intent and purpose. It is a partisan attack falsely labelled as objective news. And its most serious allegations are based entirely on the claims of anonymous sources, a familiar yet regretful tactic for the paper."

---
Did Palin Really Say She Wouldn't Hire Blacks?
By Earl Ofari Hutchinson
Sarah Palin admittedly hasn't had much of a track record when it comes to acknowledging let alone promoting diversity during her short tenure as Alaska governor. She's on record with a terse utterance on hate crimes legislation and another one on cultural diversity.
During the 2006 gubernatorial campaign she told the Eagle Forum that she opposed expanded hate crime legislation. In her gubernatorial campaign booklet in 2006, Palin gave her equally terse view of discrimination. She simply said that she and her gubernatorial running mate would provide opportunities for all Alaskans. There is no record that Palin has made any other public statements on diversity and minority issues since then. This in itself might be cause for only a slight eyebrow raise. ...
---
Hmmm. Songbird is getting scared? Maybe Palin will flash those fake tits?
FAKE