Sparky hates haters! Loves those who make him laugh.
---
Rick Sanchez Calls Out Fox Over "Mutilation" Hoa
x
McCain Aide Gave Reporters Incendiary Version Of Story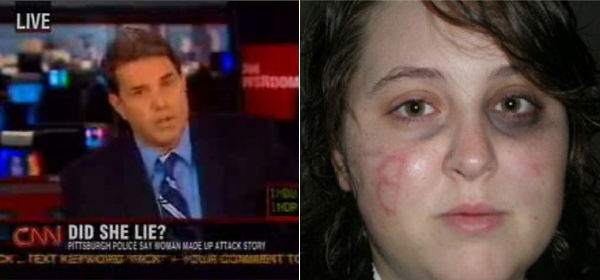 ---
Campaign Volunteer Faces Charges In Attack Hoax
Ashley Todd told investigators today she "just wanted to tell the truth" -- and was neither robbed, nor attacked
Todd, 20, is now facing charges for filing a false report to police
PITTSBURGH (KDKA) ―
A campaign worker who claimed she was the victim of a politically-motivated attack in which she was beaten, kicked and cut, now admits that she made the whole story up.
According to Pittsburgh police spokeswoman Diane Richard, Ashley Todd, 20, told investigators today that she "was not robbed and there was no 6'4" black male attacker."
Todd initially told police that she was robbed at an ATM in Bloomfield Wednesday night and that the suspect began beating her after seeing a John McCain bumper sticker on her car.
Todd claimed that the mugger even cut a backwards letter "B" in her cheek.
But today investigators say Todd confessed that the attack never happened.
At a news conference this afternoon, officials said they believe that Todd's injuries were self-inflicted.
Police investigating the report said Todd's story began to unravel early on and they administered a polygraph test.
Investigators asked Todd to return to the police station today for more questioning and to help them release a composite sketch of the suspect.
When she did, police say she admitted that she made the whole thing up and that it snowballed out of control.
Todd told investigators today that she "just wanted to tell the truth" – adding that she was neither robbed, nor attacked.
"She indicated that she has prior mental problems and that she does not remember how the backward letter B got on her face," Richard told reporters today.
Todd told police that while she did not remember how the backward "B" got on her face, she may have done it herself since she was the only one in the car.
According to police, Todd said she thought of Barack Obama when she saw the "B" in her rearview mirror.
Meanwhile, police and residents of Bloomfield say they had suspicions from the beginning about the validity of Todd's tale.
"Something seemed a little strange about the story to begin with," said Lisa Diulus.
"I think it's a shame," said Theresa Cherico. "She made Bloomfield out to be like an unsafe neighborhood."
"I don't know, McCain is down in the polls, maybe this is a boost to get him up a little bit," said Mark Billings. "I don't know, maybe she had some personal problems or something."
Police say there's no indication that anyone else was involved in bogus robbery and assault incident involving Todd.
Todd is now facing charge for filing a false police report.
She is spending the weekend behind bars awaiting a psychiatric evaluation on Monday.
========================================
---