Sparky says - 100% Fake "Sarahs" 100% of the time as we find mean and stupid people truly ugly.
Because you can see her whoring for real power ... as she is a total
BITCH! Keep it in your pants for actual nice people ...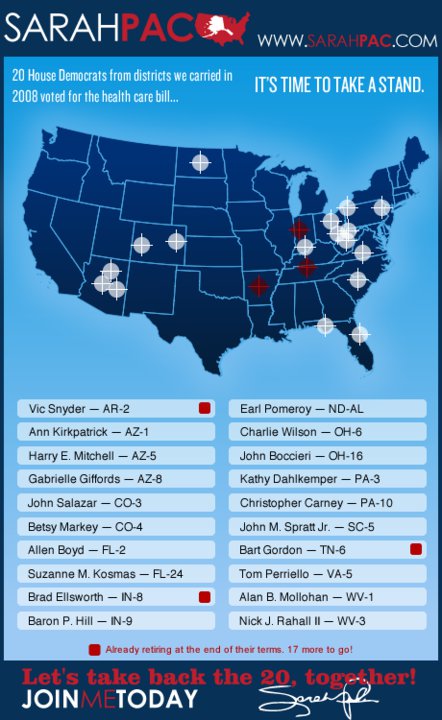 In the wake of numerous death threats and vandalism plaguing House Democrats who voted for health insurance reform, many have been asking if the actions of Sarah Palin and other right-wing pundits cross the line from free speech into criminal speech.
Sarah Palin published on her Facebook page a list of twenty Democrats who voted for health insurance reform and who are elected in districts that used to be Republican. Their locations on a map of the United States are marked by crosshairs - a symbol that clearly refers to target practice and violence.
These targeted politicians have received death threats. Their offices and homes and the homes of their family members have been vandalized. They are beefing up security measures for themselves and those who are close to them. Sarah Palin might be to blame.
But she is not a criminal.
The Supreme Court has a high standard for criminalizing speech. Free speech, while not an absolute right, is a highly protected privilege in the United States.
Under certain narrow circumstances, the government can punish or prevent speech when "the words are used in such circumstances and are of such a nature to create a clear and present danger that they will bring about the substantive evils that Congress has a right to prevent." (Schenck v. United States, 1919). This was translated in 1970 into a legal test that demands criminal speech 1) be directed to inciting or producing imminent lawless action" and 2) be "likely to produce such action." (Brandenburg v. Ohio, 1970). As Justice Brandeis pointed out in his concurring opinion on the subject of incitement to violence, "If there is time to expose through discussion the falsehood and fallacies, to avert the evil by the process of education, the remedy to be applied is more speech, not enforced silence." (Whitney v. California, 1927).
In Brandenburg, this legal test was applied and the Supreme Court found that a call for revenge if "our President, our Congress, our Supreme Court continues to suppress the white, Caucasian race" was not criminal speech.
The saving grace for the crazy revenge talk and gun imagery used in Palin's ad is that it does not create the expectation of imminent harm. Sure, harm has occurred. There have been incidents. But the speech itself does not go so far as to encourage immediate and concrete action. There is time, as Brandeis pointed out, for reasoned discussion and debate.
It is a good thing that we don't criminalize the kind of ads Palin is producing.
First, they are expressly political. Political speech is the highest form of protected speech under the First Amendment and that is necessary to preserve democratic function. We simply have to tolerate extreme points of view in order to prevent a tyranny of the majority and repression of the minority.
Second, expressions of frustration, anger and wishes for revenge are very different from actions that violate criminal law. We punish actions because the create harm. The speech does not. The only time that we criminalize speech is when the very act of speaking so clearly and immediately leads to harm that there is really no way to separate out the act of speaking and the violence that ensues (according to a seminal essay by Zechariah Chafee Jr., Free Speech in the United States, 1948).
That doesn't mean Palin's use of violent imagery isn't offensive. She is a public figure, a former candidate for the second highest office in the country. Her words have a great effect on the public and should be chosen carefully.
On the other hand, if we really wanted to hold politicians to a higher standard of speech, we'd have more than just one member of the Republican party to worry about.
---
Related News On Huffington Post:
Follow Emma Ruby-Sachs on Twitter: www.twitter.com/EmmaRubySachs
---
---
"Sarah Palin's Alaska" is officially headed to Discovery Communication's TLC.
The network that exploded over the last year with the help of "Jon & Kate" has acquired eight episodes of Palin's documentary-style tour of her home state, produced with reality kingpin Mark Burnett.
It is a strange move for Discovery — the purveyor of such classics as "Planet Earth" and "Life" and the parent of Planet Green and Treehugger — to sign with Palin, whose anti-nature stances include denying climate change, supporting aerial wolf-hunting, and, most famously, "Drill baby, drill!"
READ ABOUT PALIN'S MOST EGREGIOUS ANTI-NATURE STANCES
The New York Times asked a Discovery spokesman if Palin would address her views on climate change on the show; the spokesman would only say, "the deal was just concluded this week and now we begin the development and production."
The move comes on the heels of Discovery's revamp of the Planet Green network away from strictly eco-friendly programming; the network recently unveiled a primetime slate called Verge, about "conscious living and provocative storytelling," but not about green themes.
"Our family enjoys Discovery's networks," Palin said. "I look forward to working with Mark to bring the wonder and majesty of Alaska to all Americans."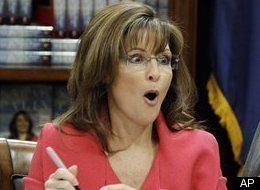 Okay - the above is real - making the fake O face. Can't we admit she is
a hateful bitch of a person and move on ...
Burnett, who created "Survivor," described Palin as "a dynamic personality that has captivated millions."
"I can't think of anyone more compelling than Sarah Palin to tell the story of Alaska," he said. "I'm thrilled to reunite with Discovery on this project, which brings together one of the most fascinating figures of our time with one of the most wondrous places on earth."
"Discovery Communications is so excited to help Sarah Palin tell the story of Alaska, and to have a great documentary filmmaker in Mark Burnett helping to reveal Alaska's powerful beauty as it has never been filmed, and as told by one of the state's proudest daughters," Discovery COO Peter Liguori added.
Liguori is the former head of Fox Entertainment.
"TLC is grounded in great storytelling, strong characters, and passionate audiences drawn to extraordinary people doing extraordinary things," TLC boss Eileen O'Neill said. "We are confident Sarah Palin's Alaska will be another compelling television event."
---
@Maiker: "This week on Sarah Palin's Alaska: Best places to hustle across the border for Canadian health care." #SarahPalinOnDiscovery
---
---
Just saying ...