Sparky: Hey Guru? Double or nothing?

The Whole Fucking World Knows It's Karl Rove Up To His Old Tricks — And the Bush Crime Clan Doesn't Care That We Know ...

Robert David Novak (born February 26, 1931) is a U.S. conservative columnist ("Inside Report", since 1963; until 1993 co-written with Rowland Evans) who is also a well-known television personality. He previously appeared on programs such as CNN's Capital Gang and Crossfire and currently is a frequent guest on NBC's Meet the Press. Novak gained additional notoriety in 2003 for revealing in print the name of an undercover CIA official, Valerie Plame, having allegedly received the information from White House officials attempting to discredit her husband Joseph Wilson, a former U.S. Ambassador and critic of the intelligence used to justify the Iraq invasion. On July 2, 2005, Newsweek magazine reported that Novak "appears to have made some kind of arrangement with the special prosecutor" in the investigation of the White House leak of Plame's covert identity.[1]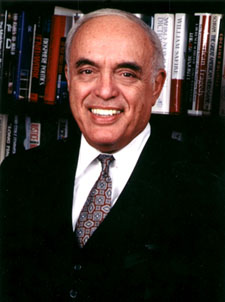 Early years and political views
Born in Joliet, Illinois, he attended the University of Illinois from 1948 to 1952 and earned a bachelors of arts degree. He wrote for the Joliet Herald-News, The Daily Illini and The Champaign-Urbana Courier while in college. After serving in the Korean War as a lieutenant in the U.S. Army, he joined the Associated Press and covered politics in Indianapolis. In 1957, he covered Congress for the AP in Washington, D.C. until he joined the D.C. bureau of The Wall Street Journal in 1958 to cover the Senate, eventually becoming the chief congressional correspondent in 1961. During his early years in Washington, Novak, although a Republican, held more centrist viewpoints than he does today; indeed, he supported the presidential candidacies of John F. Kennedy and Lyndon B. Johnson, with whom Novak was friends.
Novak has strong conservative views, yet does not strongly identify with the current direction of the Republican Party. Like Pat Buchanan, he is ideologically similar to what many call a paleoconservative. Born Jewish, Novak lost his faith in college but converted to Catholicism in 1998. He is a member of the Catholic organisation Opus Dei.
In 1966, he teamed up with Rowland Evans to create the Evans-Novak Political Report until Evans' retirement in 1993. His column is syndicated by the Chicago Sun-Times. Unlike with many columnists, Novak's columns often contain original reporting in addition to analysis and opinion.

Controversies and scandals
After a published anonymous quote from a Democratic senator labelling 1972 Democratic presidential candidate George McGovern as being for "acid, amnesty, and abortion" was contested as fabricated, critics began deriding Evans and Novak's work as "Errors and No Facts". Novak is also often referred to as, "The Prince of Darkness". [2]
In 2003, he disclosed the identity of CIA analyst Valerie Plame in his newspaper column after receiving a leak from a member of the Bush administration. The leak is currently being investigated, but some conservatives question the nature of the leak itself. The operative status of Plame, her function, and her involvement in her husband's trip to Africa are all questioned by some.
Critics complain that Novak has been inconsistent as he insists it would violate journalistic ethics to reveal the source of the Plame leak, but later called on CBS to reveal the source of the memos alleging President Bush had evaded National Guard service (see Rathergate).
Novak's loyalty to his sources was called into question after he revealed Robert Hanssen as the confidential source for some of his articles. Hanssen had served as the source for a column which attacked Janet Reno's role in an alleged cover-up of a campaign finance scandal in 1996.(New York Observer]], August 6, 2001) Novak indicated at the time that he felt justified in doing so because Hanssen was a traitor — he had been found guilty of selling state secrets to the Soviet Union. Novak also wondered whether he had been "set up" by Hanssen.
In March 2004, Novak insinuated on CNN's Crossfire that Richard Clarke had revealed government mistakes in his book dealing with the war against terrorism because he resented Condoleezza Rice's position as a black woman on the cabinet. In response to this insinuation, Jon Stewart of The Daily Show labelled Novak a "Douchebag of Liberty." Stewart has repeated the phrase a few times when Novak said or did something Stewart considered foolish or hypocritical.
In August 2004, after other journalists had reported on it, Novak admitted that his son, Alex Novak, is the Director of Marketing for the Swift Boat Veterans' publisher, Regnery Publishing. At the time he said that he didn't "think it relevant." Two months later Salon.com reported that Regnery's owner is also the publisher of Novak's own US$297 (annual rate) newsletter and that Novak is on the board of a foundation whose chief holdings are the stock of Regnery's parent company. [3]
In May 2005, Novak raised a stir when he used a Holocaust analogy to attack the negotiations between several Democratic and Republican Senators to reach a compromise in an ongoing debate over the filibustering of judicial nominations. The compromise would reportedly involve several Democrats agreeing to support the confirmation of some, but not all, of the nominees that they had previously filibustered, in return for several Republicans agreeing to vote against a proposed rules change that would remove the filibuster entirely (the "nuclear option"). Novak said agreeing to confirm some of the judges but not others was "...like going to a concentration camp and picking out which people go to the death chamber", a comparison the Anti-Defamation League termed "abhorrent" in demanding an apology. [4]
Books
Agony of the GOP, 1964
Lyndon B. Johnson: The Exercise of Power
Nixon in the White House: The Frustration of Power
The Reagan Revolution
Trivia
Novak is referred to, by some Washington insiders, as "The Prince of Darkness".[5]
Reference
External links
Cleveland Plain Dealer reporters rally in front of the Carl B. Stokes
Federal Courthouse in support of Matt Cooper and Judith Miller.
"President Bush said on Wednesday he would withhold judgment for now on the role of his top political adviser, Karl Rove, in a brewing controversy over who leaked a CIA agent's identity. ...


On Tuesday, Bush did not respond to a reporter's shouted question about whether he intended to dismiss Rove.

In September and October 2003, McClellan rejected as "ridiculous" any suggestion that Rove was involved in the Plame leak.

When asked at an Oct. 10, 2003, briefing whether Rove and two other White House aides had ever told any reporter that Plame worked for the CIA, McClellan said: "I spoke with those individuals... and those individuals assured me they were not involved in this... the leaking of classified information." ..."
PETTY POLITICAL REVENGE ENDANGERED OUR HOMELAND DEFENSE AS ROVE REVEALS HE'S JUST ANOTHER "BUSH VETERAN" CHICKENHAWK AND TOP TRAITOR WHO WRONGLY HOLDS HIMSELF ABOVE THE LAW
Matt Cooper
Matt Cooper can be heard whispering: "It's Karl
Rove and Bob Novak who are the fucking traitors" —
Why the fuck aren't they in prison?
Matthew Cooper is a reporter with TIME magazine, who, along with colleague Judith Miller was held contempt of court and threatened with imprisonment for refusing to disclose secret sources in stories connecting the White House with the Valerie Plame exposure scandal.
On June 29, 2005, U.S. Federal judge Thomas F. Hogan gave Miller and Cooper one week to reveal their sources on 29 June or face 18 months in prison - the maximum penalty.
The United States Supreme Court declined the reporters' appeal of the contempt of court finding.
On July 6, 2005, Matthew Cooper agreed to comply with the court order compelling him to testify. Matthew told the judge he had went to sleep the night before ready to face the sanctions he expected to be imposed, but he recieved a last minute call from his confidential source freeing him from his confidentality agreement. According to Newsweek's 7/18/05 issue, senior Bush advisor Karl Rove was that source, as confirmed by Rove's attorney.
Cooper spoke after a two-and-a-half hour appearance before the grand jury investigating the leak of CIA officer
Valerie Plame's
identity. He was one of several journalists to whom Plame's identity was leaked following the publication of an editorial written by her husband, former ambassador
Joseph Wilson
, in which Wilson criticized the Bush administration.
One of those journalists, Judith Miller of The New York Times, is in jail for her refusal to name the person who revealed Plame's identity to her. Last week, Cooper escaped a similar citation for contempt of court when he told the judge his source had waived confidentiality, freeing him to testify before the grand jury.
"Today I testified and agreed to testify solely because of a waiver I received from my source," Cooper said outside the courthouse. "

Once a journalist makes a commitment of confidentiality to a source, only the source can end that commitment

."
The grand jury is tasked with finding out if whoever leaked her identity to the press two years ago did so with the intent of burning her cover, possibly in retaliation for Wilson's criticisms of the administration's claims that Iraq's nuclear program.
External links
Extra credit news stories:

Cooper Details Rove Conversations About Plame
FOX News -
2 hours ago
WASHINGTON — Journalist Matt Cooper (search) on Wednesday told reporters he would give them details of his grand jury testimony detailing a conversations ...
Bush Won't Comment on Rove Role in Leak


Washington Post, DC -

2 hours ago
By PETE YOST. WASHINGTON -- President Bush said Wednesday he will withhold judgment about top aide Karl Rove's involvement in leaking ...

Rove scandal? More of the Iraq curse


MSNBC -

3 hours ago
By David Gregory. WASHINGTON, DC - President Bush said on Wednesday that he will reserve judgement on Karl Rove's possible involvement ...

Bush 'not prejudging' Rove probe


BBC News, UK -

3 hours ago
US President George W Bush has said he will withhold judgment about top aide Karl Rove's involvement in a CIA leak until a federal investigation is over. ...

Won't Defend? Then Attack!
Washington Post, DC -
3 hours ago
By Dan Froomkin. How do you defend Karl Rove? The way he himself has so effectively defended President Bush over the years, of course. You attack. ...
Bush Refuses to Discuss Rove's Role
Los Angeles Times, CA -
4 hours ago
By Edwin Chen and Warren Vieth, Times Staff Writers. WASHINGTON -- President Bush this morning refused to discuss top aide Karl Rove ...
The Rove Distraction
CBS News -
4 hours ago
(CBS) In a Web-only update, CBS Chief News White House correspondent John Roberts weighs in on the CIA Leak trail leading to President Bush's key advisor Karl ...
Bush Won't Comment on Rove During Probe
Guardian Unlimited, UK -
4 hours ago
By PETE YOST. WASHINGTON (AP) - President Bush said Wednesday that he will withhold judgment about top aide Karl Rove's involvement ...
Time Reporter Shows Up in Federal Court
Guardian Unlimited, UK -
6 hours ago
By PETE YOST. WASHINGTON (AP) - Time magazine reporter Matthew Cooper, a key figure in the Karl Rove controversy, showed up at US District Court on Wednesday. ...
Leak? What Leak?
Washington Post, DC -
7 hours ago
By Howard Kurtz. From the moment the Karl Rove story exploded over the weekend, I've been intensely curious as to what tack the conservatives would take. ...
Bush Stands by Rove Amid Leak Controversy
Washington Post, DC -
8 hours ago
By PETE YOST. WASHINGTON -- Amid calls for Karl Rove's dismissal, President Bush is standing by his top political adviser, whose ...
Time line in leak of CIA operative's identity
San Francisco Chronicle, CA -
8 hours ago
In February 2002 Joseph Wilson, former US Ambassador to Gabon and former charge d'affaires in Baghdad, travels to Niger on a CIA-financed mission to ...
Rove in the spotlight


Economist, UK -

9 hours ago
UNTIL recently, the questions were largely theoretical. How far does a journalist's right to protect sources extend? Is the free ...

Rove evasions
Boston Globe, MA -
10 hours ago
IT'S TIME for President Bush to take Karl Rove to the woodshed and show him the ax. And if Bush doesn't get better answers than ...
Scandal dogs Republican mastermind
Globe and Mail, Canada -
10 hours ago
By ALAN FREEMAN. Washington — The scent surrounding "Turd Blossom" is growing ever stronger, and unfortunately for President George ...
Truth on Rove
Detroit Free Press, MI -
11 hours ago
The White House owes the country a better explanation of Karl Rove's involvement in the leak of a CIA operative's name than the duck-and-dodge game it's playing ...
GOP on offense in defense of Rove
MSNBC -
12 hours ago
By Jim VandeHei. WASHINGTON - Republicans mounted an aggressive and coordinated defense of Karl Rove yesterday, contending that the ...
Second thoughts on leak case
Boston Globe, MA -
13 hours ago
By Robert Kuttner | July 13, 2005. LAST WEEK in this space, I implied that the special counsel in the Valerie Plame leak case, Patrick ...
Uproar Has Roots in Rove's Vast Reach
Los Angeles Times, CA -
13 hours ago
The architect of Bush's success, known for detail work, has kept close ties to the media. By Tom Hamburger and Peter Wallsten, Times Staff Writers. ...
===============
It's almost sad when an overinflated archreactionary windbag gets "popped" like this — it certainly is anticlimatic isn't it? - Sparky o&0