STRANGE DESERTED
ISLAND STIRRINGS
BELOW THE
PP

GURU

'

s
BELT
(AKA Comic Con Crotchrot Jargon Report # 3)

Although the

PP

Guru

didn't have a whole alot of time to utilize the fun factor at this year's San Diego Comic Con International such as asking for autograph hand outs from the cascade of celebrities that festered the halls (he hardly saw any lurking other than Bruce Campbell being escorted to the men's room by convention security or stumbled across some of the cast of the new Battlestar Galactica ), attending masquerade balls, or seeing sneak previews of upcoming movies ( the

PP

Guru

would have loved to have attended the new King Kong or the cult favorite, Serenity). Instead, he was too engaged at a table touting

Cary Coatney's

Deposit Man products (fucking slavedriver!!), scurrying around for writing jobs, and pestering Maggie Thompson about advertising rates in the new monthly Comics Buyer's Guide. The

PP

Guru

spent a lot of time of his time snapping digital glossies of some comic-con females attendees and their spandex posteriors...while their husbands or significant others weren't watching!! Besides, doing some shopping ( Yay!

PP

Guru

scored the new season of Doctor Who on DVD - bootlegged ), all the

PP

Guru

made personal con downtime were for two panels: one a tribute to the late Bill Liebowitz and the other dealing on the subject of comic book weirdoes doing their own blogs.
Some speaking on the panel were quite notorious for their comic book antics, most notably Mark Evanier, Variety's Tom McLean ,Peter David. Comics Journal Tom Spurgeon was there in not a very bloggy like capacity (he hates when people comment on his blog- he may not allow comments on his- however, the

PP

Guru

allows comments on his) and of course, you can't dive into the subject of blogging without everyone's favorite Queen of all Cyber Silloquays Heidi MacDonald being in attendance. When everyone seated in the audience had to go around the room and introduce himw or herself to tell everybody else what it is they do on their blog., Heidi took it upon herself to out the

PP

Guru

....
The Guru could talk about crushes ... but no ...
right ...

in front ...

of everyone ...

She acted as if she were the one responsible for creating this monstrosity of a blog of what you see before you now."And who was it who told you to start blogging,

PP

Guru

?" she asked as she spotted the

PP

Guru

in the audience. How that can that be? The

PP

Guru

was supposedly dressed in camouflage. Now the

PP

Guru

knows how Valerie Plame must feel. Then a silent pause to ponder that conundrum ambush that the

PP

Guru

has stumbled upon...
....wait.
Aha! The

PP

Guru

has got it!It was....Scarlett Johansson!Yeah, that's it, he answered. Scarlett Johansson taught the

PP

Guru

how to blog. And he is extremely grateful as you can see here: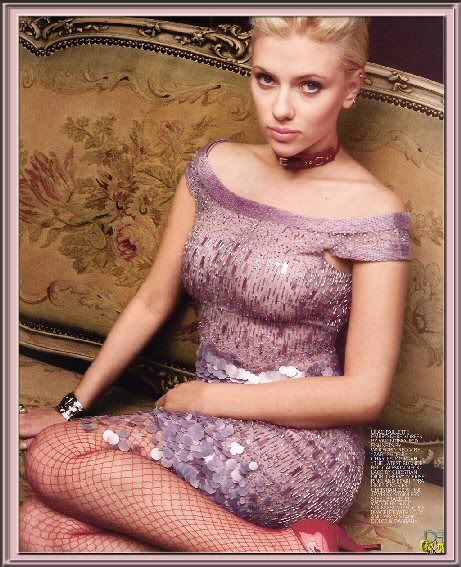 Now it isn't as if the
PP
Guru
can't give Heidi a little credit for something. After all, the
PP
Guru
has been following her remarkable innovative career for some time since the summer of 1989 when he was first introduced to her by a remarkable comic book creator who will only go by the initials of
HC
at a San Diego Comic Con which he first attended on all four days while staying at a room in the US Grant (a really cool hotel built around the turn of the last century).
Now
HC
has always had a reputation of going a little overboard with some off-the-wall borderline sexist comments - it's no secret from those who are in awe of his work. It was a Friday and it was just after the first Eisner Awards (what used to the Kirby Awards) ceremony where the PP Guru first met Heidi wearing a somewhat mini-skirt decked out with leotards that had tiger prints all over it. At the time, just a little inebriated, the
PP
Guru
was just simply admiring the view of those mesmerizing tights when all of a sudden
HC
blasted out with this rather loud and abashing comment: "
Hey Heidi- with stockings like that - you almost look like a halfway decent piece of ass! "
The
PP
Guru
was shocked that such a esteemed professional such as
HC
would stoop to such an incorrigible level to say something so derogatory to a fellow colleague. But like a lemming or a loon, the
PP
Guru
was too young to understand the ways of the world back then and therefore thought the safest thing for him would be just to chuckle into his glass of wine on the rocks as Heidi and
HC
traded crude verbage blows amongst themselves.
Then Heidi heard the
PP
Guru
smirking at
HC
's crude remark, took a leather glove out of her Felix the Cat purse and smacked the
PP
Guru
right across the face with it. The
PP
Guru
definitely saw stars at the Doubletree Hotel that night (it's called something else now- but it's still centrally located at Horten Plaza) before collapsing in a drunken heap upon a piano bench.
And that's the story of how the
PP
Guru
was introduced to Heidi that night. A conversation about dolphins and endorphins somehow played a role of provoking Heidi's ire that same evening but the
PP
Guru
vaguely goes into comic con flashback mode these days.
Sixteen years later, the
PP
Guru
is still trying to shake off that concussion, and since in that time, the accordian-playing girl with the good left hook has managed to influence plenty of people in the comic book industry to follow in her footsteps. She has worked her journalistic Tae Kwon Do skills on the
Comics Journal
, the
LA Weekly
, has edited for both
Disney
and
DC/Vertigo
comics, and was instrumental in founding the
Friends of Lulu
- an organization devoted into getting young girls (and boys) and women interested in partcipating in the reading world of comic books.
Now how can anyone top that level of accomplishment?
Well reportly now she has served as a stand-in for Scarlett in
Lost in Translation
and the new Michael Bay sci-fi flick,
The Island
which opens in theaters today through Dreamworks and that company that the
PP
Guru
works for.
The
PP
Guru
swears that's what Heidi told the
PP
Guru
last time he saw her.
Of course, Scarlett has stepped into the
PP
Guru
's heart with this picture:
Demerolly induced to:
~
Coat: