SPARKY SAYS:
C'mon - she's bone stupid. That isn't sexy. I believe her antics flying around too early while pregnant are responsible for poor Trig's condition. And her children's names? Don't pity Pebbles — as she'll continue to pester us in the future. Weep for us all!
It's all phony tits and spurs ...
---
Palin A "Whack Job," Top McCain Adviser Says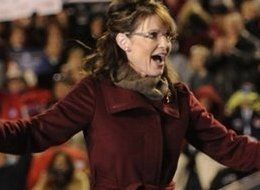 One of John McCain's advisers recently called his running mate Sarah Palin a "diva" after she went off-script at a rally, and suggested she was looking after her own political future over the current campaign. Now another adviser ups the ante in a conversation with the Politico's Playbook, labeling Palin a "whack job."
Meanwhile, Dana Milbank reports on more signs of division between McCain and his running mate on the stump:
"Sarah Oh-Twelve!" bellowed a man in field coat and jeans, one of several thousand at the Leesburg rally, when Palin spoke about her tax policies yesterday.

The oh-twelve message, if mathematically flawed, seemed to capture the crowd's sentiment. There were "I [Heart] Palin" bumper stickers on cars, "Team Sarah" T-shirts in pink, "Sarah!" pins and countless signs: "You Go Girl." "You're in Palin Country." "Maverick Barracuda." One of the souvenir vendors said his most popular offering was a pin showing Palin next to a pit bull and the usual "McCain-Palin" logo reversed, with her name first and in larger letters.

...

The diva made sure to spend some time on her "own track record" in Alaska, particularly all the taxes she cut. "Sarah! Sarah!" the crowd chanted.

"So, Virginia, will you hire us?" she asked. "Will you send us to Washington?"

"Yes, we will! Yes, we will!"

In 2012, that is.
---
Miami Herald

: Ballots picked up, then disappear
The disappearance of some absentee ballots, picked up under unusual circumstances, has raised some serious questions.
Three Hialeah voters say they had an unusual visitor at their homes last week: a man who called himself Juan, offering to help them fill out their absentee ballots and deliver them to the elections office.
The voters, all supporters of Democratic congressional candidate Raul Martinez, said they gave their ballots to the man after he told them he worked for Martinez. But the Martinez campaign said he doesn't work for them.
Juan ''told me not to worry, that they normally collected all the ballots and waited until they had a stack big enough to hand-deliver to the elections department,'' said voter Jesus Hernandez, 73. 'He said, `Don't worry. This is not going to pass through the mail to get lost.' ''
Hernandez said he worries his ballot was stolen or destroyed. He and two other voters told The Miami Herald that the man was dispatched by a woman caller who also said she worked for Martinez. But the phone number cited by the voters traces back to a consultant working for Martinez's rival, Republican congressman Lincoln Diaz-Balart.
Martinez's campaign manager, Jeff Garcia, has asked the Miami-Dade state attorney's office to investigate.
Garcia has also spent the past week investigating the complaints, taking sworn statements from the three voters and mounting an ameteur sting operation at the home of an 84-year-old voter to try to catch the culprit.
`IT IS DISTURBING'
''These are very serious allegations that could affect the outcome of an election,'' Garcia said. ``It is disturbing that in a win-at-any-cost election the congressman's campaign may be resorting to breaking the law.''
But the mystery only deepened after one complaining voter's ballot arrived at the elections office on Thursday, apparently unmolested.
The Diaz-Balart campaign denies collecting ballots and says it has no knowledge of any callers posing as the Martinez camp.
''What you are telling me is completely ludicrous. I denounce it under the strongest terms,'' said Ana Carbonell, Diaz-Balart's campaign manager. ``If someone is doing that, that's not authorized.''
Miami-Dade voters are supposed to deliver absentee ballots by mail or in person -- not through surrogates. Under a county ordinance, a third party can deliver only two ballots, and then only with a voter's permission and a note from the voter's doctor.
But Assistant State Attorney Joe Centorino said there's nothing preventing campaigns from collecting ballots and mailing them in.
The three voters said they first spoke with a woman at a phone number that belongs to Sasha Tirador, a subcontractor who manages a phone bank operation for David Custin, a Diaz-Balart political consultant.
Tirador denied collecting ballots or posing as the Martinez campaign.
Carbonell said the phone bank is only supposed to encourage absentee voters to choose Diaz-Balart.
One of the complaining voters, 47-year-old Irene Perez, said she turned over her ballot to Juan after being contacted by a woman named Aliosha Castro -- who had called Perez about voting absentee in the past.
A man named Aliosha Castro works with Tirador on the campaign, Custin said, and records show he is her partner in a car-wash business. Castro could not be reached for comment.
REPORTER HEARD CALL
On Monday, a Herald reporter listened and observed as a Martinez volunteer called Tirador's office. The voice on the other end said more than once that it was Martinez's office -- not Diaz-Balart's.
The Martinez camp then tried to set a trap after a supporter reported receiving a similar phone call from the same phone number.
Martinez's wife, Angela, hid in the bedroom of 84-year-old Clara Suarez and Garcia stood outside with a video camera when a man came to Suarez's Hialeah apartment following the call.
But Suarez -- whose niece is Martinez's longtime secretary -- said the caller she spoke with identified herself with the Diaz-Balart campaign, and the caller sent the man to bring stamps for her ballot, not to take it.
Custin said he doesn't believe Tirador's phone bank has done anything wrong, but he said he would look into the allegations. ''Nobody -- not on my watch -- goes and takes a ballot,'' he said.
In automated calls, Diaz-Balart has urged voters to put their absentee ballots in the mail -- and warned them not to give their ballots to anyone.
The ballots for Hernandez and his roommate, Felipa Gonzalez, have not been turned in. But they have not lost their votes: Angela Martinez said she drove Hernandez and Gonzalez to the polls herself to vote early.

Miami Herald staff writer Luisa Yanez contributed to this report.
---
Polls suggest Palin has become a big drag on GOP ticket
MODERATES: Alaska governor alienates all but strict conservatives.
WASHINGTON -- Sarah Palin has become a drag on the Republican presidential ticket, the first time in recent political history that a running mate has made such a difference.
Among many independents and moderate Republicans, she's raised serious questions about John McCain's judgment, become too much of a national punch line and reinforced concerns about McCain's age.
"Nice lady, no experience. It's so sad. She's a gigantic drag," said Chris DePino, a Republican consultant based in New Haven, Conn.
The Alaska governor does help the ticket somewhat by energizing hard-core Republicans, but polls suggest that overall "she's hurting John McCain," said Andrew Kohut, the president of the Pew Research Center.
In a nationwide survey Oct. 16-19, Pew found that 49 percent of respondents had unfavorable views of Palin, while 44 percent saw her favorably. A month earlier, 54 percent had seen her favorably and 32 percent viewed her negatively.
Typically, postelection polls find that vice-presidential choices sway about 1 percent of voters. This time, Kohut said, "we'll get a much bigger number."
A key reason is that "the Palin choice reflects poorly on Sen. McCain's judgment," said vice presidential expert Joel Goldstein, a law professor at St. Louis University.
Pew found that 41 percent of respondents thought McCain showed "poor judgment" overall, while 29 percent said that of Democratic nominee Barack Obama. While McCain's number isn't solely because of his choice of Palin, her selection was a factor.
McCain's age is also a reason for voters' concern about Palin. The Arizona senator is 72 and has had four instances of melanoma, the most serious type of skin cancer. Mayo Clinic physicians have posted a detailed explanation of McCain's condition and treatment on his Web site. The prognosis, they said, was "good."
Worries linger, however.
"If something happened to McCain, she would not be qualified to step in and be president," said Annette Barron, an independent voter from Altamonte Springs, Fla.
MODERATES ALIENATED
Palin also has hurt herself by becoming largely invisible to the general public, except when she got media attention for starting controversies -- such as charging that Obama was "palling around with terrorists" -- or for receiving $150,000 in clothing and accessories from the Republican Party.
She also unabashedly identifies herself with the party's conservative wing, alienating moderates.
"It reinforced the notion that John McCain cared little about people like me," said former Maine state Rep. Sherry Huber, a Republican who backed McCain in the primary but now supports Obama. "She clearly does not share the values I and other moderate Republicans do."
Prominent Republicans have echoed that idea. Sen. Lindsey Graham, R-S.C., one of McCain's closest friends, suggested that Sen. Joseph Lieberman, an independent Democrat from Connecticut, would have brought independents to the ticket. Last week, former Pennsylvania Gov. Tom Ridge said that had McCain picked him, the Republican Party would have had a better shot at winning his state.
Then there's Palin's image problem because of what vice-presidential expert Timothy Walch called "the albatross of American comedy."
"Every time (comedian) Tina Fey appeared on TV imitating her, it diminished Palin," said Walch, the director of the Herbert Hoover presidential library. "For somebody essentially unknown, she's diminished when she becomes a caricature of herself."
AGNEW AND QUAYLE
In most election years, Palin would have been a footnote, like controversial vice-presidential choices Spiro Agnew in 1968 or Dan Quayle 20 years later. Both were lightly regarded but triumphed on winning tickets.
However, Goldstein, of St. Louis University, noted that in 1968, Richard Nixon was 55, so the prospect of an Agnew presidency seemed dim. In 1988, Quayle ran with George H.W. Bush, who was essentially running for President Reagan's third term against unpopular Democrat Michael Dukakis.
In 2008, Goldstein said, Obama "has convinced a broad cross-section of the American people he's presidential," so Palin gives swing voters who are warming to the Illinois senator one more reason to move away from McCain.
PALIN'S PLUSES
To be sure, Palin has had some positive impact on the campaign. McCain had never been a favorite of strict conservatives, as he challenged Republican orthodoxy over the years on tax cuts, campaign finance, climate change and other topics.
The Republican base loves Palin.
"So many people can relate to her. She really appeals to everyday housewives, people who go out and hunt, and people who have done great things in their life," said Bob Dodge, a retired communications engineer in Sarasota, Fla.
And don't tell Jennifer Tarman, a Bradenton, Fla., medical assistant, that Palin, who's been a governor since December 2006, isn't qualified.
"She's more qualified than Obama," she said. Obama's been a U.S. senator since January 2005, but has spent most of the past two years campaigning for the White House.

---
Julian Walker: Phony flier says Virginians vote on different days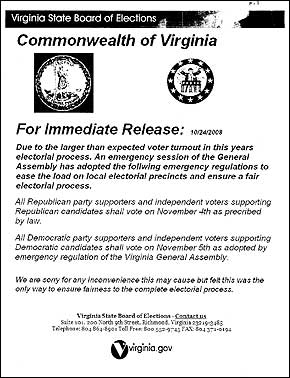 A phony State Board of Elections flier advising Republicans to vote on Nov. 4 and Democrats on Nov. 5 is being circulated in several Hampton Roads localities, according to state elections officials.
In fact, Election Day, for voters of all political stripes, remains Nov. 4.
The somewhat official-looking flier - it features the state board logo and the state seal - is dated Oct. 24 and indicates that "an emergency session of the General Assembly has adopted the follwing (sic) emergency regulations to ease the load on local electorial (sic) precincts and ensure a fair electorial process."
The four-paragraph flier concludes with: "We are sorry for any inconvenience this may cause but felt this was the only way to ensure fairness to the complete electorial process."
No emergency action has been taken by the General Assembly. It is not in session and lacks the authority to change the date of a federal election.
State Board of Election officials today said they are aware of the flier but disavowed any connection to it.
"It's not even on our letterhead; they just copied the logo from our Web site," said agency staffer Ryan Enright, noting the flier has been forwarded to State Police for investigation as a possible incident of voter intimidation.
Election officials did not specify in which Hampton Roads localities the flier had been spotted.
State Police are aware of the complaint and are looking into it, said spokeswoman Corinne Geller.
In 2007, the General Assembly passed a law making it a Class 1 misdemeanor to knowingly communicate false information to registered voters about the date, time and place of the election or voters' precincts, polling places or voter registration statuses in order to impede their voting. The measure is one of the few such deceptive voting practice laws in the country, according to the watchdog group Common Cause.

---
McCain Funded Work Of Palestinian His Campaign Hopes To Tie To Obama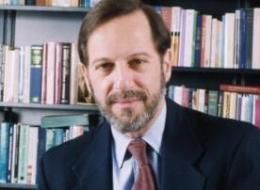 The latest guilt-by-association target that the McCain campaign is using to hit Barack Obama could carry some collateral damage for its own candidate.
As Politico's Ben Smith reported on Tuesday, the McCain campaign is demanding that the Los Angeles Times release video in its possession of a party attended by Barack Obama and Columbia University professor Rashid Khalidi.
"A major news organization is intentionally suppressing information that could provide a clearer link between Barack Obama and Rashid Khalidi," said McCain spokesman Michael Goldfarb, citing Obama's friendship with Khalidi, who is now a professor at Columbia University.
The McCain camp gambit comes after conservative writers have repeatedly pressed for media outlets to write about the rather tenuous connections between Obama and Khalidi, an outspoken advocate for Palestinian rights.
Specifically, National Review writers want much more attention paid to the association, given that the LA Times has reported that Khalidi lavished praise on Obama at a farewell party in Chicago at which Bill Ayers was also present. (Other writers have accused Khalidi of being an aide to Yasser Arafat, a claim which Marc Ambinder and Ari Berman have suggested is not credible.)
In regards to Khalidi, however, the guilt-by-association game burns John McCain as well.
During the 1990s, while he served as chairman of the International Republican Institute (IRI), McCain distributed several grants to the Palestinian research center co-founded by Khalidi, including one worth half a million dollars.
A 1998 tax filing for the McCain-led group shows a $448,873 grant to Khalidi's Center for Palestine Research and Studies for work in the West Bank. (See grant number 5180, "West Bank: CPRS" on page 14 of this PDF.)
The relationship extends back as far as 1993, when John McCain joined IRI as chairman in January. Foreign Affairs noted in September of that year that IRI had helped fund several extensive studies in Palestine run by Khalidi's group, including over 30 public opinion polls and a study of "sociopolitical attitudes."
Of course, there's seemingly nothing objectionable with McCain's organization helping a Palestinian group conduct research in the West Bank or Gaza. But it does suggest that McCain could have some of his own explaining to do as he tries to make hay out of Khalidi's ties to Obama.
---
I promise more - Sparky