Sparky says:
Today we show you readers various terrorists of all stripes... I think the average American can see why they'll always fail in the Global Marketplace of ideas.
And yes as long as the GOP cozies up to Domestic Terrorists like the Teabaggers they're terrorists in this bloggers' eye.
========================
---
Al Qaeda figurehead Osama bin Laden seeks to sway the US trial of former lieutenant Khalid Sheikh Mohammed in a new tape threatening to kill any Americans caught by Al Qaeda. Has he taken note of his own operations over the years?
Related Stories
Osama bin Laden has long been the star of Al Qaeda's propaganda operations. In his effort to paint the United States as an enemy of Islam – if not all of humanity – he's tailored and timed his comments in an effort to sway US elections, global warming policies, and decisions to deploy troops to Iraq and Afghanistan.
Lurking behind all of it is always a threat that a new "spectacular" attack like the 9/11 plane crashes in New York and Washington that murdered almost 3,000 people will be carried out if, say, President Barack Obama sends more troops to Afghanistan.
But as the years have gone by without his threats backed up by solid action – no successful attack has been carried out by his group on US soil since 2001 – his comments have increasingly been treated as empty. The color-coded "threat level" alerts favored by US cable news networks in response to each Al Qaeda missive or tape in the years after those attack are now firmly a thing of the past.
While Al Qaeda central, as the group's founding leadership now based in Afghanistan and Pakistan is often called, has increasingly become irrelevant to the planning and execution of attacks on civilians in the US, there was something decidedly odd about Bin Laden's latest threat in an audiotape aired by the Arab language Al Jazeera on Thursday. (See audiotape below.)
Addressing the US desire to execute Khalid Sheikh Mohammed if he is found guilty for his involvement in organizing the 9/11 attacks – he has confessed to planning the murders both to an Al Jazeera journalist before his capture in Pakistan in 2003 and since, during questioning by military interrogators at Guantanamo Bay – Bin Laden said: "When America makes this decision, it will have made a decision to execute whoever of you is held prisoner by us."
Mr. Mohammed was close to Bin Laden and has claimed involvement in a number of attacks – both failed and successful – on US interests. But while such a threat would probably be ignored in any case, it's even less credible than normal, since Al Qaeda has already made a habit of killing US citizens in its custody. Mohammed himself was long believed to have personally murdered kidnapped American journalist Daniel Pearl in 2002, a crime he admitted to while at Guantanamo, according to the Pentagon.
At least five Americans and civilians have been kidnapped and gruesomely executed by Al Qaeda's affiliate in Iraq. Given the group's track record of attacks on Americans – stretching back to the first World Trade Center bombing in 1993 – one would assume that the chances of survival for any American who falls into Bin Laden's hands are low, whatever happens to Mohammed.
"It's the height of absurdity for anyone associated with Al Qaeda to even suggest that now, at long last, they're going to start treating captives badly," a US counterterrorism official, who spoke on condition of anonymity, told Reuters. "They may have forgotten Danny Pearl and all the others they've slaughtered, but we haven't."

---
---
========================
David Frum, AEI SPLIT: Conservative's Position 'Terminated' By Major Think Tank
Former George W. Bush speechwriter David Frum has resigned from the right-wing American Enterprise Institute, Frum announced on his Web site Thursday afternoon -- a move which suggests the conservative movement has cut ties with Frum over the straight talk he has been providing all week.
[UPDATE: Frum tells Greg Sargent he and AEI parted ways over money, not ideology -- they offered him the chance to continue on at a salary of zero -- and that his criticisms of the Republican Party were "welcomed and celebrated" at the conservative think tank.]
Following the passage of health care reform in the House, Frum made waves with a column for CNN.com declaring that health care had proven to been "Waterloo" for the GOP, not for Obama as Sen. Jim DeMint (R-S.C.) infamously suggested. Republican lawmakers quickly dismissed Frum, a prominent reformist conservative, as a mere "former staffer."
Then Frum said on "Nightline" that the Republican Party's lockstep with the Fox News attack machine has hurt the party, and that "we're discovering we work for Fox." That may have been the last straw for AEI.
"I have been a resident fellow at the American Enterprise Institute since 2003. At lunch today, AEI President Arthur Brooks and I came to a termination of that relationship," Frum wrote on his Web site. The full text of his "resignation" letter is below:
Dear Arthur,

This will memorialize our conversation at lunch today. Effective immediately, my position as a resident fellow at the American Enterprise Institute is terminated. I appreciate the consideration that delays my emptying of my office until after my return from travel next week. Premises will be vacated no later than April 9.

I have had many fruitful years at the American Enterprise Institute, and I do regret this abrupt and unexpected conclusion of our relationship.

Story continues below

Very truly yours,
David Frum
While Frum has been willing to speak out on Republican failings, he's hardly become a liberal since leaving the Bush White House. In a column published Wednesday night, he recommended that Obama either ignore the issue of immigration reform or encourage "self-deportation."
But the conservative movement has a tendency to excommunicate anyone who breaks ranks, says Bruce Bartlett, who was fired by the National Center for Policy Analysis, another right-wing think tank, for writing a book critical of Bush policies. "In the years since, I have lost a great many friends and been shunned by conservative society in Washington, D.C," Bartlett wrote in the wake of Frum's resignation.
Bartlett, who served as a domestic policy aide for Ronald Reagan and a deputy assistant Treasury secretary under the first President Bush, claimed Frum told him privately a few months ago that conservatives on AEI's payroll had been "ordered" not to speak to the media about health care reform "because they agreed with too much of what Obama was trying to do." Frum himself certainly violated that order.
[UPDATE: Supporting Bartlett's claim, Paul Krugman points out that a 2003 health reform proposal from the Heritage Foundation, a think tank considered more right-wing than AEI, looks a lot like the bill Obama just signed.]
Related News On Huffington Post:
---
========================
Senate Begins Game Of Chicken With Unemployment Benefits: 'Coburn Has The Stamina Of Three Bunnings'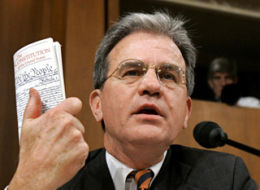 While Senate Democrats held a press conference celebrating their latest health care reform victory on Thursday afternoon, a Republican slipped into the chamber to move a bill that would extend soon-to-expire enhanced unemployment benefits -- paid for with $10 billion in unused funds from the stimulus bill.
With Democrats caught off guard, the clock started ticking on the bill's slog through the legislative process. Democratic leaders, who had planned to introduce the same bill without using funds committed to the stimulus, trudged into the chamber as Sen. Tom Coburn launched into an epic speech on the perils of deficit spending.
"We're going to be like the Athenian Empire," warned the Oklahoma Republican, standing alone on the Republican side of the room. "The real thing going on outside Washington is the fear that that's happening to us."
Sen. Chris Dodd (D-Conn.) slumped in his chair, rubbing his temples in apparent agony.
After about 20 minutes, Senate Majority Leader Harry Reid (D-Nev.) interrupted Coburn to ask: "How long are you going to talk?"
Coburn said he planned to talk for another 45 minutes. Reid turned around and left the room. He eventually returned with a motion to table Coburn's bill, which succeeded easily.
After the vote, Coburn's office released a statement blaming Democrats for blocking benefits. "The 59 Senators who voted no," the statement said, "may be the only 59 people in the country who believe the federal government is running at peak efficiency and can't be trimmed to pay for unemployment benefits for families who are struggling."
Story continues below
Senate Minority Leader Mitch McConnell (R-Ky.) laid the groundwork for this fight back on Tuesday, when he introduced the Republican bill to little notice. It's an apparent effort to prevent the public relations nightmare that erupted when Sen. Jim Bunning (R-Ky.) prevented the Senate from passing a similar extension back in February, jeopardizing unemployment benefits for hundreds of thousands of people in an impromptu stand for deficit reduction.
A reporter asked Bunning how he felt that Coburn had taken up his cause. "I think it's wonderful," he said. (Bunning refused to take a question from HuffPost.)
The Senate adjourns for two weeks on Friday. If they leave without passing this extension, on April 5 laid-off workers will lose their eligibility for extra "tiers" of Emergency Unemployment Compensation, which provides up to 53 weeks of federally-funded unemployment checks on top of state-funded benefits. Newly unemployed workers will also lose their eligibility for subsidized COBRA health insurance.
Democrats asked unanimous consent to move forward with their version of the bill, but Coburn objected. Reid tried again with a version of the bill he said was partially offset, and Coburn, who is sometimes known as the Senate's "Dr. No," objected again. Democrats don't think Coburn is going to blink.
"Coburn has the stamina of three Bunnings," said a Dem aide. "I really believe this is a retaliation for the passage of health care."
The aide said Reid was not interested in cutting a deal that pays for unemployment benefits with stimulus funds, since offsetting the government spending by withdrawing money from another part of the economy essentially nullifies the stimulative effect of the benefits. "We're going to keep trying but I don't think we're going to get an agreement," the aide said. "They want to pay for unemployment insurance on the backs of out-of-work people and we're not going to do that."
Without a deal, the Senate will either stick around for the weekend or leave without finishing the bill.
"We're going to keep fighting back. My hope is we'll just stay and stay and stay," said Sen. Ron Wyden (D-Ore.) in an interview with HuffPost. He said he hoped Democratic and Republican leadership will reach a deal before the break. In the meantime, he added: "Part of getting a deal is for people to see how strongly we feel. So that's our job, is to show spine."
"They're just playing games," said Sen. Debbie Stabenow (D-Mich.). "[Coburn's] motion is a motion to play games by taking money away from the Recovery Act."
Stabenow said that even if the Senate adjourns for its two-week break without finishing the bill, the measure would apply retroactively when it is finally passed -- meaning that laid-off workers will get their unemployment checks eventually if there's a delay. "We can't get it done right now, but it will be retroactive."
An advocate for extending benefits said that even if it applies retroactively, a congressional delay would hurt the unemployed.
"It will mean a stoppage and disruption in checks, and people who are so far into federal benefits probably can't float many weeks without their checks," wrote Judy Conti, a lobbyist for the National Employment Law Project, in an email to HuffPost. "And it's enormously disruptive to the state agencies."
Shortly after 6 p.m., Reid called all senators to the floor to try to work out a solution. This story will be updated.
---
========================
'King of Heroin' Arrested In Mexico
MEXICO CITY — Federal police have arrested Mexico's "King of Heroin," a powerful drug trafficker allegedly responsible for running thousands of pounds of heroin into Southern California each year, authorities said Thursday.
Jose Antonio Medina, nicknamed "Don Pepe," was arrested in the western state of Michoacan on Wednesday and is being held for prosecution, said Ramon Pequeno, head of the anti-narcotics division of Mexico's federal police.
Medina, 36, ran a complex smuggling operation that hauled 440 pounds (200 kilograms) of heroin each month across the Mexican border in Tijuana for La Familia drug cartel, Pequeno said.
Alleged drug trafficker Jose Antonio Medina is escorted by police officers during a press conference in Mexico City Thursday. (AFP/Getty Images)
The White House National Drug Threat Assessment says that while heroin use is stable or decreasing in the U.S., the source of the drug has shifted in recent years from Colombia – where production and purity are declining – to Mexico, where powerful drug cartels are gaining a foothold in the lucrative market.
Heroin production in Mexico rose from 17 pure metric tons in 2007 to 38 tons in 2008, with the increase translating to lower heroin prices and more heroin-related overdoses and more overdose deaths, according to U.S. government estimates in a report by the National Drug Intelligence Center.
Border Patrol agents seized 4.8 million pounds of narcotics at border crossings last year, and heroin seizures saw the most significant increase during that time, with a 316 percent jump over 2008.
Mexico and the U.S. are working together to counter a handful of increasingly violent drug cartels that supply most of the illicit drugs sold in the U.S. each year. The arrest came the day after top U.S. Cabinet officials, led by Secretary of State Hillary Rodham Clinton, visited Mexico to underscore their shared responsibility for the country's drug-related violence.
Nearly 17,900 people have died in drug-related violence since President Felipe Calderon launched an assault on cartels after taking office in December 2006.
That violence continued Thursday in Ciudad Juarez, a border city of 1.3 million just south of El Paso, where police on Thursday found a decapitated man lying in a shopping center parking lot, his head inside a black plastic bag nearby.
Killings such as this are believed to be the result of drug cartels fighting among themselves for control of the drug trade, a lucrative business estimated to bring $25 billion in cash into Mexico each year.
Federal police in Mexico City said Thursday they had seized $1.7 million in small bills and arrested four men, two Colombians and two Mexicans, for allegedly running financial operations for cartels.
---
========================
Isn't is strange the path to power the Bushes took was tainted with Opium and Heroin?