GURU: JUST ANOTHER MANIACAL MAULED MONDAY
The
PP

Guru

had less than 4 hours of sleep last night after he indulged in heading out to the House of Blues in West Hollywood last night to catch the last show of (the band) Asia's Silent Nation tour. He knew he shouldn't have done it, knowing full well that he was going to have a shit mountain of work waiting for him on his desk come Monday morning. Somehow the

PP

Guru

had managed to struggle through it, even though the world outside his window was blooming into a shit bouquet.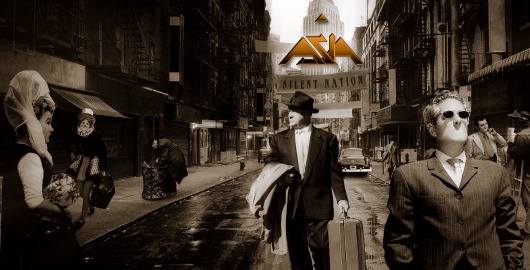 For one thing, Douchebag Dry Drunk Dubya went behind Congress' back and appointed fellow chickenhawk John R. Bolton to the UN ambassador chair and that's just goes to show that there is no limit to how much douchedbaggedness that the joke president will not resort to in order to get his way - never mind what his constituents and the people want in this order. Dry Drunk Dubya's ignorance of what the people want in this world is just nothing short of astounding. We all know that Bolton has a habit of losing his temper and generally likes to say stupid things when he's inflamed.It's been widely known that one of his favorite hobbies while he was serving as a undersecretary of State for Arms Controls was to take office furniture, vandalize it, and have the people working under him foot the bill for repairs. He's managed to piss off Kim Jong II during nuclear talks with South Korea and Larry Flynt claims to have a dossier on Bolton that says that Bolton once forced his first wife to participate in orgies at a New York sex club.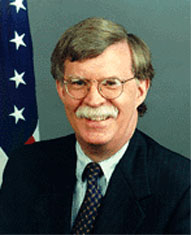 So while Congress takes a little dip in some kiddie pool or takes time to build some sandcastles on the shores of Virginia, Douchebag Dubya comes sneaking in with nary a ninja showdown and acts on his own bequest to have Bolton sworn in anyway with or without confirmation from the Senate floor.
This sneaky underhandedness of Dumbass Duyba just makes me more convinced that some brave fuck out here or there
would just advocate putting a bullet in his rump cheeks, take his daughters out to Iraq to be slow boiled by some hot melted wax dildos in the shape of the Koran by hooded insurgents playing it up like a frat boy prank. Laura 'Pickles' Bush looks if she could use a body wax in a vat of chickenhawk fatty acid herself from what the
PP
Guru
understands.
So that was more or less the mad on for the day until the
PP
Guru
did a random check on his one of his favorite web site homepages later close to punch out time.
Like The
PP
Guru
mentioned earlier, he was exhilarated to have seen the final show of Asia's Silent Nation tour - even though lead singer / bass player
John Payne
was exhibiting too much primal gargantuan ape growls everytime he was in channeling
John Wetton
mode for every song they recited off the 1982 multi-platinum debut album (and there were a little too many performed that night with the exception of the songs
One Step Closer
and
Without You
) - rather the
PP
Guru
would have prefered that the band did more of the adventurous mature stuff that they composed with Payne rather than rehashing the old Wetton era. Former
AC/DC
& Uriah Heep drummer
Chris Slade
(now a Burbank resident, yay!) has started to fit in nicely with the band's poppish/prog rock groove having been with the band for 4 or 5 years now and the new kid, Italian rock god,
Guthrie Govan
was a marvel to behold, especially on his spanish guitar solo. The mantle of
Steve Howe
has to be passed on to someone- so it might as well be Guthrie.
The
PP
Guru
also ran into this beautiful girl who used to date JP and once helped the
PP
Guru
get backstage to hang out with them three years ago. The
PP
Guru
never forgets a beautiful face, or a beautiful juicy rump, or a beautiful drooling rack, etc, etc. The
PP
Guru
wished he had caught up with her after the show, so he could pass on a copy of
Cary Coatney's
latest Deposit Man issue.
So the
PP
Guru
was thinking that
Geoff Downes
would be recapturing his hey day once again. There's no such thing as too much Geoff Downes music in the
PP
Guru's
prog rock listening arsenal- in fact, the
PP
Guru
has told Geoff that he has been the
PP

Guru

's
idol since he was in high school ( oh, BTW Geoff performed a real kick ass version of
Video Killed the Radio Star
- his self penned hit from his
Buggles
days and was also the first song that launched the broadcast of
MTV
- oh the
PP
Guru
needs a transcribed manuscript of that real bad!! ) and his only appearance on a
Yes
album called
Drama
was the motivational tool that prompted the
PP
Guru
to buy his very modular synthesizer back in his junior year. So once Geoff was finishing obligations with
Asia,
he was going to jump back on a plane to Seattle and start the inaugral show of the
Howe, Squire, and White
tour that was supposed to last through the Labor Day weekend.
The show is suppose to showcase a set from each virtuoso member of
Yes
with material from their most recent solo projects.
Steve Howe
was going to perform a hour acoustic set with members of his family on various instruments- like son Dylan for example, was to support his dad on the drums and such.
Chris Squire
was reuniting with his former bandmates in the
Syn,
the band he played with just before forming
Yes
with singer
Jon Anderson
. The band has recorded brand new material for a double album and would be performing it and some of their golden hits on stage for the first time in close to forty years.
Alan White
was going to debut some new material that he wrote with some Seattle area musicans with
Geoff
accompanying him on keys and then for the big finale, all three headliners would have joined Geoff onstage for a hard core revisit to the Drama material including the 'lost' songs -
'Go Through This
' and
'We Can Fly From Here'
.
But yet...
Something happened this afternoon- without little much of an explanation, as explained in this press release:
The More Drama Tour
Cancelled
August 1, 2005
-
The More Drama Tour has been cancelled (not postponed). Below is the press release with details. Fanfire will contact purchasers of the ticket packages directly regarding refunds.
Yes guitarist Steve Howe, bassist Chris Squire and drummer Alan White have canceled their More Drama Tour, which was scheduled to begin August 2 in Seattle, presented by VH1 Classic. The cancellation was prompted by immigration issues in the wake of heightened security brought on by the recent terrorist attacks in London. The tour will be rescheduled at a later date. All those who purchased advance tickets should contact their local box office or Ticketmaster for refund information."We're frustrated as much as the fans are but we understand the importance of the heightened security and hope we can reschedule the tour at some point," said Chris Squire, bassist for Yes and The Syn.The tour was to have spotlighted performances by three different bands, including the pre-Yes prog-rock group The Syn, featuring Squire and original vocalist Stephen Nardelli; renowned Yes drummer Alan White's eagerly anticipated solo project White with keyboardist Geoff Downes; and Steve Howe's solo guitar set. The three principals then planned to perform their own set of Drama-era Yes songs.
The
PP
Guru
is at a real loss for words. This was supposed to be the highlight of his summer-
GODDAMMIT
! The
PP
Guru
was looking more forward to this than his credit card siphoning jamboree at San Diego last month. The
PP
Guru
had slated in his August calendar as his
YES
month where he will do nothing but play Yes music on his
CD
and
DVD
player for the entire month until the release of the live box set
YES
-
the Word is Live
which comes out on
August 23rd
through
Rhino Records
. The
PP
Guru
was also planning on salivating over the solo projects of which he was sure they were going to have on sale at the lobby of the main floor at the Wiltern Theater since he hasn't been having much luck finding them at Tower or Amoeba.
Funny, when the
PP
Guru
talked to
Geoff Do
wnes last night- he made no mention of this. When the
PP
Guru
had bid Geoff a fond adieu and said he will see Geoff on Friday, Geoff said, 'yeah, we'll be seeing the
PP
Guru
on Friday.'
Strange, the
PP
Guru
smells a conspiracy here.
No wait, that would be
Chris
and
Billy Sherwood
.
More drama on this story as it develops.
A shock to the system via:
~ Coat