SPARKY SAYS: End Days Are Here! Stay Alert. And if you're in San Francisco and heading to APE - hunt down the GURU!
---
KEEP THE SONGBIRD MEME VIRAL AND ALIVE UNTIL THE 5TH!

Closing McCain Ad Returns To His Biography
The McCain campaign put out on Friday what could be the last television ad it airs this cycle -- a largely biographical spot that includes footage of his POW years and concludes: "Don't hope for a stronger America. Vote for one. Join me."
The ad, titled "Freedom," is reminiscent of the type of spots the McCain campaign launched at the beginning of the general election when they weren't obsessed with scoring tactical points against Barack Obama and winning news cycles. People, generally, are compelled by McCain's story and know the Senator as a war hero. But that aspect of his biography has been diminished somewhat during the past few months, despite the fact that Obama often praises it and McCain frequently cites it.
Two quotes:




" ... Still fixated on the past. Still no -real- plans to help out Americans who are hurting in today's world. The ad is slick, but irrelevant. Kinda like the candidate himself (only this time they left out all his lies and smears of Obama)... "





"... He must be out of his mind including that picture of him as a POW. If you haven't seen the video it comes from, you should. It shows a very scared-little-boy John McCain spilling his guts to the then-enemy without any coercion whatever.





In the video he gives them name, rank & number. But then goes on to give them unit, location, aircraft type, dad's details, combination of the McCain family safe, name of his first girlfriend, colour of the President's favourite socks and his inside leg measurement!





Well, maybe not all of that. But he certainly blurts a whole lot of stuff that a heroic POW generally achieves his status of hero by NOT blurting. Its no coincidence that his codename in Hanoi was "Songbird". He didn't get it by being the strong silent type.





There is some evidence that the Vietnamese handed him to the KGB for some debriefing as well. The Russians were actively promoting their anti-aircraft products in North Vietnam and were keen to get info on the US countermeasures. Songbird may have sung some VERY revealing songs. ..."
---
Edgar M. Bronfman: Israel's Best Interest is a Morally Strong America
I am supporting Obama for president for two reasons: one is my disdain for the McCain-Palin ticket, and the other my respect and admiration for Barack Obama and Joe Biden.
Among Jewish voters, some feel the basic question is which candidate will act in the best interest of Israel. The answer is Barack Obama. As an American Jew who loves Israel, I cannot support John McCain. He cannot provide what Israel needs most--a respected, credible, morally strong America. To have the United States and Israel both regarded by the rest of the world as unreliable and in isolation is no way to solve the problems that plague both countries. This has been the effect of the Bush policies, and these are the policies that John McCain has promised to continue. Barack Obama is the candidate who can restore America's moral authority in the world and position our government to help negotiate peace.
The most vexing problem Israel faces is its relations with its neighbors. From the inception of the state until today, Israelis have felt besieged, surrounded by enemies who want to make them disappear. The constant security threat has made it very difficult for Israel to address the long list of problems that for the most part have been swept under the rug while awaiting peace. These include a disastrous educational system, a widening gap between rich and poor, and bitter division between secular and religious Jews. Israel desperately needs peace if it is to come anywhere close to being the "light unto nations" of Jewish dreams.
I quarrel with the oft-heard assumption that "George W. Bush is good for Israel." He gleaned many Jewish votes on that slogan, but I take a contrarian's position. Israel is further from peace than it was at the end of the Clinton administration. The smoldering hatred between Iraq's Sunni and Shi'a has burst into flames as a result of the American occupation. An emboldened Iran, with its Shi'a majority, has strengthened and armed Israel's enemies Hamas and Hezbollah. But Israel's most immediate danger comes from a nuclear Iran. Under the Bush administration, conversations with the Iranians began only at the end of May 2007 and have been badly mishandled. The result of the Bush doctrine in the Middle East has been an America and an Israel that are regarded with hatred and fear.
The region requires an honest broker that will push both sides towards a workable solution and a two state outcome. I remember the scene at the White House when President Clinton helped Prime Minister Rabin to shake Arafat's hand. Whether an American president is prepared to preside over another handshake--one that could build lasting peace--should not be measured by his professed love for one side or the other, but by his judgment.
John McCain's choice of Sarah Palin as running mate is the towering example of his poor judgment. Palin's ignorance of public affairs is monumental. Especially disturbing to the Jewish voter should be her willing acceptance of the campaign assignment of demagogy, which has stirred up racism and hate. The prospect of our having a 72-year-old president in poor health raises the real possibility that Palin could be our president, a thoroughly frightening thought. (I am well aware, in my eightieth year, of the flagging energy of any 72-year-old.) McCain's choice of Palin was a bid to the extremists in the Republican party, not the considered choice of a man who puts his country first.
Barack Obama is the leader who can begin to undo some of the damage done by Bush's policies. His background as an American who has lived among diverse cultures makes him sensitive to the cultural and religious motives that shape conflicts. He is cerebral, measured, calm, and pragmatic. By his character, he will engage these issues with more than stonewalling and weapons. He is brilliant in his choices of advisors. He is a tough idealist who has the courage to imagine an America that may inspire hope, not fear, in the Middle East and around the world.
Voters who care about Israel's welfare should ask which candidate will help sustain the ties between Israel and American Jews. Those of us who were alive at the creation of Israel have a love for Israel that is tied to the Holocaust, to the displaced persons camps and to the early struggles for a Jewish homeland. We were all as generous as we could be in support of Israel, as donors and as advocates. Now there is a generation growing up that is more distant from Israel than I should like. Young Jews do not automatically support Israel, and many are rightly troubled by what they learn about the ill treatment of the Palestinians under Israeli occupation. No longer motivated by fear of anti-Semitism, they seek to understand what Israel stands for, not to say "my Israel, right or wrong." Without strong support among the younger generation of American Jews, Israel may lose its vital relationship with the US government.
Obama can inspire much-needed support for Israel among this next generation of American Jews. He reflects their idealism and speaks in the language of hope they understand. His approach to international affairs shows a commitment to restoring America's reputation and to working with our allies to combat war, poverty, disease, and environmental destruction. He has articulated a vision for American society that does not ask us to ignore our differences--religious, racial, or economic--but to set aside divisive rhetoric and acknowledge that we all have a stake in building a more ethical society. Under his leadership a renewed America can help to foster a renewed Israel. Barack Obama is an inspiring American, willing and able to lead this nation and the world to new heights in very perilous times. I will vote for him with enthusiasm.

Edgar M. Bronfman is the former president of the World Jewish Congress. He is the author, with Beth Zasloff, of Hope, Not Fear: A Path to Jewish Renaissance (St. Martin's Press, 2008).

---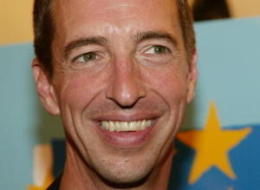 I assumed most people already knew that I had supported Obama. Anyone who has spent five minutes listening to my program would have known that. But if it helped to make it official, I'm happy to make it so.
---
Obama seeks landslide; McCain says he's far left






Democratic presidential candidate Sen. Barack Obama, D-Ill. poses for a picture with supporters prior to boarding a plane at the airport in Columbia, Mo., Friday, Oct. 31, 2008. (AP Photo/Alex Brandon)
DES MOINES, Iowa — Despite John McCain's prediction of an upset, Barack Obama reached for a landslide Friday, invading his rival's home state with TV ads and building a lead in early voting in key battlegrounds as the presidential race headed into a hectic final weekend.
McCain charged that Obama, bidding to become the first black president, "began his campaign in the liberal left lane of politics and has never left it. He's more liberal than a senator who calls himself a socialist," he added in Hanoverton, Ohio, a reference to Sen. Bernie Sanders, an independent from Vermont.
Yet with the economy almost certainly in a recession and the country clamoring for change after eight years of Republican rule, even some of McCain's allies conceded the obvious. California Gov. Arnold Schwarzenegger said it would take a "major struggle for him to win" _ although he quickly added the Arizona senator had come back before when he had been counted out.
Privately, McCain's aides said their man trailed Obama by 4 points nationwide in internal polling.
An Associated Press-Yahoo News poll of likely voters put the Democrat ahead, 51 to 43, with a margin of error of plus or minus 3 percentage points.
The same survey gave McCain reason to hope _ one in seven voters, 14 percent of the total _ said they were undecided or might yet change their minds.
While the race for the White House drew most of the attention, minority Republicans in Congress braced for the loss of more seats in both the House and Senate.
Some said fresh polling in North Carolina suggested that incumbent GOP Elizabeth Dole had fallen further behind since airing an ad that tried to tie Democratic rival Kay Hagan to atheists.
Four days before the election, Obama was expanding his reach, and drawing large crowds as he moved methodically from one state to another that voted Republican in 2004.
After a stop home in Chicago to share Halloween with his two daughters, Obama took a bus ride about 30 miles across the state border, capping his day with a rally in Highland, Ind. "We are four days away from changing the United States of America," he proclaimed to a cheering crowd on a comfortable October evening.
Indiana is one of about a half-dozen states that went for President twice but remain up for grabs late this election season. Bush won the state by a 60-39 percent margin in 2004, and the competitive nature of the state this time around shows the strength of Obama's standing.
Obama used the occasion of Halloween to rib McCain in a new way, saying the Republican wore his usual costume: "Just like every year, he's going as George W. Bush."
Earlier in Iowa, Obama said, "What you started here in Iowa has swept the nation." His victory in the state's Democratic caucuses on Jan. 3 set him on the path to the party's nomination, and now to a lead in the presidential polls in the campaign's final hours.
One senior adviser said the Illinois senator had been given the names of potential Cabinet and White House staff picks for review but had not had much time to consider them. The official spoke on condition of anonymity.
Obama could name a chief of staff as early as next week if he wins the election, in an effort to project a sense of urgency. Aides have contacted Rep. Rahm Emanuel of Illinois to consider a possible appointment to the post, but no job has been offered.
Aides announced he would air television commercials in McCain's home state of Arizona as well as in North Dakota and Georgia. He had run ads in the latter two states earlier in the campaign before suspending that effort.
The ad in McCain's state was a soft sell in a campaign that has had its share of attacks. This spot featured endorsements from former Secretary of State Colin Powell and Warren Buffett, the nation's best-known investor. Before boarding a flight late Friday for Las Vegas, Obama responded to a shouted question about TV ads in Arizona. "We want to win everywhere," he said.
Even so, McCain's campaign manager, Rick Davis, dismissed it as a waste. "We encourage them to pick other states that we intend to win" to spend their money, he said.
Davis contended, "We are witnessing perhaps, I believe, one of the greatest comebacks since John McCain won the primary."
Privately, some Republicans expressed concerned about early voting trends, although the party had yet to unleash its final 72-hour program, designed to reach millions of voters deemed sympathetic to McCain and the Republicans.
Statistics showed Democrats ahead among pre-Election Day voters in Iowa, North Carolina, Florida, Colorado, New Mexico and Nevada. Bush won all six in 2004, and McCain needs to win most of them to claim the White House this year.
In Georgia, one of the states where Obama began advertising on Friday, official figures show 35 percent of the early votes have been cast by blacks, and lines have been longest in and around reliably Democratic Atlanta. In the 2004 election, blacks accounted for 24 percent of the state's ballots.
McCain was on the second day of a bus tour through battleground Ohio, a state that supported Bush and has voted with the winner in each presidential election for two decades.
"We're closing, my friends, and we're going to win in Ohio. We're a few points down but we're coming back and we're coming back strong," he said.
Later Friday, Schwarzenegger joined him at a rally in Columbus.
"John McCain has served his country longer in a POW camp than his opponent has in the United States Senate," Schwarzenegger said. "I only play an action hero in the movies. John McCain is a real action hero."
McCain hit the same theme in a new television ad that had the feel of a campaign-closing appeal.
In it, he pledged to fix the economy, cut government waste and safeguard the nation's security.
"I've served my country since I was 17 years old. And spent five years longing for her shores. I came home dedicated to a cause greater than my own," said the former Navy pilot who was shot down, held and tortured for more than five years as a Vietnam prisoner of war.
___
David Espo reported from Washington. AP writers Seth Borenstein and Jim Kuhnhenn contributed from Washington, and Ben Feller contributed from Iowa and Indiana.

Johanna Neuman: Court orders Cheney deputy chief of staff deposition
No, this is not some Halloween stunt. That guy you see over there being held accountable is actually the vice president of the United States.
The U.S. District Court in D.C. ruled today that Vice President Dick Cheney will have to let his deputy chief of staff, Claire O'Donnell, give testimony in a lawsuit over his records.
Cheney, with his well-known passion for secrecy, had argued that a vice president need only preserve records central to his job as the official who presides over the U.S. Senate or records relating to specific tasks assigned by the president. That would narrow the pile considerably.
A group of historians and others at Citizens for Responsibility and Ethics in Washington (CREW) have filed a lawsuit, concerned about their eventual access to the vice president's records. In a second round victory, the court today denied Cheney's move to block discovery in the case.
Anne Weismann, CREW's chief counsel, hailed the decision.
Today's decision, allowing CREW discovery in our case against the office of the vice president, moves us one step closer to ensuring that important historical documents will not be lost to future generations. CREW looks forward to deposing Cheney's Deputy Chief of Staff Claire O'Donnell to get to the bottom of what exactly the administration has been doing with documents that belong not to the vice president, but to the American people.
The vice president's office declined to comment, noting that the case was still in court. Where Cheney may well file an appeal.
_____
Photo: Alberto Pellaschiar / Associated Press
---
Eagleburger Tries To Walk Back "Stupid" Palin Criticism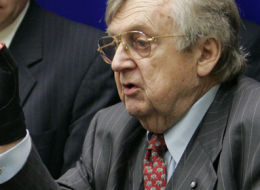 Appearing on Fox News on Friday, former Secretary of State Lawrence Eagleburger awkwardly fell on his sword, entirely taking back his previously critical assessment of Sarah Palin's readiness to serve as president, which was given to NPR on Thursday night.
As the Huffington Post noted earlier, Eagleburger's endorsement of McCain is frequently cited by the Republican nominee. But clearly, the opinions of President George H.W. Bush's Secretary of State were less welcome on the subject of Palin, whom Eagleburger had said was "of course" not "prepared to take over the reins of the presidency." Later, in his NPR interview, Eagleburger said, "Give her some time in the office and I think the answer would be, she will be [pause] adequate."
By Friday afternoon, however, Eagleburger was more eager to chastise himself than Palin.
"You are witnessing something quite unique: a man who is about to talk to you while he has his foot in his mouth," Eagleburger said when asked if his NPR quotes had been taken out of context.
"I made a serious mistake yesterday. I was quoted correctly," Eagleburger said. "I wasn't thinking when i said it -- in fact, I was discussing foreign policy, and this was in that context, and I was just plain stupid, and if I had given the flim-flam artist Barack Obama some success with this I am deeply apologetic."
It was a fine performance, but the Fox News host proceeded to take Eagleburger's retraction too far, resulting in another moment in which Eagleburger belittled Palin. Host Stuart Varney asked, "You do feel that she's a quick learner and would be good as vice president given a few days?"
To which Eagleburger paused and said, "A few days? No." Later, however, he did argue that Palin has "made it clear she's a quick learner," despite the fact that "she didn't know anything about foreign affairs, nor should she have on the basis of what she had done."
Winding up his extended apology, Eagleburger made clear, "I have done my best and I apologized to the McCain people."
Watch:
Also of interest is the fact that Eagleburger wasn't the only conservative to call Palin unprepared on Thursday. As Think Progress noted, Nevada Sen. John Ensign told a local reporter: "Well, I do not think that Barack Obama or her are experienced enough to be President of the United States -- neither one of them, and Hillary Clinton was much more qualified to be President than Barack Obama was, but that who the nominee is. John McCain is much more qualified than Barack Obama and certainly Joe Biden is much more qualified than Sarah Palin is. I'd rather have the most qualified person at the top of the ticket, not number two."
---
Sam Stein
:
McCain Was Strong Supporter Of Group Accused Of Terrorist Activities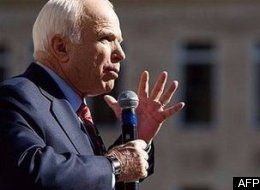 During the closing weeks of the election, Sen. John McCain has gone to great lengths to present his opponent, Barack Obama, as someone too willing to coddle to groups that have ties to terrorists or terrorist activity.
It is important to understand which individuals and organizations Obama has been associated with, the refrain usually goes, as it is reflective of his foreign policy as a whole.
But if that is indeed the standard by which voters are to judge the candidates, than McCain has some questions of his own.
During the late 1990s, the Senator supported and reportedly helped arm an organization that, while eventually tolerated by the U.S. foreign policy establishment, was accused of terrorist activities and allegedly had ties to al Qaeda.
During the late stages of the Balkan War, the Kosovo Liberation Army was known for committing incredible atrocities in its efforts to facilitate Kosovo's independence from Yugoslavia. The guerrilla group often was responding to acts of violence committed against its own people. But its tactics were, nevertheless, viewed as condemnable: abductions and murders, systematic burning and looting of homes, and harassment and intimidation of Yugoslav officials.
President Clinton's special envoy to the Balkans, Robert Gelbard, described the KLA in 1998 as, "without any questions, a terrorist group."
Eventually, the KLA went from being criticized for threatening a fragile peace process to, gradually, being recognized as a military force that had popular roots within the Albanian community and a shared mission with America. But within the United States, the group was never publicly praised and often considered dangerous.
"As far as I know, no one ever turned around and said, 'these were freedom fighters and I support them,'" said Fred Abrahams, who documented the Balkans War for Human Rights Watch.
Indeed, when the Clinton administration considered forging a stronger relationship with the KLA as a means of bringing all parties to the bargaining table, GOP officials questioned whether such a policy would be a tacit support for a "group with terror, drug ties."
"Such an effusive embrace by top Clinton Administration officials of an organization that only a year ago one of its own top officials labeled as 'terrorist' is, to say the least, a startling development," read a paper put together by the Senate Republican Policy Committee.
And yet, John McCain, the current Republican standard-bearer, was one of the KLA's most outspoken supporters. Back in May 1999, when it seemed as if NATO air raids would prove ineffective in stopping the violence, and calls were being made to send in ground troops, McCain suggested that the U.S. simply fund the KLA instead.
"It wouldn't bother me if you arm the KLA [Kosovo Liberation Army] forces," he said.
Moreover, this past February, former Rep. Joe DioGuardi, a prominent Albanian lobbyist, was quoted as saying that McCain even help get arms for KLA forces.
"Even in 1998 when we had problems with Milosevic, McCain did everything that we asked of him to the benefit of the Albanian people, including arming the KLA," he said. "We are American Albanians and we need a leader who will strengthen this country... We must support John McCain because he did everything we asked of him for Kosovo, from supporting the Kosovo Liberation Army to supporting the independence of Kosovo."
DioGuardi, a bundler for McCain, did not immediately return requests for comment. Brian Rogers, a spokesman for the McCain campaign replied: "You've cracked the code, Sam!"
The Senator's support for the KLA, however, puts him near one of the far ends of his party's mainstream during that conflict. It also represents another potential blemish on a foreign policy record that McCain has held up as virtuous compared to Barack Obama's problematic associations. Earlier it was reported that the Arizona Republican had a served on the board of a far-right conservative organization that had supplied arms to paramilitary organizations in Latin America.
McCain's involvement in the U.S. Council for World Freedom became problematic for his candidacy because of that group's past ties to anti-Semitic figures and its efforts to circumvent U.S. law and fund militant anti-communists.
McCain's support for the KLA was far less clandestine than his service on the U.S. Council for World Freedom board. But it is similarly telling of his world policy views.
While the U.S., as Abrahams noted, generally turned a blind eye on the KLA because the two "shared a common enemy," there is scant evidence of public officials cheer-leading the guerrilla group at the time. Indeed, conservative officials hung the issue over Clinton's head during the late 1990s as of a lack of foreign policy morals.
Part of it had to do with alleged ties to al Qaeda -- the Washington Times reported in May 1999 that several members of the KLA were trained in terrorist camps run by Osama bin Laden himself, charges that Abrahams says have never been proven. But much of the criticism had to do with the KLA's brutal tactics. According to a 2001 report by Human Rights Watch:
The KLA was responsible for serious abuses... including abductions and murders of Serbs and ethnic Albanians considered collaborators with the state. Elements of the KLA are also responsible for post-conflict attacks on Serbs, Roma, and other non-Albanians, as well as ethnic Albanian political rivals... widespread and systematic burning and looting of homes belonging to Serbs, Roma, and other minorities and the destruction of Orthodox churches and monasteries.
---
Out ...