SPARKY says

McCain

is a fucking whiny ass loser —
"... Specifically, National Review writers want much more attention paid to the association, given that the LA Times has reported that Khalidi lavished praise on Obama at a farewell party in Chicago at which Bill Ayers was also present. (

Other writers have accused Khalidi of being an aide to Yasser Arafat, a claim which Marc Ambinder and Ari Berman have suggested is not credible.

)

In regards to Khalidi, however, the guilt-by-association game burns John McCain as well.

During the 1990s, while he served as chairman of the International Republican Institute (IRI), McCain distributed several grants to the Palestinian research center co-founded by Khalidi, including one worth half a million dollars. ..."
---
AP: Beth Fouhy: McCain faults paper for not releasing Khalidi tape
Sen. John McCain, R-Ariz., looking like the pathetic loser he is (AP Photo/Pool, Alex Boerner).
BOWLING GREEN, Ohio (AP) - Republicans John McCain and Sarah Palin accused the Los Angeles Times on Wednesday of protecting Barack Obama by withholding a videotape of the Democrat attending a 2003 party for a Palestinian-American professor and critic of Israel. The paper said it had written about the event in April and would not release the tape because of a promise to the source who provided it.

McCain and Palin called Rashid Khalidi a former spokesman for the Palestine Liberation Organization, a characterization Khalidi has denied in the past. Both candidates said guests at the party made critical comments about Israel.

Khalidi is a professor of Middle East Studies at Columbia University and a longtime friend of Obama's. Khalidi has publicly criticized Israel, but he and Obama have both said they hold very different opinions on Israeli issues.

McCain also has ties to Khalidi through a group Khalidi helped found 15 years ago. The Center for Palestine Research and Studies received at least $448,000 from an organization McCain chairs.

On Wednesday, McCain said 1960s radical Bill Ayers had attended the same party in 2003. McCain and Palin have criticized Obama for his ties to Ayers and questioned what the videotape of the party might show.

"Among other things, Israel was described there as the perpetrator of terrorism rather than the victim," Palin said at a rally in Ohio. "What we don't know is how Barack Obama responded to these slurs on a country that he professes to support."

In a story published in April, the Times said Obama spoke out at the event on the need for common ground on the Israel-Palestinian issue. Obama has said during the campaign that his commitment to Israel's security is "nonnegotiable."

"More than six months ago the Los Angeles Times published a detailed account of the events shown on the videotape," Jamie Gold, the newspaper's reader's representative, said in a statement. "The Times is not suppressing anything. Just the opposite - the L.A. Times brought the matter to light."

Los Angeles Times spokeswoman Nancy Sullivan refused to elaborate on the paper's statement or respond to the criticism from the McCain campaign.

She would not provide any details on further communication between Times' reporters and the source who provided the video.

McCain and Palin cited the paper's position as evidence of media bias. The Times has endorsed Obama.

"If there was a tape of John McCain in a neo-Nazi outfit, I think the treatment of the issue would be slightly different," McCain said in an interview with Hispanic radio stations.

Palin said the Times should win a Pulitzer Prize for "kowtowing."

"It must be nice for a candidate to have major news organizations looking out for their best interests like that. Politicians would love to have a pet newspaper of their very own," she said.
Obama campaign spokesman Tommy Vietor dismissed the complaints as a "recycled, manufactured controversy" meant to distract voters.

"Barack Obama has been clear and consistent on his support for Israel, and has been clear that Rashid Khalidi is not an adviser to him or his campaign and that he does not share Khalidi's views," Vietor said.

Khalidi taught at the University of Chicago until 2003. Obama and his wife, Michelle, often socialized with Khalidi and his wife, Mona, and the Khalidis hosted a political fundraiser for Obama in 2000.

The Woods Fund charity gave money to the Arab-American Action Network, run by Mona Khalidi, while Obama served on the charity's board. Ayers also served on the board.

The Center for Palestine Research and Studies conducted regular public opinion surveys in the West Bank and Gaza with financial support from various foundations and from the International Republican Institute, an organization that promoted democracy around the world. McCain was the IRI chairman when it gave $448,873 to the research group in 1998, according to IRI's tax return.

Ayers was a founder of the radical group the Weather Underground, which set off bombs at the Capitol and the Pentagon to protest the Vietnam War. McCain has criticized Obama for having had a friendly relationship with Ayers, with whom Obama worked on two community organizations several years ago, and for downplaying their ties.

Obama has noted that he was a child when Ayers, now a university professor, was with the Weather Underground. The Democratic candidate has condemned Ayers' radical past and violent activities.
---
John McCain's campaign is demanding that the Los Angeles Times release a video of a party for a prominent Palestinian activist that Barack Obama attended in 2003.

The Times described the going-away party for former University of Chicago professor, and Obama friend, Rashid Khalidi, in a story in April. The story reported that Palestinians thought they might have a friend in Obama because of his friendships in that community, despite the fact that his positions have never been particularly pro-Palestinian.

"A major news organization is intentionally suppressing information that could provide a clearer link between Barack Obama and Rashid Khalidi," said McCain spokesman Michael Goldfarb, citing Obama's friendship with Khalidi, who is now a professor at Columbia University.

He said the video could, among other things, show how Obama responded to a poem recited at the party accusing Israel of "terrorism" and warning of consequences for U.S. support for Israel, which Goldfarb described as "hate speech."

"The election is one week away, and it's unfortunate that the press so obviously favors Barack Obama that this campaign must publicly request that the Los Angeles Times do its job — make information public," he said.

The campaign hadn't previously demanded the video, though conservative bloggers have, and neither other reporters nor McCain's researchers have been able to dig up a copy.

Khalidi is a controversial figure, reviled by pro-Israel activists, though not a marginal one. A former professor at the University of Chicago, he's now Edward Said Professor of Arab Studies at Columbia, and respected by many in academia. He's been criticized most for saying that Palestinians have a right to resist Israeli occupation and has been described as a former P.L.O. spokesman, a label he has denied.

The paper hasn't explained its unwillingness to release the video, and Peter Wallsten, who found the tape and wrote about it, declined to discuss it with me last night. He forwarded an e-mail that the paper has sent readers who have complained as conservative blogs raise the issue.

"Over six months ago the Los Angeles Times published a detailed account of the events shown on the videotape. The Times is not suppressing anything. Just the opposite — the L.A. Times brought the matter to light," wrote the readers' representative, Jamie Gold.

L.A. Times spokeswoman Nancy Sullivan wouldn't discuss the decision not to release the tape in detail.

"When we reported on the tape six months ago, that was our full report," she said, and asked, "Does Politico release unpublished information?"

The answer to that question is yes — Politico and most news outlets constantly make available videos and documents, after describing them in part, which is why the Times' decision not to release the video is puzzling. My instinct, and many reporters', is to share as much source material as possible.

Critics have suggested that the Times is witholding the video for political reasons, but there are other possibilities: competitive reasons, or simply out of tradition. In the mechanics of reporting, there's another possibility as well. The video may have been given to the paper on the condition it not be released, or releasing it could compromise its source.

But the Times hasn't explained the move, and the McCain campaign is turning up the heat on a story that, whether or not the tape is released, is a reminder that some of Obama's Hyde Park friends stand well to the left of his stated positions.
---
Olbermann: Sarah Palin Is A Socialist
In a Special Campaign Comment, Keith Olbermann cites yet another example of the McCain campaign accusing Barack Obama of something of which they themselves are guilty. In this case, Sarah Palin is accusing Barack Obama of advocating socialism when she literally used that word to describe the collective wealth sharing in her home state of Alaska.
Watch:
---
Why 2008 is Not 2004 Redux: Remember the Bush/Kerry Matchup? Kerry was Polling Strongly, Right? Think Again.
I've heard whisperings the last few days that, despite the polls, people shouldn't be too confident in an Obama victory next week. The reason? Kerry was polling well leading into election 2004, but Bush won the election. While the latter is true--obviously, we've all been suffering under it--the former is a memory that is been clouded by wishful thinking. We wanted the polls to be better, so we remember them as better.
Looking at polling results from the final days of the 2004 campaign paints a very different picture: With only three exceptions, Bush held the lead in 22 out of 25 polls going into election day. Those leads, which averaged 2.23% for Bush, very closely mirrored the final election outcome: a 2.45% margin of victory.
It was going to be a close race--but it was clear who was going to win. The thing about close races, though, is that you can look at a close race and hope that your candidate can leap that final distance (the few polls that had an Kerry victory showed him at 1.33% up). But, with the luxury of time, it's easy to see now that there wasn't really a contest: the numbers were overwhelmingly in Bush's favor, even if the margins were small. Realizing that back then would have saved me a lot of heartache (probably many of you too).
2008 is a different story. In the most recent data available (10/26) Obama leads in every single national poll. His average? Of the seven polls released, he averages a margin of victory of 7%, more than three times what Bush was averaging in 2004. That's an entirely different ballgame.
As a result, this year you can see the "wishing a poll was better" game flipped on its head. The Drudge Report today (in addition to butchering a seven-year-old quote from Obama) cites a single poll, John Zogby's, as evidence that the race is getting closer. Even that poll has Obama up by 4.7%. By cherry-picking the outlier (an outlier that still shows the other guy ahead by a healthy margin), Drudge hopes to show that the race is "tightening." It's not.
This election is not going to swing 7% away from Obama in the next seven days any more than 2004 was going to swing 2% towards Kerry in the last week. Even someone as bad at math as myself can see that 2008's numbers are beginning to look like they add up to victory.

An update on a previous post: In my last blog entry, I compared Google Trends results for Obama and McCain. They very closely mirror "real" polling results, showing the same sorts of fluctuations, preferences, and trends--yet they're based on nothing more than Google searches for a candidates name. A few people in the comments said that it wasn't representative, that it just demonstrated that more people search for Obama and that, if you were to include Sarah Palin in the search criteria, "I bet she out-paces Obama on that graph." You'd guess wrong.

---
As Election Nears, Dirty Tricks Grow More Common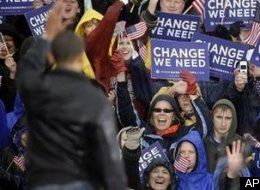 As the election nears, examples of political dirty tricks are emerging with greater frequency.
On Tuesday, the Virginia Pilot reported that a phony Board of Elections flier was circulating the state "advising Republicans to vote on Nov. 4 and Democrats on Nov. 5." Voting, of course, is on the 4th only, creating fear among neutral observers and the Obama campaign that people were simply going to miss the opportunity to go to the polls.
Earlier this month, meanwhile, an anonymous flier was circulating in predominantly African-American neighborhoods in Philadelphia telling voters they could be arrested at the polls if they show up to vote with outstanding arrest warrants or unpaid parking tickets. This is also untrue.
Dirty tricks and phony fliers represent the dark underside of nearly every election. And certainly, when it comes to the current contest, these tactics started long ago. Last March, as Time Magazine noted, a letter was being sent around Colorado, warning that out-of-state students could not register if their parents claimed them as dependents in another state." One of the more common falsities making its way through email chains has warned voters in some states (updated below) that they will be turned away from the polls if they wore paraphernalia demonstrating their support for one particular candidate.
Since these antics are becoming more and more common we encourage readers to send in tips or episodes they have witnessed to the Huffington Post.
UPDATE: Several readers have pointed out that, in fact, several states do prohibit passive electioneering (buttons, t-shirts, etc.) in polling places. In Texas, for example, the law is as follows:
[A] person may not wear a badge, insignia, emblem, or other similar communicative device relating to a candidate, measure, or political party appearing on the ballot, or to the conduct of the election, in the polling place or within 100 feet of any outside door through which a voter may enter the building in which the polling place is located.
---
Arianna Huffington
:
Obama Should Spill a Little Red Ink to Turn a Few More Red States Blue
With eight days to go before Election Day, both sides are worried.
Republicans, while still holding out hope for a "McCain Miracle," are increasingly worried that McCain is losing in a way that, as David Frum put it, "threatens to take the entire Republican Party down with him." As a result, Frum and other Republicans are urging party officials to shift the emphasis off the presidential race and on to preserving as many Senate seats as possible.
Democrats, while being careful not to count their electoral chickens before they're hatched, are privately worried about winning without enough of a majority in the Senate to really change things.
The enduring theme of Obama's campaign has been fundamental change. But, with victory within sight, the question becomes: how much change can he deliver if Democrats don't reach a filibuster-proof 60 seats in the Senate?
If the recent past is prologue, the answer is: not nearly enough.
In the just-ended 110th Congress, obstructionist Senate Republicans, led by human roadblock Mitch McConnell, mounted a record 104 filibusters (and that was with Bush in the White House; imagine how much more intransigent they would be with Obama). To put that number in context, in the previous Congress, the 109th, in which Democrats were in the minority, there were just 54 filibusters.
Senate Majority Leader Harry Reid has called the GOP tactic "obstruction on steroids." McConnell countered by deeming the filibuster flood an "ordinary procedure." And he makes it clear it's going to become even more "ordinary" if he's allowed to wield it in the 111th Congress: "I think the Senate works best when it makes things happen in the middle and that happens when you have 41 or more people who resist an idea to the point where you can compromise." In other words, to the point where you can derail, shut down, and gridlock real change.
The specter of Democrats controlling both the executive and the legislative branches of government has become a useful late-campaign boogeyman for Republicans. In John McCain's version, voters need to elect him president to balance out a Congress led by Harry Reid and Nancy Pelosi.
Senate Republicans, facing potential losses in New Hampshire, Oregon, Minnesota, Virginia, North Carolina, Colorado, Kentucky and Georgia, are making the pitch as if an Obama White House is a foregone conclusion.
Elizabeth Dole, in a neck and neck fight with challenger Kay Hagan, has a new TV ad warning that if she loses, it will hand Democrats "a blank check."
Norm Coleman, currently running behind Al Franken in Minnesota, ominously told voters: "If I lose this seat and one party has control across the board, then you'll see changes."
Coleman's quote should go right into a Franken commercial, and commercials for every other Democratic Senate candidate. "Want real change? Put Democrats in control."
Republicans aren't the only ones warning about one party rule. On Sunday, the New York Times, falling into be-careful-what-you-wish-for mode, warned that gaining a 60 seat majority would put Democrats "at risk of overreaching."
For the sake of the country, that's a risk Obama and Senate Democrats need to take. As Rhode Island Democrat Sheldon Whitehouse puts it: "I think we are in enough trouble in enough areas, that I would rather own it and then have to perform than continue with this back and forth, back and forth with Republicans, particularly while they are engaged in this absolute determined policy of obstruct, obstruct, obstruct."
Obama, of course, needs to stay focused on winning the White House, taking nothing for granted. And he definitely should not repeat John Kerry's mistake in 2004, when he ended the race with over $14 million sitting in the bank.
The Obama campaign clearly recognizes that while 50 percent of likely voters prefer one party rule, among the independent swing voters they are so avidly courting, only 34 percent do. Which is why the campaign has been treading so carefully.
But here's what he can and should do. Today. He should immediately guarantee a loan to the DSCC that will allow Democratic Senate candidates to spend whatever amount is necessary to secure a 60-seat majority. With Obama's donor list, he'll be able to wipe out that loan with a single post-election email. Money should not be the reason Democrats don't put themselves in a position to defang the obstructionists.
Indeed, a significant chunk of that money should be directed to Kentucky where challenger Bruce Lunsford is running just a few points behind McConnell. Want real change in America? Imagine a Senate without McConnell in it.
This is one of the times when deficit financing is definitely in the public interest. The Obama campaign should spill a little red ink to turn a few more red states blue.
Update: Politico reports today that the Democratic National Committee is, indeed, uncapping the red ink well, "taking out a $10 million dollar line of credit to split equally between the House and Senate campaign committees." Memo to Howard Dean: Make the first check payable to the Defeat Mitch McConnell Fund. And get those Norm Coleman "you'll see changes" TV spots rolling.

---
McCain's Last Ditch Effort: Tying Obama To Muslim World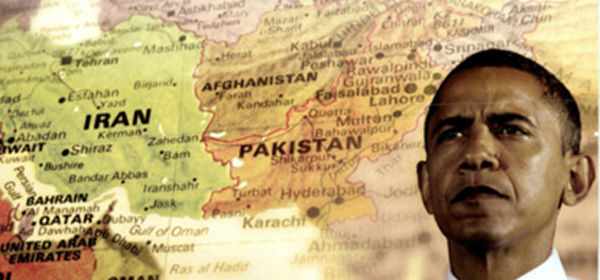 John McCain's campaign is making what appears to be a final, full-throated effort to paint Barack Obama as a sympathizer with the Muslim world. In the process they are putting out into the public domain as many images as possible of Obama's face cast over a map of the Middle East.
The latest salvo came Wednesday afternoon, when the Republican nominee released a web ad placing Obama's visage in front of an outline of Iran, and presenting aspects of the Senator's foreign policy alongside music traditionally associated with a Muslim call to prayer.
"Obama doesn't have preconditions but Iran does. Iran, whose president Mahmoud Ahmadinejad said Israel must be wiped off the map. Iran demands that the U.S. must cease its support of Israel and that all U.S. military forces must leave the Middle East, meaning we abandon Iraq, Turkey and Kuwait. What will Obama do? Will he admit he was wrong or will he accept Iran's demands?'
The spot seems designed either to frighten voters away from Obama or confuse them into thinking the Illinois Democrat is more comfortable supporting Iranian interests than domestic concerns. The campaign put it out on the web, where provocative items are placed mainly to grab the media attention.
Indeed, the Republican ticket has been subtly pushing this line for days now. As the Huffington Post reported on Tuesday, the Republican Party of Florida is sending out a new mailer that places the Illinois Democrat's face right over a map of Iran, Pakistan, Afghanistan and Saudi Arabia. It accuses him of being "dangerously unprepared" and "no friend of Israel."
Hours earlier, the McCain campaign had taken the step of reissuing an old campaign ad (for what purpose, it isn't clear) that declared Obama had once called the threat from Iran: "tiny."
Additionally, McCain officials have been howling over video of a party attended by Obama and Columbia University professor Rashid Khalidi, an outspoken advocate for Palestinian rights. The story has been fueled by revelations that the Los Angeles Times has video footage of that party which the paper is refusing to release (citing an agreement with the providing source). But, as Seth Colter Walls reported, McCain has ties of his own to that very professor.
"During the 1990s, while he served as chairman of the International Republican Institute (IRI), McCain distributed several grants to the Palestinian research center co-founded by Khalidi, including one worth half a million dollars."
Taken together, the ads, flier and new line of attack seem designed to paint Obama as, at best too weak to handle the dangers of the Arab world or at worst, an 'outsider' in his own right. It is an attack that has followed Obama around since the early months of the primary and seems likely to continue to the day of the election.

---
Days After Palin Pledged To Release Medical Records, They're Still Missing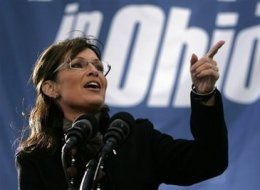 ABC News Kate Snow reports: Governor Palin's campaign still has not released any information regarding her medical records despite frequent requests from the news media and the campaign's own assertion that they would release this information soon.
On Sunday morning, Palin spokeswoman Tracey Schmitt told ABC News that the campaign had planned to release information on her medical history early this week.
Today is Wednesday.
ABC News has asked every day this week about the status of the release of information and received no updates from the campaign. It is unclear what is holding things up.
"We are working on this and it will happen sooner than later," Schmitt said on Sunday.
Aides suggested privately that there was nothing to hide in the records, but that it was simply taking a while to call doctors and round up the appropriate information to release.
But an entire week?
It was last Wednesday that Governor Palin said she would be "fine" with releasing her records.
She is the only one of the presidential or vice presidential candidates who has not released any health information about herself.
Palin did suggest that releasing her records could be fodder for political attacks of some kind.
"So be it, if that will allow some curiosity seekers, perhaps, to have one more thing that they can either check the box off that they can find something to criticize, perhaps, or find something to rest them assured over. Fine. I'm healthy, I'm happy, had five kids. That is going to be in the medical records. Never been seriously ill or hurt. You will see that in the medical records if they're released," Palin told NBC's Brian Williams.

---
Sen. Lieberman likely to lose his gavel in massive reshuffle being discussed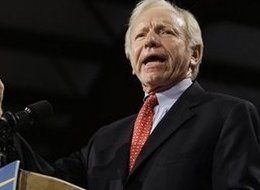 Democratic leaders are discussing a major reshuffling of Senate committee chairmanships, according to multiple sources, and the proposed changes include ousting Sen. Joe Lieberman (I-Conn.) from his coveted chairmanship.

Lieberman, a former Democrat who supports Sen. John McCain (R-Ariz.) for president, is likely to lose his gavel on the Homeland Security Committee he has chaired since January 2007, say the sources who see him being replaced by Sen. Daniel Akaka (Hawaii), the committee's third-ranking Democrat.
Lieberman spokesman Marshall Witmann dismissed the speculation, saying Lieberman "is focused on doing all he can to elect John McCain as president rather than post-election Washington politics."
One Democratic source said Lieberman is not likely to lose his position in the Democratic caucus, even if the party picks up several seats in next week's election. While Democrats could approach or exceed the filibuster-proof threshold of 60 votes, they may still need Lieberman's vote often.

"There's no sense in cutting off our nose to spite our face," one source said.

The proposed shakeup is hardly final, but it has begun to be sketched out on paper. It depends largely on a victory by Sen. Barack Obama (D-Ill.) in the presidential election, which would result in Sen. Joe Biden (D-Del.), Obama's running mate, giving up his chairmanship on the Senate Foreign Relations Committee.

The shift also hinges on Sen. Robert Byrd (D-W.Va.) stepping down as chairman of the powerful Appropriations Committee, which aides say is included in the proposed changes. Sen. Daniel Inouye (D-Hawaii) would replace him. Byrd, who turns 91 in November, has been hospitalized three times this year and some have questioned if he is capable of leading the committee.

Other moves include Sen. Jay Rockefeller (D-W.Va.) taking over the Senate Commerce Committee, Sen. Dianne Feinstein (D-Calif.) taking over the Senate Select Intelligence Committee and Sen. Charles Schumer (D-N.Y.) moving to the helm of the Senate Rules and Administration Committee.

There is no set plan to replace Biden, but one source cited Sen. Chris Dodd (D-Conn.) as a possibility.

However, another Democratic source said Dodd is likely to hold onto his chairmanship of the Senate Banking Committee and be available to replace Sen. Edward Kennedy (D-Mass.) on the Senate Health, Education, Labor and Pensions (HELP) Committee, should Kennedy's health fail.

Kennedy, who is battling brain cancer, signaled Tuesday that he would be returning to Washington and has requested workspace on the second floor of the Capitol.

Two sources say the request is "ongoing" to allow Kennedy some kind of work space that will allow him to focus on his signature issue, healthcare, with a Democratic presidency. Kennedy already has a third-floor hideaway in the Capitol, but work is ongoing to provide him with a second-floor space to eliminate the need to climb stairs or walk back and forth to his regular office in the Russell Senate Office Building.
Kennedy spokesman Anthony Coley said Majority Leader Harry Reid (D-Nev.) offered Kennedy S-219, a room adjacent to Reid's office, which Democratic leaders currently use for press conferences.
"The majority leader was gracious and kind enough to offer additional space and Sen. Kennedy is very appreciative," Coley said.

Dodd himself said he has discussed the possibility of taking the helm of the Foreign Relations Committee from Biden, saying in an interview with The Hill last month that Biden has joked that Dodd only wants Obama to win the presidency so he can take Biden's chairmanship.
A Dodd aide suggested that the Connecticut senator is inclined to stay where he is, noting that Dodd remains focused on the committee's role in addressing the economic crisis.
"Sen. Dodd is focused on a substantial agenda in each of his committees, both for the remainder of this Congress and next year," said spokeswoman Kate Szostak. "As chairman of the Banking Committee, he will be conducting vigilant oversight of the Treasury Department's implementation of the recently enacted financial rescue law, as well as examining additional steps to strengthen the U.S. economy."

Sen. Patty Murray (Wash.), who is currently the Democratic Conference Secretary but has only a subcommittee chairmanship, is likely to take over the Veterans' Affairs Committee, while Sen. Patrick Leahy (D-Vt.) would likely stay chairman of the Judiciary Committee.

Leahy still wants the chairmanship of the Appropriations Committee, sources said, but also wants to be a key player in any Supreme Court nominations from an Obama presidency.

If Dodd does give up the Banking Committee, the responsibility is likely to fall to Sen. Jack Reed (D-R.I.) instead of the next-most senior Democrat, Tim Johnson of South Dakota, who suffered a stroke in December 2006 and returned to the Senate in September 2007.

Underscoring the delicacy of the changes being considered, senators themselves are stridently avoiding any comment.

"I haven't talked to anyone, and no one has talked to me," said Reed, who was in the Senate Tuesday for meetings.

---
Elizabeth Conway, 13-Year-Old Scholastic Kid Reporter: McCain "Grumpy With Me Now"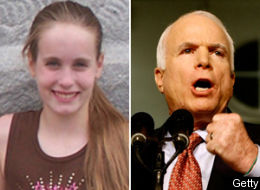 The Concord Monitor of New Hampshire recently interviewed local 8th grader Elizabeth Conway, who is a Scholastic Kid Reporter. Conway, who has met John McCain several times, said, "I interviewed McCain so many times he starts to notice my red shirt, because I have a uniform, and says 'I've answered her questions before.' It's almost like he's a little grumpy with me now."
Conway also told the Monitor about her conversation with Barack Obama, which ended in laughter:
I said, "You're a tough guy, I'm a tough girl living in a tough world. What advice do you have for tough people like me to make a difference in the world?" I also created five fun facts where I give two choices and he picks one. . . . For Red Sox or Cubs, he goes "neither." All his staff people cracked up laughing.
Besides being a Scholastic Kid Reporter, the 13-year old is also involved in school newspaper, ballet, lyrical, pointe, and jazz dance, swimming, cross-country, track and field, violin, acting, singing, and musical theater. She would like to become an actress or a TV reporter.
---
Nite - Sparky