Sparky Promoting Humor Comics
Ronn Sutton
-- artist of the above -- just emailed Happy Ninja Isle to tell me of something of interest to us old timers ...
He says: I've been drawing Elvira parodies of my favorite comics so there's been Elvira crossovers with parody versions of
Mr Monster
, Challengers of the Unknown. Blackhawks,
T.H.U.N.D.E.R. Agents
,
Doc Savage
, etc. with my girlfriend Janet Hetherton doing the scripts ...
Besides our deep abiding love for the THUNDER agents - we read and are literate today because of the pulps and comics:
Though in my case the comics came first. There is reading fun at most of the links ...
Ever wonder why you read and write when others are functional illerates? I remember hooking a kid on reading Doc Savage and finding the snot nosed punk writing fan fiction the next week. heh. At least it wasn't slash fiction.
Below is the fantastic Mr. Monster ...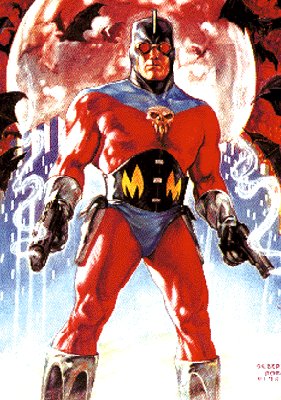 Explore and enjoy, Sparky
PS Railing about the obvious "Evil" of the Bush Crime Family can always take a break to the stuff that makes life worth living ...