Sparky: Let's talk
Nancy Kwan
...
Sigh ... I always focused on brunettes as they're just prettier. I remember believing that a schoolchum nicknamed Bennie was her youngest step-brother ... ah well ... this is a ramble ...
Nancy Kwan
Nancy Kwan
(born
May 19
,
1939
in
Hong Kong
) is a beautiful
Eurasian
actress.
Biography
Born to a Chinese father, architect Kwan Wing Hong and Scottish mother, model Marquita Scott. She was considered to be a Eurasian sex symbol in the 1960s.
Kwan's family fled Hong Kong to England in 1941 and returned at the end of the World War II. She later studied at the Royal Ballet School in England including performances in Swan Lake and Sleeping Beauty at Covent Garden. She completed her studies with a certificate to teach ballet.
While in England , producer Ray Stark spotted her. At the age of 18, she received the starring role of a free-spirited Hong Kong prostitute who captivates artist Robert Lomax (William Holden) in the film adaptation of The World of Suzie Wong (1960).
She followed it up the next year with the hit musical The Flower Drum Song (1961) and became one of Hollywood's most visible Asian actresses. She spent the 1960s commuting between the United States and Europe for film roles. She married Austrian ski instructor Peter Pock and gave birth to son Bernhard. Kwan returned to her native Hong Kong in 1972 to be with her critically ill father. After his death, she married director-producer Norbert Meisel and returned to the United States.
Since returning to the USA in 1979, she has had guest appearances and co-starring roles on numerous television productions, like ER. Today she is politically active as the spokeswoman for the Asian American Voters Coalition.

Selected filmography

Awards
Golden Ring Award
Historymaker for Excellence in the Performing Arts - Chinese American Museum of Los Angeles, California
Bibliography
A Celebration of Life, Memories of My Son.
External links
---
This puppy is the one that did it for me as I wouldn't be taken to see the adult stuff ...
Lt. Robin Crusoe, USN
This popular Walt Disney comedy is about a US Navy pilot who becomes a modern-day Robinson Crusoe. Lt. Robin Crusoe (Dick Van Dyke) is a pilot onboard an aircraft carrier in the South Pacific. When his plane crashes at sea, he must cling to a liferaft, with only a condescending survival manual as "company", until he lands on a lush deserted tropical island. Like that other Crusoe, he learns to acquire food and shelter and survive on the island.
While exploring the island he finds a space-age trained chimpanzee named Floyd, who has also been marooned on the island, and the astrochimp becomes Robin's drinking and poker buddy, golf partner, and best friend on the island.
Things become considerately more interesting for Robin when he encounters a beautiful native girl Wednesday (Nancy Kwan). Although at first she seems a bit wild and dangerous, Robin eventually gains her trust. Wednesday is the daughter of a cruel tribal chief Tanamashu (Akim Tamiroff), who has exiled her to the island for refusing to wed the man of his choice. Robin teaches her that she need not submit to her father's arranged marriage, because "all women have rights."
When Wednesday's female cousins and friends arrive on the island, who were also exiled for their independent thinking, Robin organizes them into an all-woman army to force the overthrow of the strict and fierce Tanamashu.
The ever popular Dick Van Dyke shows his talent with ad-libbing and physical humor that made him a Disney mainstay. Nancy Kwan turns in a nice comic performance, especially in the "charades" scene. Despite the film's unreal and disappointing ending, it is great fun to watch Robin slowly fall under Wednesday's irresistable spell.
---
I was one of those who felt the movie ended baldy; However, the DELL comic associated with the film clearly has Robin vowing to return if his 'ugly blonde' girlfriend treats him the same as the Navy is ...
---
Now as an adult I discovered that the lovely 'cousins' of Wednesday were former chorus girls from the old
Forbidden City nightclub
... and then I discovered "
The Flower Drum Song
" — call me shy I never managed to watch more than a few minutes of "Susie Wong" ...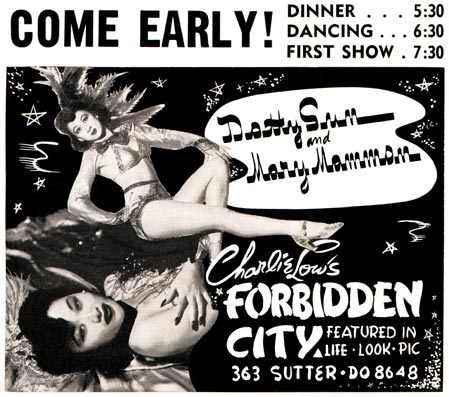 ---
The Flower Drum Song
Flower Drum Song
is a
Broadway
musical
with a score by
Richard Rodgers
and
Oscar Hammerstein
, and a book by Hammerstein and
Joseph Fields
, based on the novel by
C.Y. Lee
. The original production opened in
1958
and starred
Miyoshi Umeki
,
Pat Suzuki
,
Juanita Hall
,
Larry Blyden
,
Ed Kenney
, and
Arabella Hong
; it ran for 600 performances at the
St. James Theatre
.
The plot concerns a young Chinese girl, Mei Li, who is brought to the USA to enter into an arranged marriage. Her intended, who is already involved with a showgirl, Linda Low, only gradually comes to appreciate Mei Li's qualities.

In 1961 the musical was made into a movie, starring Nancy Kwan as Linda Low, James Shigeta, Benson Fong, Jack Soo, and original Broadway cast members Umeki and Hall. The film was nominated for Academy Awards for Best Art Direction-Set Decoration, Color, Best Cinematography, Color, Best Costume Design, Color, Best Music, Scoring of a Musical Picture and Best Sound.
In 2002, a revival of the show opened on Broadway at the Virginia Theatre. With an entirely new book by David Henry Hwang, and a number of changes in the music (including new lyrics for a couple of songs, one number cut, and another cut number reinserted), the production was directed and choreographed by Robert Longbottom and starred Lea Salonga. The production ran for 169 performances, the shortest ever run for any Rodgers and Hammerstein musical in New York City. In defending his decision to rewrite the original book, Hwang stated, "I tried to write the book that Oscar Hammerstein would have written if he were Asian-American."

---
Benson Fong was a wonderful man by the way, soon after I was a teen - I worked for him at one of the 5 Ah Fong restaurants in town ... and his youngest was a hottie! heh - Sparks
PS Next Lucille Soong ... who knows secrets ...