Sparky
is sad to hear of Dave's death.
Dave Stevens RIP
In the early 90s I used to hit GlamourCon as my part of trying to get comic book talent for Japan's
Kodansha
's
Afternoon Manga Magazine
as an Aquisitions Editor. And scour the Internet with all my skills - I can't locate the magazine cover where he explains he got a "real" model from the Ivar Theater (which went from where I saw "
You're a Good Man, Charlie Brown
" to a strip tease venue to a Jazz Club - go figure). Dave would have a small booth there staffed with lovely models. I'll always remember how friendly and nice he was. He was my favorite person to share a birthday with.
If you follow the links to
Heidi's blog
- you'll see a link to
Lea's
— and if you don't tear up don't tell me. Here are some images: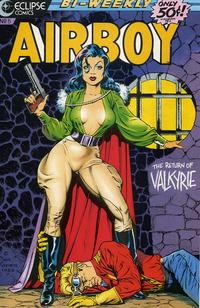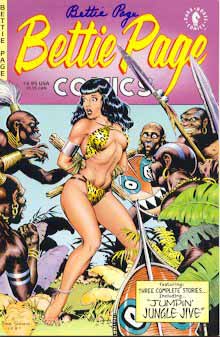 From Wikipedia, the free encyclopedia
This article is about a person who has recently died.


Some information, such as that pertaining to the circumstances of the person's death and surrounding events, may change rapidly as more facts become known. In the event that this article is disruptively edited following the death of the subject, please request administrator intervention

on this page

.
Dave Stevens (July 29, 1955 – March 10, 2008) was an American illustrator and comics artist. He is most famous for creating The Rocketeer and for his pin-up style "good girl" illustrations, especially of model Bettie Page. He was the first to win the Russ Manning Award in 1982.
Early life and career
Stevens was born July 29, 1955 in Lynwood, California, but grew up on Portland, Oregon.[1] His first professional comic work was inking Russ Manning's pencils for the daily Tarzan comic strips 1975. Starting in 1977 he drew storyboards for Hanna-Barbara animated TV shows, including Super Friends and The Godzilla Power Hour.[1] During this time he was involved for several months with artist Laura Molina who later used him – against his wishes – as the subject of her Naked Dave series of paintings.
The Rocketeer
In 1982 he created the Rocketeer, which brought him to the attention of many comics readers. It combined elements of classic pulp fiction heroes like Doc Savage and the Shadow into the narration. The first adventure was collected in a single volume by Eclipse Comics (ISBN 1-56060-088-8). The fifth chapter ended in a cliffhanger. The story picked up again in the Rocketeer Adventure Magazine. Two issues were published by Comico Comics in 1988 and 1989, but the third did not appear until years later, published by Dark Horse Comics in 1995. All three issues were collected by Dark Horse as The Rocketeer: Cliff's New York Adventure (ISBN 1-56971-092-9). All along the series suffered from a slow production schedule, due largely to Stevens' extensive research and meticulous approach to drawing.[1]
The soap-opera theme of The Rocketeer is essentially a retelling of Stevens' own mercurial relationship with Charlene Brinkman, later known as Brinke Stevens, to whom he was married for six months. She later modeled for her ex-husband, providing the poses for the character based on her, though the character's face was always Bettie Page. Other mutual acquaintances who show up in the comics include real-life glamour and porn photographer Ken Marcus, as the sleazy "Marco of Hollywood".
Stevens sold the rights to the Rocketeer to the Walt Disney Company, which produced the 1991 film The Rocketeer starring Billy Campbell, to a mixture of highly positive and lukewarm reviews, and a disappointing box office take.
Bettie Page
Stevens' work frequently featured 1950s pin-up model Bettie Page. The appearance of a Page look-alike in The Rocketeer contributed to a renewed public interest in the model. After discovering that Page was still alive and lived nearby, Stevens became friends with her, and helped her financially.[1]
Later life
Following The Rocketeer, Stevens primarily did individual illustrations and comic book covers, including a number for Comico's Jonny Quest series. He worked on a collection of his work to be titled The Art of Dave Stevens.[1]
Stevens died on March 10, 2008 following a long battle with leukemia.[2]
References
External links
---
Crappy month this — if you're a member of the Iguanoids - we'll be adding a toast to Dave's memory ...
---
And if anyone is reading down this far — do you think doing a collection to get your pal the Guru a used Vespa or Scooter would be a bad thing? I think I can be found on the internet.