Sparky has more to crap to rub Cheney's face in -> As he wishes Chris Walken really would run for President of the USA -> And other stuff that I forgot to share ...


---

Blame it on Cheney ...
---
Convicted Of Passing Secret U.S. Documents In Effort To Topple Philippine Government
Spy In The White House?
The FBI is investigating Leandro Aragoncillo, a former Marine who is accused of taking classified documents from the White House and passing them to contacts in the Philippines. Bill Plante reports.
"There's no doubt you did betray a position of trust that very few people are privileged to occupy."
- U.S. District Judge William H. Walls
---
NYT
:
Democrats Fail to Force Vote on Iraq Pullout
Senators Harry Reid, left, and Carl Levin after the vote today.
WASHINGTON, July 18 — Senate Democrats fell short this morning, after a rare all-night session, in their attempt to force President Bush to begin withdrawing American troops from Iraq.
The measure, which called for troops to begin departing within 120 days, was defeated in a procedural vote on what is known as a cloture motion. It received 52 "yes" votes, to 47 "no" votes, but Senate rules require 60 yes votes to pass the motion, which would have overcome a Republican filibuster of the measure.
After the failure, Senator Harry Reid of Nevada, the Democratic majority leader, proposed that the Senate take up a series of Iraq proposals and make them all subject to a simple majority vote, including the withdrawal plan that had just failed. When Senator Mitch McConnell of Kentucky, the Republican leader, objected, Mr. Reid then pulled the entire Pentagon-spending measure from the floor, putting off any consideration of the alternative proposals such as one to rescind the initial war authorization.
"We will come back to this bill as soon as it is clear we can make real progress," said Mr. Reid.
Republicans complained that Democrats were being disingenuous in their complaints about the 60-vote threshold, considering that they had used the filibuster themselves when they were in the minority. They fumed over Mr. Reid's decision to yank the Pentagon measure and blame his decision on Republican obstructionism.
"This is tragic," said Senator John McCain, Republican of Arizona, delivering a blistering criticism of Democratic leaders for pulling the military policy bill from the floor. He said America's fighting men and women deserve better from their lawmakers. "This is a commentary on the lack of comity in the Senate," Mr. McCain said.
Democrats and Republicans accused one another of being obstructionists. Mr. Reid said he wants to bring the spending bill back to the floor as soon as possible, "but with a deadline dealing with Iraq." He brushed off Republican charges that by pulling the bill he is letting down military people, noting that even if the bill were approved right now, it would not take effect until October, when the fiscal year begins.
But Senator Trent Lott of Mississippi, the Republican whip, said the bill is "very important for our men and women in uniform, and for our country," and said Mr. Reid apparently "wants to play games with it."
Mr. Reid had implored Republicans to "stop blocking a vote on this crucial, war-ending amendment," an allusion to the withdrawal measure offered by Senators Carl Levin of Michigan and Jack Reed of Rhode Island, both Democrats.
Mr. Levin said, as he has repeatedly, that the Iraqis must take charge of their own destiny. "We cannot save them from themselves," he said just before the vote.
But the Republican minority leader, Senator Mitch McConnell of Kentucky, said the Democrats' arguments were illogical, given that they had voted to confirm Gen. David H. Petraeus as the American commander in Iraq and thus, implicitly at least, had voted to give the administration strategy a chance to succeed.
Mr. McConnell said some of the speeches from the all-nighter reminded him of a bad movie, or perhaps "The Twilight Zone."
But Mr. Reid said the Republicans' stance meant that "they chose to continue protecting their president instead of our troops."
Despite growing misgivings about the administration's approach in Mr. Bush's own party, none of the Republican senators who spoke overnight signaled new support for the Democratic plan to set a deadline to remove troops from Iraq.
"We need to change mission," said Senator Norm Coleman, Republican of Minnesota, who was among a handful of lawmakers who spent nearly the whole night in the chamber, listening to the debate. "But we have to do it thoughtfully, we have to do it strategically."
Senator Hillary Rodham Clinton, the New York Democrat, urged support for the plan, which would call for troops to begin departing within 120 days. While the administration's mistakes in Iraq "shock the conscience," she said, the path forward remains uncertain.
"There are no good answers," Mrs. Clinton said in a speech delivered before dawn. "Anyone who stands here and believes that he or she has the truth, the facts, and understands both what is going on and what is likely to flow from whatever decision we take, is most probably to be proven wrong by reality as it unfolds."
Senator Reid ordered the rare overnight session to draw attention to the Democratic efforts to change course in Iraq. But Mr. Reid did not use his full power to force senators to attend — no lawmakers, for example, were brought back to the chamber by the sergeant-at-arms — and 40 senators did not record their presence during a 5 a.m. attendance check.
Only three Republican senators pledged in advance to support the measure. Others who have gone public with their complaints about the war strategy said they were worried that the plan was ill-advised, and was being driven ahead by the Democrats mainly for partisan reasons.
"You wonder if they are more interested in politics than dealing with the substance of this," said Senator George V. Voinovich, Republican of Ohio.
Senator Judd Gregg, Republican of New Hampshire, labeled the Democratic plan calling for a troop pullout to begin within 120 days vague and unenforceable.
"If it did pass, it would lead to chaos in Iraq and a dramatic increase in casualties," said Mr. Gregg, who is backing an alternative plan that incorporates the recommendations of the bipartisan Iraq Study Group.
Senators Richard G. Lugar of Indiana and Pete V. Domenici of New Mexico, two senior Republicans who recently delivered a high-profile criticism of the administration's Iraq policy, also decided to oppose the Democratic plan.
But leading Democrats and the three Republicans who have joined them in pushing for the withdrawal portrayed the proposal as the most concrete of the competing plans circulating in the Senate, and the surest way to force a change in administration policy.
They painted today's procedural vote as a pivotal moment in the war debate, and urged colleagues to help remove American troops from what they described as civil strife in Iraq.
"Ultimately, they have a question to settle," Senator Gordon H. Smith, Republican of Oregon, said about the Iraqi people. "This is a fight that is theirs, not ours."
Democrats acknowledged that they had used the all-night session to ratchet up the pressure on wavering Republicans and to try to persuade voters that though lawmakers might be breaking with the president, they were not moving forcefully enough to wind down the war.
"Many of these senators have been back home telling their constituents they've given up on the president's policy in Iraq," said Senator Richard J. Durbin of Illinois, the No. 2 Democrat. "Well, the question is, will they have the courage now to vote with those who want real change?"
Democratic officials spent much of Tuesday criticizing Republicans for not allowing a simple majority vote on the withdrawal proposal. "Let us vote," screamed a large sign placed on the Senate floor as a backdrop to nearly each Democratic speaker overnight.
"Now is the time for us to make difficult choices," said Senator Christopher J. Dodd of Connecticut, one of the four Democratic presidential candidates in the Senate.
Republicans complained that the whole episode was a charade because the Democrats who were complaining about having to come up with 60 votes on contentious issues raised the same hurdle themselves when they were the minority party.
"It doesn't pass the smell test," Senator McCain, the senior Republican on the Armed Services Committee, said of the Democratic criticism.
He and other Republicans challenged the wisdom of the withdrawal plan, saying it would short-circuit an escalation of military forces before the buildup had sufficient time to work, hand terrorist forces a victory, damage the nation's reputation and leave Iraq in chaos.
"Keeping the Senate in for an all-night debate is not going to improve the serious concerns we have about the Levin amendment," said Senator Jon Kyl, Republican of Arizona. "The amendment will look just as bad at 3 a.m. as it does at 3 p.m."
But the backers of the plan disputed characterizations of the bill as a cut-and-run approach, saying it would stagger the redeployment of troops and would give the president broad discretion to keep sufficient forces in Iraq to engage in counterterrorism efforts, secure the nation's borders and protect American personnel and facilities.
"It's neither precipitous, nor is it a withdrawal," said Senator Olympia J. Snowe of Maine, who, along with Mr. Smith and Senator Chuck Hagel of Nebraska, was one of the three Republican backers of the Democratic plan before today's vote. "It's a redeployment, a reduction in forces, a change in mission."
Senator Susan Collins, Republican of Maine, also voted for the Democratic plan today, after agonizing through the night. No Democrats opposed the measure, although Mr. Reid was counted among the "no" votes in the end, for tactical reasons: By switching his vote to "no," he made himself eligible under Senate rules to bring the measure up again for reconsideration.
Mr. Levin said his amendment was a response to what he portrayed as Mr. Bush's refusal to consider a change in policy on his own. "We are trying to say that this administration will not change course in Iraq, apparently, unless the Congress forces that issue upon them," he said.
The alternatives to the Levin-Reed amendment include a proposal to enact into law the recommendations of the Iraq Study Group; another to rescind the initial 2002 authorization for the war; and a new proposal by Mr. Lugar and Senator John W. Warner, Republican of Virginia, to order the president to develop a new war strategy by October.
The legislation based on the study group's call to combine diplomacy and military operations to create conditions for withdrawal by next March has some bipartisan support, but some Democrats have criticized it because it is nonbinding.
"It is on the right track," said Senator Lamar Alexander, the Tennessee Republican who is a leading sponsor. "It is moving in the right direction and it is very significant change."
But Mr. Alexander said he would not support the Democratic withdrawal proposal and the majority leader, Mr. Reid, said he had not decided whether there would be a vote on Mr. Alexander's approach. Mr. Reid did suggest that he was inclined to allow consideration of the plan by Senators Lugar and Warner, given concerns they have raised about the course of the war.
"I admire and appreciate Senator Warner and Senator Lugar very much speaking out," Mr. Reid said. "I wish they would vote as well as they talk."
Harry Mason Reid (born December 2, 1939) is the senior United States Senator from Nevada and a member of the Democratic Party.
Reid is the U.S. Senate Majority Leader in the 110th Congress. He assumed majority leadership after the Democratic Party won seated majority of the Senate in the 2006 congressional elections. Reid is the first Mormon to serve as Senate Majority Leader.[1]
...
---
Mark how these Republican Fat Heads voted next soldiers who die in Iraq. Some imagery to help set in the minds of any GOP wannabe neocon why they'll fail ...
---
US Senate says no to pullout of US troops from Iraq
July 18, 2007
After a rare all-night session, the United States Senate voted today at 11am EST on the motion to invoke cloture of the Levin/Reed Amendment (S.Amdt. 2087) which would pullout United States troops from Iraq, but only 52 votes were cast in favor of the amendment and 47 were cast against it, falling just short of the 60 votes needed to overcome the Republican filibuster of the measure.
Cots were brought in for the Senators to catch snatches of sleep during the long night, while some slept at their apartments for short periods of time. Pizza was brought in for senators to eat. Seven Democrats left the Senate floor to go outside to join a candlelight vigil held across the street from Congress.
Had the bill passed, troops would have left Iraq 120 days after the vote, and would have been out of the country by April of 2008.
Four Republicans senators, including both of Maine's senators, Susan Collins and Olympia Snowe voted with Chuck Hagel of Nebraska and Gordon Smith of Oregon, all critics of the war. Collins was a surprise vote, although a critic, she has not been favorable toward the deadline approach. Joe Liberman, the Independent Democrat senator from Connecticut, who caucuses with Democrats, voted with Republicans against the motion, as he has done with all Iraq war legislation this year.
Last night during the all-night senate debate, Democratic Majority Leader from Nevada, Harry Reid, asked that the Senate vote on the bill this morning. He later voted no on the motion in order to take advantage of Senate rules to reintroduce the measure.
After the motion failed, Reid proposed that the Senate look at a series of Iraq proposals and make them subject to a simple majority vote, included the failed plan. Mitch McConnell, the Republican Minority Leader from Kentucky objected and Reid withdrew the legislation from the floor and the Senate moved on to discussing student loans and grants.
Throughout the night, the Senators took turns speaking with Democrats speaking while a large sign behind them annouced "Let Us Vote" speaking for the amendment and not allowing them a simple majority to vote for the amenmdnet while Republicans took turns decrying it, noting that Democrats did the same when they were the minority and criticizing Democratic leaders.
How they voted
The following is a breakdown of how the Senators voted on the motion of cloture for the Levin/Reed Amendment (S.Amdt. 2087) grouped by state:
Alabama:

Sessions (R-AL), Nay
Shelby (R-AL), Nay

Alaska:

Murkowski (R-AK), Nay
Stevens (R-AK), Nay

Arizona:

Kyl (R-AZ), Nay
McCain (R-AZ), Nay

Arkansas:

Lincoln (D-AR), Yea
Pryor (D-AR), Yea

California:

Boxer (D-CA), Yea
Feinstein (D-CA), Yea

Colorado:

Allard (R-CO), Nay
Salazar (D-CO), Yea

Connecticut:

Dodd (D-CT), Yea
Lieberman (ID-CT), Nay

Delaware:

Biden (D-DE), Yea
Carper (D-DE), Yea

Florida:

Martinez (R-FL), Nay
Nelson (D-FL), Yea

Georgia:

Chambliss (R-GA), Nay
Isakson (R-GA), Nay

Hawaii:

Akaka (D-HI), Yea
Inouye (D-HI), Yea

Idaho:

Craig (R-ID), Nay
Crapo (R-ID), Nay

Illinois:

Durbin (D-IL), Yea
Obama (D-IL), Yea

Indiana:

Bayh (D-IN), Yea
Lugar (R-IN), Nay

Iowa:

Grassley (R-IA), Nay
Harkin (D-IA), Yea

Kansas:

Brownback (R-KS), Nay
Roberts (R-KS), Nay

Kentucky:

Bunning (R-KY), Nay
McConnell (R-KY), Nay

Louisiana:

Landrieu (D-LA), Yea
Vitter (R-LA), Nay

Maine:

Collins (R-ME), Yea
Snowe (R-ME), Yea

Maryland:

Cardin (D-MD), Yea
Mikulski (D-MD), Yea

Massachusetts:

Kennedy (D-MA), Yea
Kerry (D-MA), Yea

Michigan:

Levin (D-MI), Yea
Stabenow (D-MI), Yea

Minnesota:

Coleman (R-MN), Nay
Klobuchar (D-MN), Yea

Mississippi:

Cochran (R-MS), Nay
Lott (R-MS), Nay

Missouri:

Bond (R-MO), Nay
McCaskill (D-MO), Yea

Montana:

Baucus (D-MT), Yea
Tester (D-MT), Yea

Nebraska:

Hagel (R-NE), Yea
Nelson (D-NE), Yea

Nevada:

Ensign (R-NV), Nay
Reid (D-NV), Nay

New Hampshire:

Gregg (R-NH), Nay
Sununu (R-NH), Nay

New Jersey:

Lautenberg (D-NJ), Yea
Menendez (D-NJ), Yea

New Mexico:

Bingaman (D-NM), Yea
Domenici (R-NM), Nay

New York:

Clinton (D-NY), Yea
Schumer (D-NY), Yea

North Carolina:

Burr (R-NC), Nay
Dole (R-NC), Nay

North Dakota:

Conrad (D-ND), Yea
Dorgan (D-ND), Yea

Ohio:

Brown (D-OH), Yea
Voinovich (R-OH), Nay

Oklahoma:

Coburn (R-OK), Nay
Inhofe (R-OK), Nay

Oregon:

Smith (R-OR), Yea
Wyden (D-OR), Yea

Pennsylvania:

Casey (D-PA), Yea
Specter (R-PA), Nay

Rhode Island:

Reed (D-RI), Yea
Whitehouse (D-RI), Yea

South Carolina:

DeMint (R-SC), Nay
Graham (R-SC), Nay

South Dakota:

Johnson (D-SD), Not Voting
Thune (R-SD), Nay

Tennessee:

Alexander (R-TN), Nay
Corker (R-TN), Nay

Texas:

Cornyn (R-TX), Nay
Hutchison (R-TX), Nay

Utah:

Bennett (R-UT), Nay
Hatch (R-UT), Nay

Vermont:

Leahy (D-VT), Yea
Sanders (I-VT), Yea

Virginia:

Warner (R-VA), Nay
Webb (D-VA), Yea

Washington:

Cantwell (D-WA), Yea
Murray (D-WA), Yea

West Virginia:

Byrd (D-WV), Yea
Rockefeller (D-WV), Yea

Wisconsin:

Feingold (D-WI), Yea
Kohl (D-WI), Yea

Wyoming:

Barrasso (R-WY), Nay
Enzi (R-WY), Nay
Related news
Sources
---
...
Q: In Hairspray you play John Travolta's husband, and you two seem genuinely smitten.
A: You're right. I think that we had a nice, as they call it, chemistry. I was very taken with him.
...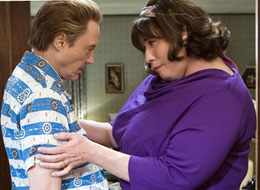 Walken was the subject of a hoax in August 2006 when an unidentified fan created a fake campaign website[1] (complete with fictitious Walken "quotes" on key political issues and a link to a Cafepress page selling Walken campaign merchandise) which announced he was running for President of the United States. The site first gained attention after it was featured on a Yahoo! Current Buzz "Celebs for President" segment in October 2006. Many fans believed it was authentic until Walken's publicist dismissed the claims put forth by the website as "100% not true".
When asked about the hoax in a September 2006 interview with Conan O'Brien, Walken seemed amused by the fake presidential campaign and, when prompted by O'Brien to come up with a fitting presidential campaign slogan for himself, replied with "What the Heck?" and "No More Zoos!" [2]
The Urban Legends Reference Pages list the site as a fake.[3] This hoax was perpetrated by the Internet forum General Mayhem.[4] The original discussion has been archived on their site.[5]
---
Someone cosplaying Pope Benedict in France it seems ...
---
WITH the depletion of bluefin tuna in our oceans now front-page news, people around the country have been sharing with me their confusions and fears about eating sushi. I think that we — and our fish — would benefit from a new deal for American sushi: a grand pact between chefs and customers to change the way we eat.
Lobbyists for the sushi and fishing industries insist that tuna is essential to sushi, and that controls on harvesting the fish would threaten traditional Japanese culture. But that's nonsense. Traditionally, the Japanese considered tuna unfit for sushi — especially the fatty parts. Boiled shellfish, pickled mackerel and lean, light-fleshed snappers and flounders were most popular. Not until the Western diet influenced Japan in the 20th century did the Japanese start to value the red meat of tuna and fatty cuts of fish.
But the Japanese still value tradition. When I lived in Tokyo, eating sushi generally involved a trip to a tiny neighborhood sushi bar. The chef, like a good bartender, knew everyone by name and bantered with his customers while he worked. Instead of tables and menus, people sat at the bar and asked what was seasonal and most flavorful. The chef delivered a delightful variety — unpretentious little fish with great character, crunchy clams, surprisingly tender octopus.
When sushi took root in the United States in the 1970s, a few Japanese chefs tried to educate Americans about the variety of seafood eaten in traditional sushi, and a few made the effort to recreate the neighborhood sushi bar, with its cheerful chatter, trusting relationships, lack of menus and reasonable prices.
But the dirty little secret of American sushi is that from the beginning, many Japanese chefs assumed that we could never appreciate the wide-ranging experience the way their Japanese customers did, so they didn't bother to educate us. Simple sushi took over, featuring the usual suspects: tuna, salmon, boiled shrimp.
Today, most Americans remain wary of the stern-faced sushi chef, and dare not sit at the bar — we wouldn't know how to order or to control the bill. Many chefs, in turn, tell me that they're fed up with the way we Americans mishandle our sushi, so they don't bother to serve us the fun, flavorful and more peculiar toppings.
So Americans are stuck between chef-driven omakase meals at elite restaurants that cost a fortune and the cheap, predictable fare at our neighborhood places. Both extremes have deepened our dependence on tuna — at the high end, on super-fatty cuts of rare bluefin; and at the low end, on tasteless red flesh that has often been frozen for months and treated with chemicals to preserve its color.
What we need isn't more tuna, but a renaissance in American sushi; to discover for ourselves — and perhaps to remind the Japanese — what sushi is all about. A trip to the neighborhood sushi bar should be a social exchange that celebrates, with a sense of balance and moderation, the wondrous variety of the sea.
I suggest that customers refuse to sit at a table or look at a menu. We should sit at the bar and ask the chef questions about everything — what he wants to make us and how we should eat it. We should agree to turn our backs on our American addictions to tuna (for starters, try mackerel), globs of fake wasabi (let the chef add the appropriate amount), gallons of soy sauce (let the chef season the sushi if it needs seasoning) and chopsticks (use your fingers so the chef can pack the sushi loosely, as he would in Japan). Diners will be amazed at how following these simple rules can make a sushi chef your friend, and take you on new adventures in taste.
In return, the chefs, be they Japanese or not, must honor the sushi tradition and make the effort to educate us — no more stoicism. They must also be willing to have a candid conversation about the budget before the meal; it's the only way American diners will be willing to surrender to the chef's suggestions. Sushi should never be cheap, but it also should never be exorbitant, because that makes it impossible to create a clientele of regulars.
Fraternizing with the chef may be a tough habit for Americans to take up. But we've had sushi here now for four decades, and it's time for a change — both for our sake, and for the sake of the embattled tuna. Let the conversation across the sushi bar begin.