First, some Updates:
---
- If you were one of the 120,000 visitors who experienced the redirect before it was changed, post a comment below for the record.
---
The Redirect has been changed 5 times over 48 Hours:
---
Washington Post Picks Up Story, NYTimes Published list of RNC Owned Domain Names:
-Washington Post publishes an Article and requests comment from the McCain Campaign. McCain Campaign denies any involvement, suggesting the URL redirection was a prank they have nothing to do with, and no control over.

-The NYTimes published a verified list of opposition URLS owned by the Republican National Committee
[end of introductory update - more updates below]
---
VoteForTheMILF.com will redirect you specifically to a video intro by Gov. Sarah Palin at JohnMcCain.com if you are hitting it for the first time. Note that the redirect sends you first to JohnMcCain.com and THEN to Palin.htm (Palin's Video Intro) if you're visiting for the first time, or if your cookies are cleared, or if you're not accepting cookies. Here's a video of this taking place:


- URL Registered within hours of McCain's Decision to select Palin as running mate
- Redirect sends users specifically to a palin.htm file, but only on the FIRST redirect
- Whois Privacy Information Matches JohnMcCain.com Whois Privacy
- URL Held by same registrar
- Note that the .net and .org versions also redirect to the McCain Campaign Website.
Network Tools.com Trace Route:
- 64.203.107.149 (VoteForTheMILF.com)
- 64.203.107.149 (JohnMcCain.com)
It's impossible to know if this is an intentional or unintentional error on the part of the McCain Campaign, but it wouldn't be at all surprising. Seems they're just learning to use the "internet/the google" to promote their candidate.
More than likely, some underling in the McCain Campaign was told to buy up dozens and dozens of related URLS within the McCain Campaign GoDaddy account (perhaps all of the variations of John McCain's name, Campaign Slogans, opposition URLS, etc) and just set them all to redirect to their main site which can be easily done within the GoDaddy control panel by selecting all the URLS and setting up a forward or simple redirect with a PHP header in any of those sites.
Whoever was in charge probably did not distinguish between the URLS they had bought for misspelled attempts to get to the campaign website / thematic redirects (IE: JohnMcCainForPresident.com), and the urls they had bought to deny the opposition territory to make anti-McCain websites; McCainSucks.com, etc.
It will be most interesting to see if this redirect changes. If the redirect is discontinued, it's probably most certainly the McCain Campaign … (Hi Steve! Hey Rick! Say 'howdy' to John for me - and tell him good luck with his lousy sleazy campaign!) … if not, it's someone trying to improve their page rank. In either case, we'll be monitoring the publicly available Whois information carefully.

***BREAKING UPDATE****
Domains registered by the R.N.C . or on servers used by the committee:
2007
calculatingclinton.com
canttrustclinton.com
clintonbabbit.com
clintoncleland.com
clintoncohen.com
clintonisbad.com
clintoniscorrupt.com
clintoniswrong.com
clintonkerrey.com
clintonlibrarycard.com
clintonlibraryresolution.com
clintonomalley.com
clintonsalazar.com
clintonschweitzer.com
clintontruthwatch.com
hillaryiswrong.com
hillarymythfact.com
hillaryrecords.com
hillaryspendometer.com
hillarytaxplan.com
hillarytruthsquad.com
hopelesshillary.com
outwithhillary.com
thetwohillarys.com
amateurobama.com
barackisliberal.com
barackiswrong.com
baracknotready.com
barackobamanotready.com
barackobamatheliberal.com
baracktheamateur.com
barackthebeginner.com
fauxbama.org
hesnotready.com
meetbarackobama.com
norealexperience.com
nowecannot.com
nowecannot.net
nowecannot.org
obamaisliberal.com
obamaiswrong.com
obamanotready.com
obamaspendometer.com
obamatheamateur.com
obamathebeginner.com
yeswecandowhat.com
yeswecanwhat.com
More at: http://thecaucus.blogs.nytimes.com/2008/03/06/rnc-snaps-up-domain-names/

More Updates:
UPDATE 1:
As of 4:23PM (EDT) The Whois has been set to 'Private' for the .com and .net versions of this URL.
The .org, however, still retains an Arizona Address, albeit, still 'Domains by Proxy' - note that 'Domains by Proxy' is a company based out of Arizona, and has been for years. Domains by Proxy is GoDaddy's company that handles its privacy, so any domain registered with GoDaddy's Whois privacy are handled by Domains by Proxy:
Domain ID:D153964447-LROR
Domain Name:VOTEFORTHEMILF.ORG
Created On:30-Aug-2008 04:48:12 UTC
Last Updated On:30-Aug-2008 04:48:15 UTC
Expiration Date:30-Aug-2009 04:48:12 UTC
Sponsoring Registrar:GoDaddy.com, Inc. (R91-LROR)
Status:CLIENT DELETE PROHIBITED
Status:CLIENT RENEW PROHIBITED
Status:CLIENT TRANSFER PROHIBITED
Status:CLIENT UPDATE PROHIBITED
Status:TRANSFER PROHIBITED
Registrant ID:GODA-052597126
Registrant Name:Registration Private
Registrant Organization:Domains by Proxy, Inc.
Registrant Street1:DomainsByProxy.com
Registrant Street2:15111 N. Hayden Rd., Ste 160, PMB 353
Registrant Street3:
Registrant City:Scottsdale
Registrant State/Province:Arizona
Registrant Postal Code:85260
Registrant Country:US
Registrant Phone:+1.4806242599
Registrant Phone Ext.:
Registrant FAX:+1.4806242598
Registrant FAX Ext.:
Registrant Email:VOTEFORTHEMILF.ORG@domainsbyproxy.com
UPDATE 2:
VoteForTheMILF.com address / proxy information matches Registrar and JohnMcCain.com Whois Privacy Company:

UPDATE 3:
SomeoneGNU (Digg.com) brought this to GOVGAP's attention:
Little interesting fact - the first time you go to the link you're actually redirected to: http://www.johnmccain.com/palin.htm which means they're watching for that domain. All other times, you go right to the front page.

Either they're reacting to this domain really well, or they own it.
UPDATE 4:
There's some discussion going on in the Digg thread about the origins of the redirect:
UPDATE 5:
TrackBack Comment Round Up:
From: Washington City Desk
GovGap published a story last night revealing that www.voteforthemilf.com, www.voteforthemilf.net, and www.voteforthemilf.org all direct users to John McCain's campaign website.
…
This is actually a pretty common means of anticipating counter information. When the American Dental Association, a proponent of water fluoridation, learned that an anti-fluoride group owned the domain name fluoridealert.org, the ADA bought the domains fluoridealert.com and fluoridealert.net, and redirected both addresses to the ADA page on the benefits of fluoride. If the McCain camp did indeed buy these domain names, we now know that the camp never really expected voters to view her primarily as a serious political or intellectual threat.
From Blog RPI:

UPDATE 6/7:
As of 3:35 PM EDT The redirect has been changed to direct users to google.com
As of 3:49 PM EDT The redirect has been changed to direct users to a Wikipedia page about domain registration.
---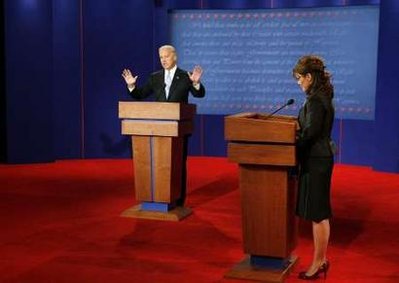 Arianna Huffington: Watching the debate at a Fortune women's conference, I asked Meg Whitman, the co-chair of McCain's campaign, what she thought of Palin's performance. "Good enough," she said. But good enough for what, exactly? After Thursday night, the only thing Palin proved herself good enough for is starring in her own reality show. Watching Biden and Palin on the same stage was like watching a tennis champion walk onto Centre Court at Wimbledon only to find himself facing an over-eager amateur from the local high school. The only subject on which Palin displayed superior knowledge was when she corrected Biden on the proper delivery of "Drill, baby, drill!" Christie Hefner thought Palin's sex-tinged twist on the chant should be appropriated for a commercial. Perhaps for Viagra. My patience with Sarah Palin is waving the white flag of surrender. Click here to read more.

CNN had a graph running along the bottom of the screen during the debate, allegedly representing the moment-by-moment feelings of a group of independent voters. This is no way to watch a debate.

Governor Palin, I know General McKiernan, and he is no George McClellan. I hope that you can learn the difference. Some things cannot be shrugged off with a snarky wink and a winning smile.

It was very interesting to watch Palin when the camera was on Biden. On foreign policy and other points where she gave light answers, she was intently reviewing her notes on the podium.

Sarah Palin has experience being a runner-up -- which will come in handy in November. Tonight she barely kept up. By any rational assessment, Palin wasn't up to the job.

I heard one commentator call what Biden did "a litany of numbers" but that you were "folksy." You go, girl! When you gave me that cute little wink, nod and smile, I knew that the Republicans were right after all--this election should not be about issues!