Sparky lives!

HOUSTON — The nation's turbulent space program will be run by one of its own, a calming well-liked former space shuttle commander.
President Barack Obama on Saturday chose retired astronaut Gen. Charles Bolden to lead NASA. He also named former NASA associate administrator Lori Garver as the agency's No. 2. If confirmed, Bolden, who has flown in space four times and was an assistant deputy administrator at one point, would be the agency's first black administrator.
Bolden would also be only the second astronaut to run NASA in its 50-year history. Adm. Richard Truly was the first. In 2002, then-President George W. Bush unsuccessfully tried to appoint Bolden as the space agency's deputy administrator. The Pentagon said it needed to keep Bolden, who was a Marine general at the time and a pilot who flew more than 100 sorties in Vietnam.
"Charlie knows NASA and the people know Charlie; there's a level of comfort," especially given the uncertainty the space agency faces, said retired astronaut Steve Hawley, who flew twice in space with Bolden.
Bolden likely will bring "more balance" to NASA, increasing spending on aeronautics and environment missions, working more with other nations in space, and emphasizing education, which the president often talks about when it comes to space, said former Johnson Space Center Director George Abbey, a longtime friend.
"He's a real leader," Abbey said Saturday. "NASA has been looking for a leader like this that they could have confidence in."
Bolden's appointment came during the tail end of the space shuttle Atlantis' mission to repair the Hubble Space Telescope one final time. He was the pilot on the flight that sent Hubble into orbit in 1990.
Bolden, 62, would inherit a NASA that doesn't look much like the still-somewhat-fresh-from-the-moon agency he joined as an astronaut in 1980. NASA now "is faced with a lot of uncertainty," Abbey said.
Bush set in motion a plan to retire the space shuttle fleet at the end of next year and return astronauts to the moon and then head out to Mars in a series of rockets and capsules that borrows heavily from the 1960s Apollo program. The shuttle's replacement won't be ready until at least 2015, so for five years the only way Americans will be able to get in space is by hitching a ride on a Russian space capsule. And some of NASA's biggest science programs are over budget.
Earlier this month, the White House ordered a complete outside examination of the manned space program. The Obama administration hasn't been explicit about its space policy, with White House science adviser John Holdren saying the policy would come after a NASA chief was named.
"These talented individuals will help put NASA on course to boldly push the boundaries of science, aeronautics and exploration in the 21st century and ensure the long-term vibrancy of America's space program," Obama said of Bolden and Garver in a statement.
Bolden, a native of Columbia, S.C., and his wife donated $750 to the Obama campaign in 2008.
At NASA's Johnson Space Center in Houston, where Bolden spent about a decade, his impending appointment was quietly cheered on all week long.
The diminutive salt-and-pepper haired Bolden, who lives only a few miles from the space center, on Saturday morning said he couldn't talk until after Senate confirmation. He was busy answering congratulatory e-mails from home. He has his own consulting firm in Houston and sits on corporate boards.
Those who have flown or worked with Bolden can't praise him enough.
Retired astronaut Franklin Chang-Diaz interviewed to become an astronaut the same week as Bolden, was picked at the same time, and they flew together on their first flights.
Soon after that much-delayed launch of the space shuttle Columbia in January 1986, Chang-Diaz looked at his friend Bolden and saw that the shuttle pilot had a "big, big smile... we were kind of like kids in a candy store."
Hawley and then-U.S. Rep. Bill Nelson were also aboard that 1986 flight. Nelson, now the chairman of the Senate subcommittee on space that will oversee Bolden's nomination and one of the people pushing Bolden's nomination to the White House, commented: "I trusted Charlie with my life - and would do so again."
Kathryn Sullivan was the payload commander on the 1992 flight of Atlantis, which was Bolden's first of two shuttle commands. She said Bolden has all the aspects of leadership that a good chief requires. That includes experience, wisdom and the ability to listen to all sides. She called him "one of the finest people I've ever known."
"Charlie's a great leader," Chang-Diaz agreed. "He takes care of his team." ___
On the Net
Bolden's NASA biography: http://tinyurl.com/2eln82
NASA: http://www.nasa.gov
---
Comic strip artists feeling the squeeze
Lalo Alcaraz
Newspaper cuts have left cartoonists struggling. Some are looking at the Web and animation too.
Picture the scene: a room full of cartoonists, sipping cocktails and making small talk. What might each of their text balloons say about the state of cartooning today?
Lalo Alcaraz's would be succinct. "We're going to hell in a handbasket," said the creator of the comic strip "La Cucaracha."
Alcaraz suspects that will be the consensus this weekend at the National Cartoonists Society's annual convention in Hollywood. It's usually a time for fun, culminating in a black tie dinner where the best comics are given Reuben Awards. But like so many others in this changing economy, cartoonists are suffering. With newspapers cutting space and in some cases folding, print comic strip illustrators are finding their livelihoods threatened. "We live and die by our newspapers," said Cathy Guisewite, who created the comic strip "Cathy" in 1976. "We've all built our careers on trying to be content for newspapers. If newspapers are struggling, then we're struggling as well."
Readers of several major newspapers have seen the comics reduced or re-sized in the last few months.
In late March,
the Washington Post
announced it was dropping five print comics, including "Little Dog Lost" and "Zippy the Pinhead" -- though, all five are still available on the
Post's website
.
A month earlier,
the Oregonian
announced it was dropping 10 comics to cut back on costs.
In December, the Florida Times-Union cut eight strips from both its daily and Sunday comics. The paper instituted a "Comic Strip Survivor" voting drive through which readers could pick which eight of the 16 strips would be eliminated.
Some newspapers that have moved to a Web-only format, such as the
Seattle Post-Intelligencer
and the
Capital Times
in Madison, Wis., have kept their comics in online form.
But cartoonists whose strips survive are forced to be even more succinct in their storytelling as newspapers shrink their allotted space for comics.
"There's less you can do in the size of the panel that current newspapers provide," said Stephan Pastis, creator of "Pearls Before Swine."
"In the old days, comics were often full pages. Now, they're squeezed down into tiny little boxes that don't give much more room than what it takes to do a talking head. It's sad to see something that was so important to cartooning becoming marginalized."
The un-funny reality has made the print comics scene a challenge for newcomers, according to the Post's Michael Cavna, TV/theater editor and the man behind its Comic Riffs blog.
"I think it's brutally hard to break into print comics right now," Cavna said. "It's like 'Star Wars,' when you're trying to shoot to get the Death Star . . . that tiny little room of error -- that's where cartoonists are left in the print world. The window is yet narrower to succeed."
Lisa Wilson, senior vice president and general manager of United Media press syndicate, says the syndicate receives hundreds of submissions each year, of which roughly eight are selected for syndication. That doesn't mean those eight will be distributed to newspapers; some may get a Web-only launch.
"It's very difficult for a newly launched strip to reach its potential than if it had been launched 10 to 20 years ago," Wilson said.
"New comics aren't getting the attention they should be. But I still think newspapers are a good place for exposure. And we will continue to try to feed the best comics to the newspapers despite the fact that they're in a difficult place right now."
Historically, comic strips were used to build readership and lure readers from competing papers, said Stephen Worth, director of the ASIFA-Hollywood Animation Archive. But there are few markets left with competing papers.
And, Cavna adds, with rival forms of humorous entertainment, a cartoonist's funniness can often feel bland.
"If you're being exposed to 'The Daily Show' or 'Funny or Die' videos online and then go to the comics page, even the best writers can just feel tame or sweet," Cavna said. "There are edgy comics out there, but newspapers aren't, for the most part, going to risk running them. They're not going to risk scaring their more traditional and established readers."
But like their newspapers, cartoonists are finding other ways to distribute their content. Though cartooning online may still be in its infancy, some cartoonists have found a way to generate enough revenue to make a living at it.
Jeph Jacques, 28, operates QuestionableContent.net, an online comic strip. The first strip appeared in August 2003; by the next year, Jacques was able to support himself and his wife from the revenue generated from merchandise and ad space sold on the website.
"There seems to be, among some of the older, more established cartoonists, this sense of incredulity that people can make a living doing comics online," Jacques said. "Online comics have the advantage. We're getting a more diverse crowd; a younger crowd. And word of mouth is a lot quicker."
Neither cartoonists nor syndicate representatives interviewed for this story provided figures for how much money a syndicated cartoonist makes. A cartoonist's contract with a syndicate is determined on an individual basis. Typically, the more clients a cartoonist has and the bigger the newspaper's circulation, the more money a cartoonist can expect to make.
And those not entirely convinced by the revenue stream generated online are looking to animation as their next target. Alcaraz has dabbled with producing "somewhat animated" editorial cartoons and has pitched an animated version of his comic to Fox. Pastis also expressed an interest in getting "Pearls" animated.
Cartoonists should explore all options to avoid producing content that makes readers squint their eyes, Cavna said.
"Soon, they'll have to start including plastic magnifying glasses for free with every comics page," he said. "Shrinking them anymore becomes almost pointless."
yvonne.villarreal@latimes.com
---
Honestly - the nation would have been better served if she had the balls to go after Cheney in 2006. I've no patience for excuses.
---
Rep. Jason Chaffetz told POLITICO he thought the video was 'reprehensible, irresponsible and unpersuasive.'
Photo: AP
At least one Republican doesn't think it's OK to compare Nancy Pelosi to Pussy Galore.

After viewing an RNC video that juxtaposed the speaker with the James Bond villainess, Rep. Jason Chaffetz (R-Utah) told POLITICO Saturday:

"I thought it was reprehensible, irresponsible and unpersuasive. If we're going to regain the credibility of the American people, we're going to have to stop with silly antics like that. It may get a snide chuckle inside the Beltway, but it offends most people. We have to get away from the politics of personal destruction," he said of the video.

The RNC declined repeatedly to explain the Pelosi/Galore connection, saying only that the video was about the speaker's "lack of leadership." Chaffetz is the only Republican thus far who has been willing to comment on the video.

"Policy and public comments are fair game, and there are creative ways to amplify it, but I despise it when Democrats and organizations like MoveOn.org use these types of tactics," Chaffetz said. "I would like our party to be more consistent in calling out inappropriate behavior like this. We've got to show some leadership and get serious about the issues at hand. It just bothers me that we have someone in the bowels of the organization on payroll working on stuff like this."

MoveOn.org took flak for its "General Betray Us" newspaper ad that implied that Iraq commander Gen. David Petraeus was disloyal to the country. Chaffetz added that such stunts are not only inappropriate, but in the case of Pelosi and the CIA waterboarding flap, also unnecessary:

"All we have to do is show the videos [of Pelosi's explanations] side by side, and that should be enough for people to recognize that she's been terribly inconsistent. I think some people have shown some real leadership here — I think John Boehner has been doing a good job with it. We need others in this party to recognize that this is not a winning tactic."
Read more:
http://www.politico.com/news/stories/0509/22894.html#ixzz0GOPsn5Mf&B
---
Pelosi Stands By CIA Charge, Ducks Questions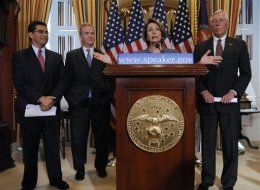 The length of House Speaker Nancy Pelosi's opening remarks at a press conference often correlates to the political barometric pressure level. The longer the opening, the worse the pressure.
If the Pelosi-Pressure-Correlation-Matrix is any guide, she was feeling it Friday morning. Her regular Thursday morning briefing with reporters had been pushed to Friday. Pelosi, well aware that the assembled scribes were ready to lob who-lied-to-whom-and-when questions at her, entered the room with a phalanx of what one reporter jokingly referred to as human shields.
On April 23rd, as Republicans pounded her with questions about when she was first briefed about waterboarding and why she didn't object more forcefully, she first took questions from every child in the room for take-your-kids-to-work day; she even asked a few who didn't raise their hands to come up with some.
When she finally took questions from grownups, she responded with an answer that has had Capitol Hill distracted ever since. Pelosi said that she and the others briefed by the CIA "were not, and I repeat, were not told that waterboarding or any of these other enhanced interrogation techniques were used." Three weeks later, she expanded on that denial, saying that the CIA lied to her and others in a September 2002 briefing when they said they hadn't waterboarded detainees yet.
On Friday, she took the podium to hail the accomplishments of Congress and lay out the agenda going forward: health care, energy, financial sector reform. Then she deployed her human shields. Majority Leader Steny Hoyer (D-Md.) took the podium, and offered a soliloquy about the unity of the Pelosi-Hoyer team.
"When do we just start shouting out questions?" wondered one reporter as the minutes ticked by.
Hoyer finished and Pelosi retook the podium, then yielded to Rep. Xavier Becerra (D-Calif.) who waxed prolific about consumer debt, brandishing a letter he'd received from his credit card company cutting his limit.
Batting cleanup -- and warming up his filibuster skills for his eventual ascension to the Senate -- was Rep. Chris Van Hollen (D-Md.), who had a full page of notes to guide his talk. A recent government report, he said, had found cost overruns in the Defense Department. Those cost overruns must be addressed.

A reporter squeezed in the room from the back, telling colleagues he'd been watching the spectacle on TV but had to see it for himself.
He was there in time to hear Van Hollen share his thoughts on climate change, health care, credit card reform and fraud in the financial markets. Pelosi added a remark on the need for a commission to study the financial crisis and the importance of education. Then she offered to take a few questions, 30 minutes after the scheduled start of the presser.
She chose her first mark wisely. The press corps groaned as a reporter asked who Pelosi would like to appoint to the financial collapse commission, a question she took her time in answering.
The second question was on the CIA issue. Pelosi stood by her earlier statement but declined to elaborate. "I have made the statement I'm going to make on this. I don't have anything more to say about it. I stand by my comment. And what we are doing is staying on our course and not be distracted from going forward in a bipartisan way on jobs, health care, energy for our country. On the subject that you asked, I made the statement I'm going to make. I don't have anything more to say," she said.
Should the CIA officers resign?
"I don't have anything more to say," she said again. "Another subject?"
The next question, straight from left field, asked whether Democrats were hatching their own "K Street Project" modeled after former Majority Leader Tom Delay's fundraising scheme.
There isn't one, she said. With Delay safely dispatched, a Pelosi aide called out "last question!" Laughter erupted from the press corps.
The final question was on her impending trip to China. Pelosi, a fierce critic of Chinese government oppression, will be there for the tenth anniversary of the Tiananmen Square Massacre. She'll face intense pressure from human rights activists to stay firm in her tough stance and will be pushed the opposite direction by the Chinese government.
Get comfortable for her opening remarks.

---
Solar Plane Crosses Alps To Trippy Music (VIDEO)

Gay US diplomats to receive equal benefits
WASHINGTON — Secretary of State Hillary Rodham Clinton will soon announce that gay American diplomats will be given benefits similar to those that their heterosexual counterparts enjoy, U.S. officials said Saturday.
In a notice to be sent soon to State Department employees, Clinton says regulations that denied same-sex couples and their families the same rights and privileges that straight diplomats enjoyed are "unfair and must end," as they harm U.S. diplomacy.
"Providing training, medical care and other benefits to domestic partners promote the cohesiveness, safety and effectiveness of our posts abroad," she says in the message, a copy of which was obtained by The Associated Press.
"It will also help the department attract and retain personnel in a competitive environment where domestic partner benefits and allowances are increasingly the norm for world-class employers," she says.
"At bottom, the department will provide these benefits for both opposite-sex and same-sex domestic partners because it is the right thing to do," Clinton says.
Among the benefits that will now be granted gay diplomats: the right of domestic partners to hold diplomatic passports, government-paid travel for their partners and families to and from foreign posts, and the use of U.S. medical facilities abroad.
In addition, gay diplomats' families will now be eligible for U.S. government emergency evacuations and training courses at the Foreign Service Institute, the message says.
The announcement, expected this week, was provided to the AP by a State Department official who is a member of the Gays and Lesbians in Foreign Affairs Agencies organization. Two department officials not affiliated with the organization confirmed its accuracy.
The officials spoke on condition of anonymity because they were not authorized to speak publicly about the changes.
Previously, the State Department had withheld some benefits from the families of gay diplomats, citing the Defense of Marriage Law, which had restricted federal recognition of same-sex marriages.
One former ambassador, Michael Guest, resigned from the foreign service in 2007 to protest the restrictions. Guest was a part of the Obama administration's State Department transition team and played a major role in lobbying for the changes.
Clinton told members of Congress last week that she would soon announce the revisions.
---
Cool beans ...